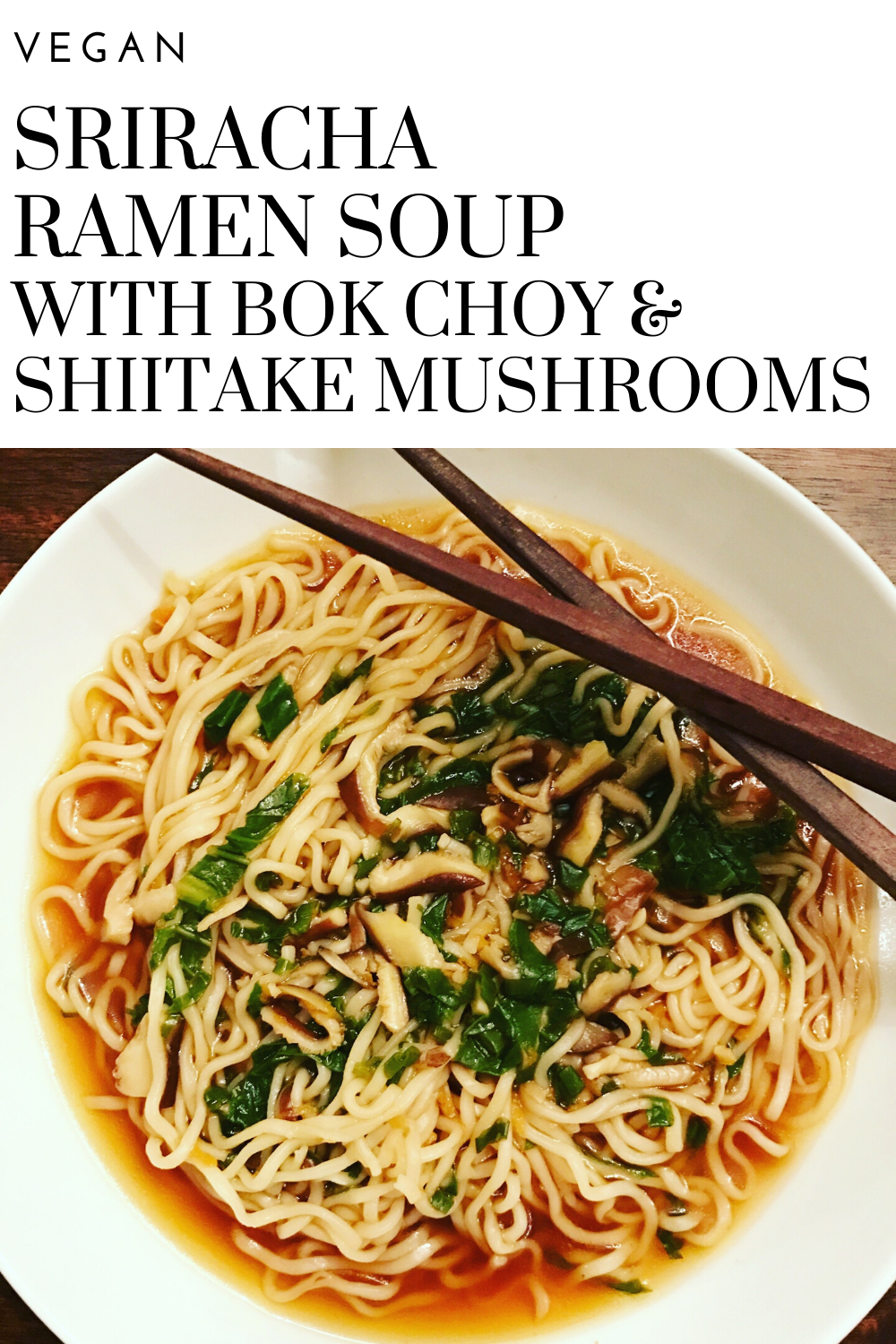 Sriracha Ramen Soup
Ah, ramen… for years, I refused to eat ramen because it just reminded me so much of the days when I was 18-years old in my first apartment and practically survived on the stuff… I mean, come on, at 10 for $1.00, you know I stocked up every pay day. Times were lean, to put it mildly.
Flash forward 20 years and I'm shopping at Whole Foods when, what do I see? The sushi bar is now selling what is basically a kicked up version of my old back-in-the-day ramen and it's $8.00 – for one bowl!
I was curious….but hesitant…
And after months of passing this same restaurant-in-the-supermarket, I gave in and finally, reluctantly, with very low expectations, ordered a bowl of their ramen.
And was pleasantly surprised.
This was not the ramen I knew. There were fresh veggies and ginger in such colorful display, the noodles themselves were almost secondary.
Almost. There was definitely no noodle left in the bowl by the time I was through with it.
That experience is the inspiration for this dish, which does actually require you purchase three packages of those dried ramen noodles of your college days (no way it was just me) but don't worry, you can pitch the overly salty seasoning packet right away. 😉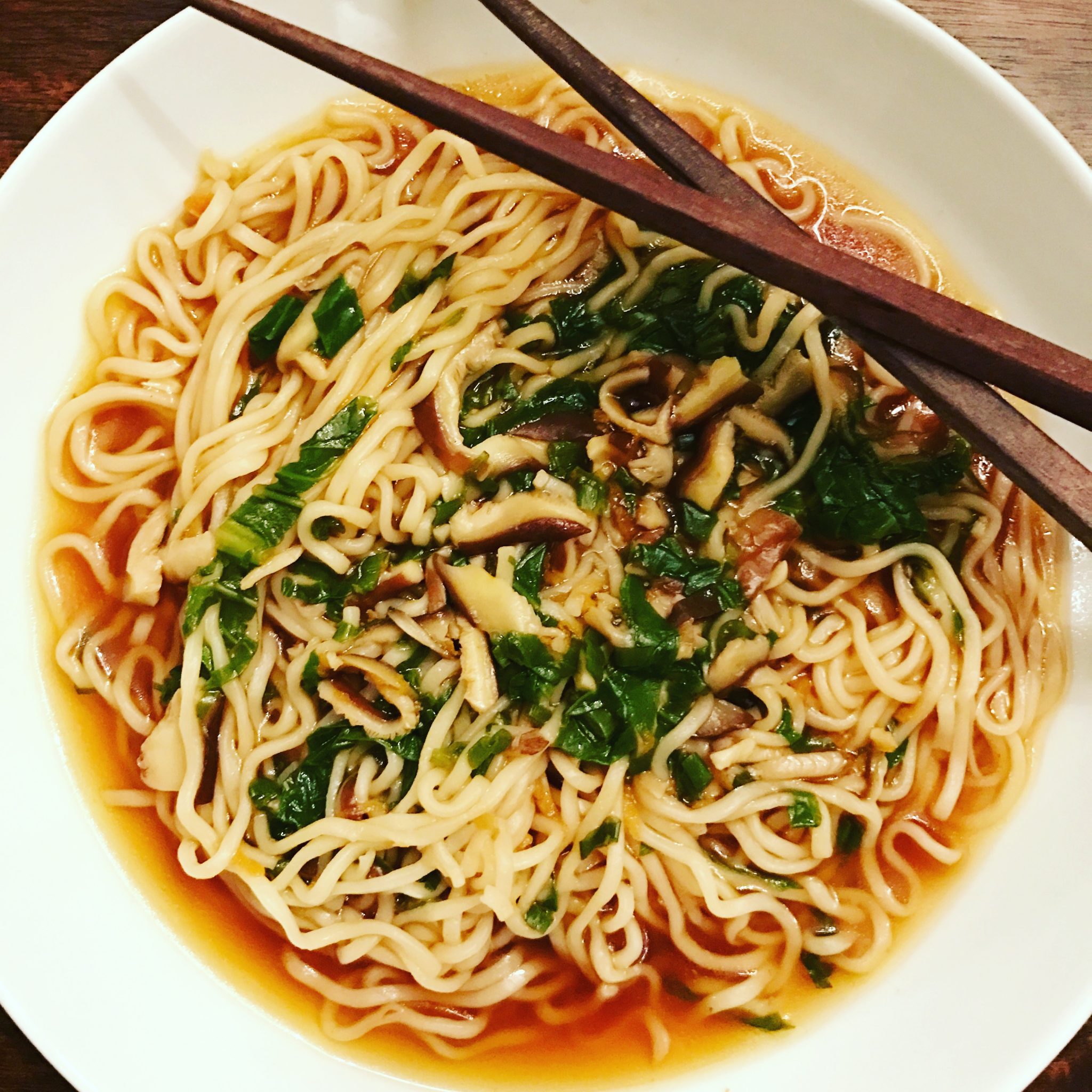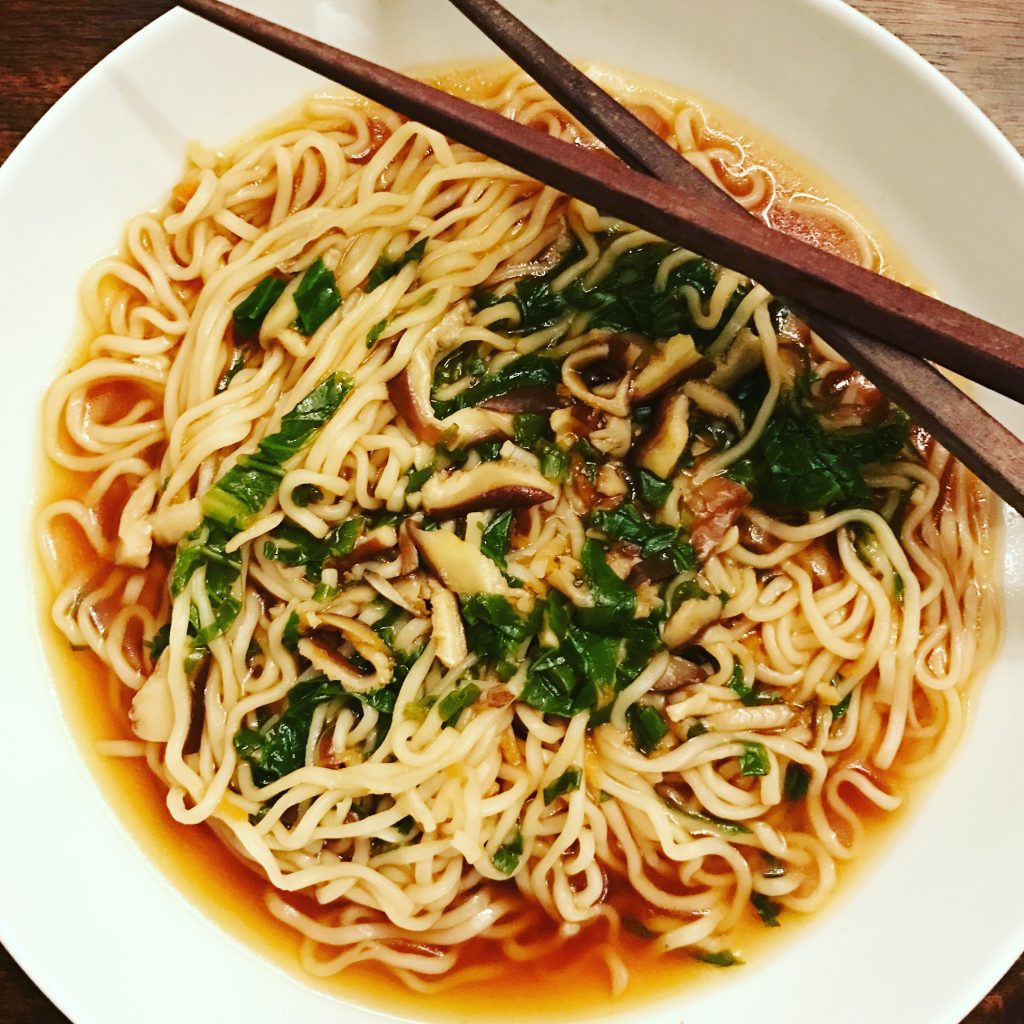 More easy Soup Night favorites:
Vegan Tuscan Style Soup – Spicy vegan sausage, cannellini and garbanzo beans, potatoes, spinach, garlic….. this hearty soup is sure to warm you up on a cold day!
Vegan Ginger Noodle Soup – Warm and comforting, this satisfying soup is ready to serve in under an hour.
Vegan Vegetable and Orzo Soup – A hearty and colorful soup loaded with orzo pasta and veggies. Ready in under 30 minutes!
Ingredients
3

packages dried ramen noodles

discard seasoning packets

1

Tablespoon

olive oil

5

green onions

chopped

1

small carrot

grated

2

teaspoons

ginger paste

4

cups

bok choy

sliced into ribbons

1 1/2

cups

shiitake mushrooms

stems removed, thin sliced

3

cloves

garlic

minced

5

cups

vegetable broth

1/4

cup

soy sauce

1

teaspoon

sriracha sauce

salt and pepper

to taste

1/2

cup

fresh cilantro

chopped
Instructions
Prepare ramen according to package directions, omitting the seasoning packet. Pour into a colander, rinse with cold water, drain and set aside.

Heal oil in a large pot over medium heat.

Add green onions, carrot, ginger paste, bok chop, and mushrooms. Cook 2-3 minutes to soften.

Add garlic and continue cooking an additional 1 minute.

Stir in the broth, soy sauce, sriracha, salt, and pepper.

Bring to a boil, then reduce heat to low. Allow to simmer 3-5 minutes.

Stir in cooked ramen noodles.

Adjust seasoning to taste, top with cilantro, and serve hot.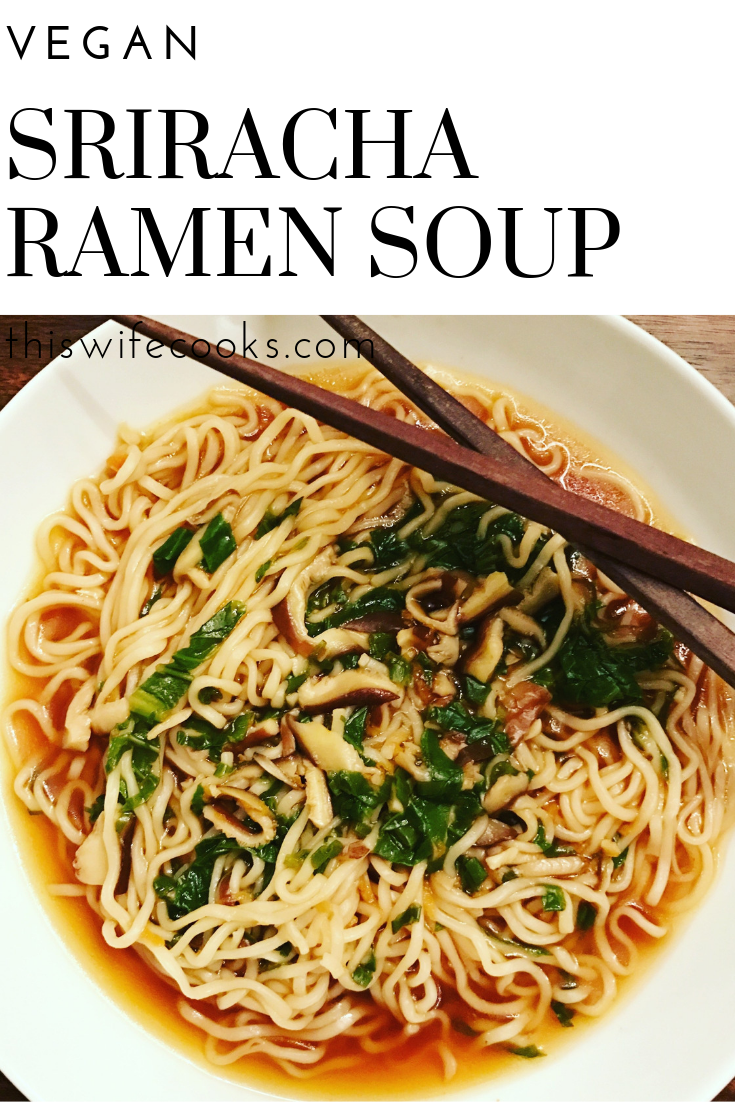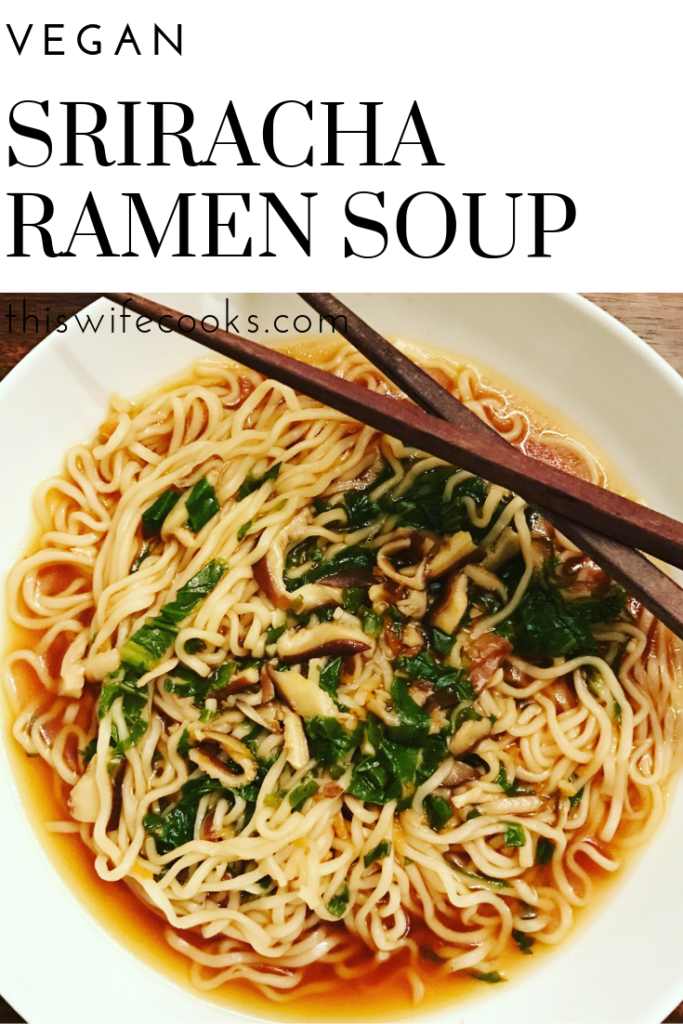 SaveSave