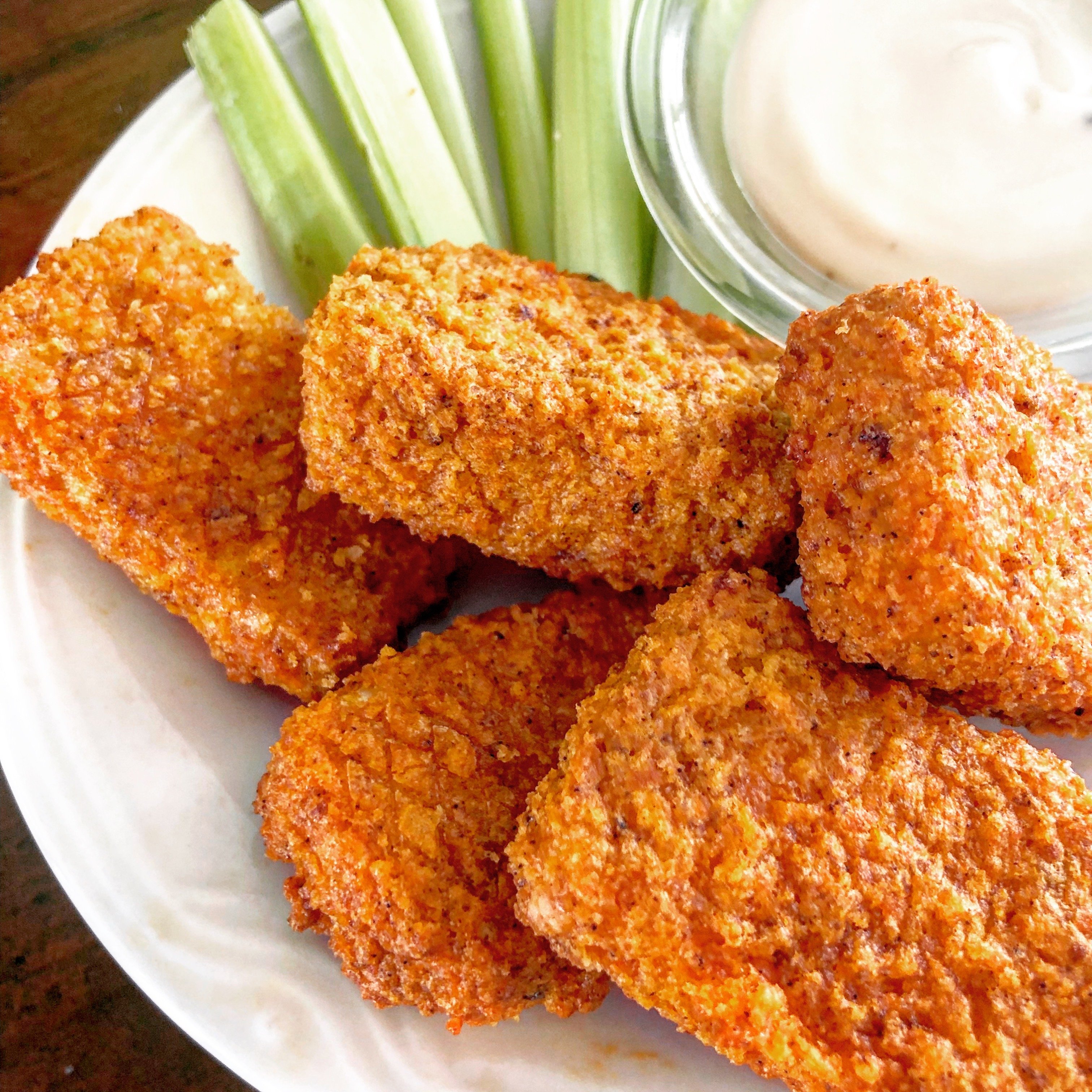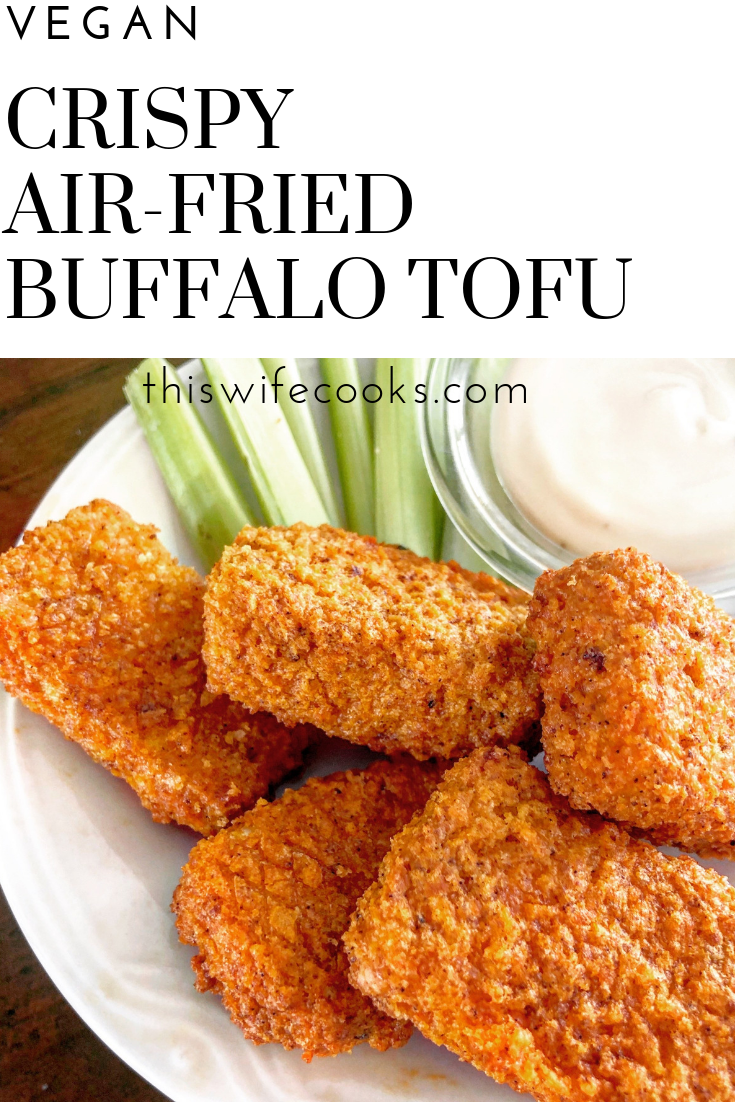 Crispy Air-Fried Buffalo Tofu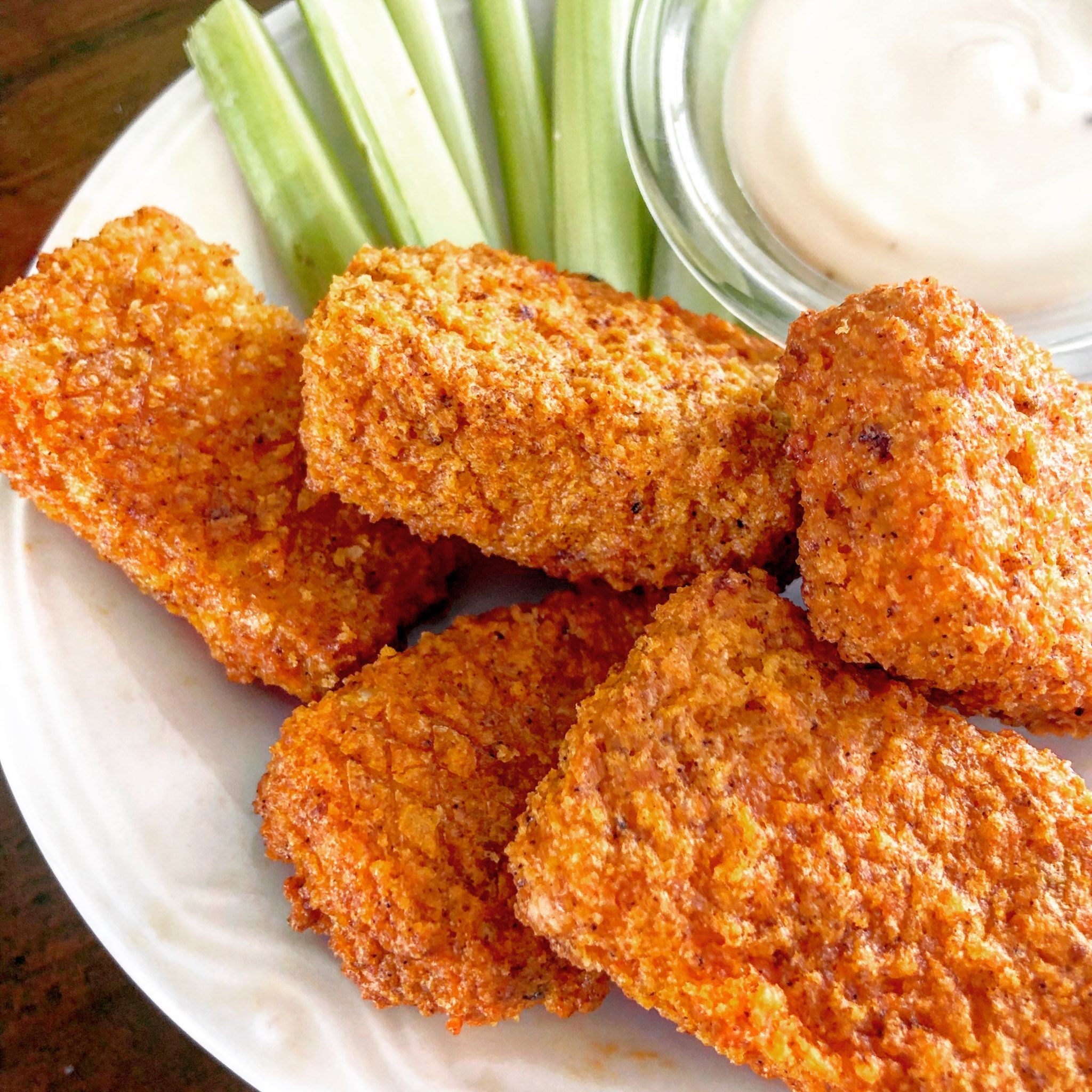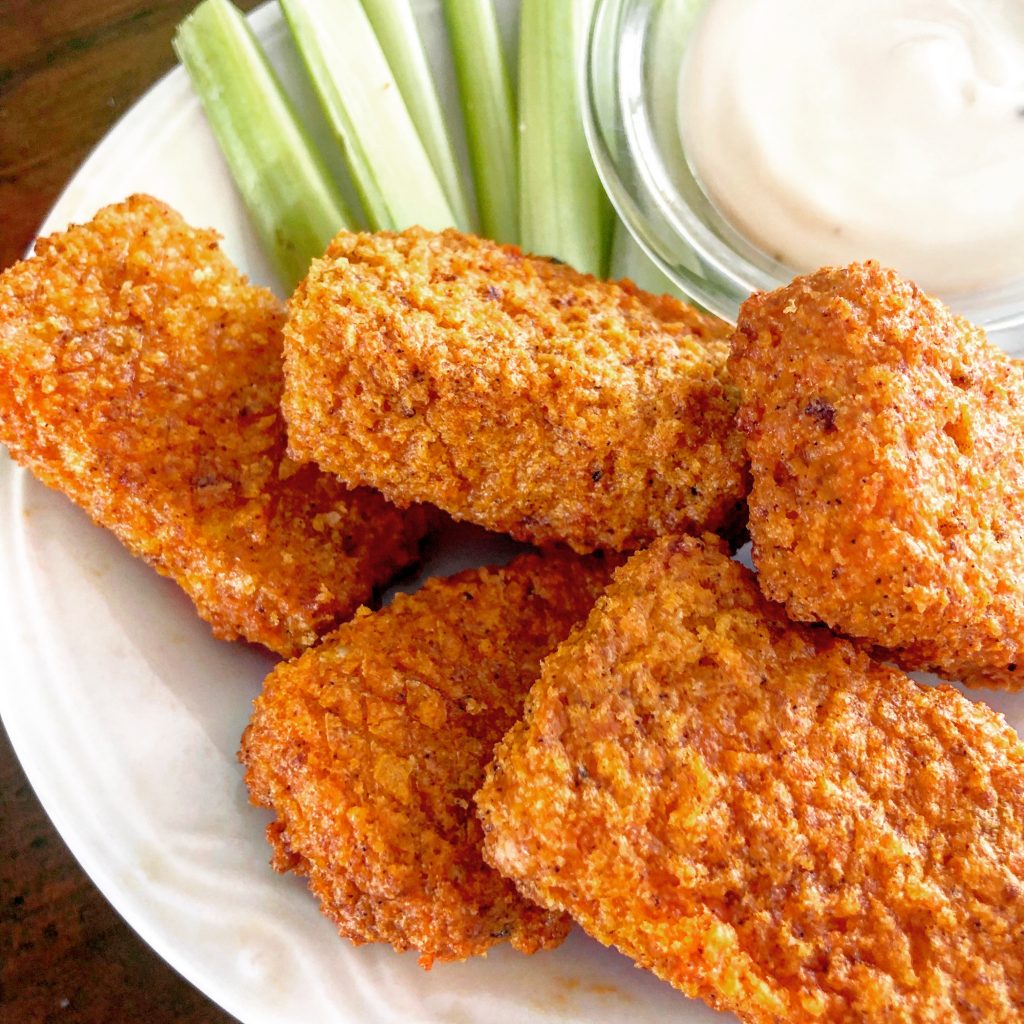 I love Buffalo sauce had a serious craving for it today.
I also happen to have received an air fryer for Christmas so, those of you who have them know, I'm now obsessed with air frying all the things! Add to that the fact that I still had a half bottle of vegan bleu cheese dressing in the fridge.
This was clearly meant to happen today.
I mean, it was all too easy not to try!
And wow! They were so good! The texture of the tofu after it's fried is very similar to a cheese stick.
Seriously, you're going to be amazed.
I'm planning to make these again for the Super Bowl but instead of strips, cutting them into bite-size pieces so you get that spicy crispiness all around!
For more Buffalo-style deliciousness, check out my Twice-Baked Buffalo Cauliflower Tacos.
Because the cauliflower is baked rather than fried, you get that awesome crispy crunchiness without all the oil and mess that comes with frying.
**Update on the tofu: I did end up going with bite-sized for the game and they were completely devoured! A new Game Day favorite!**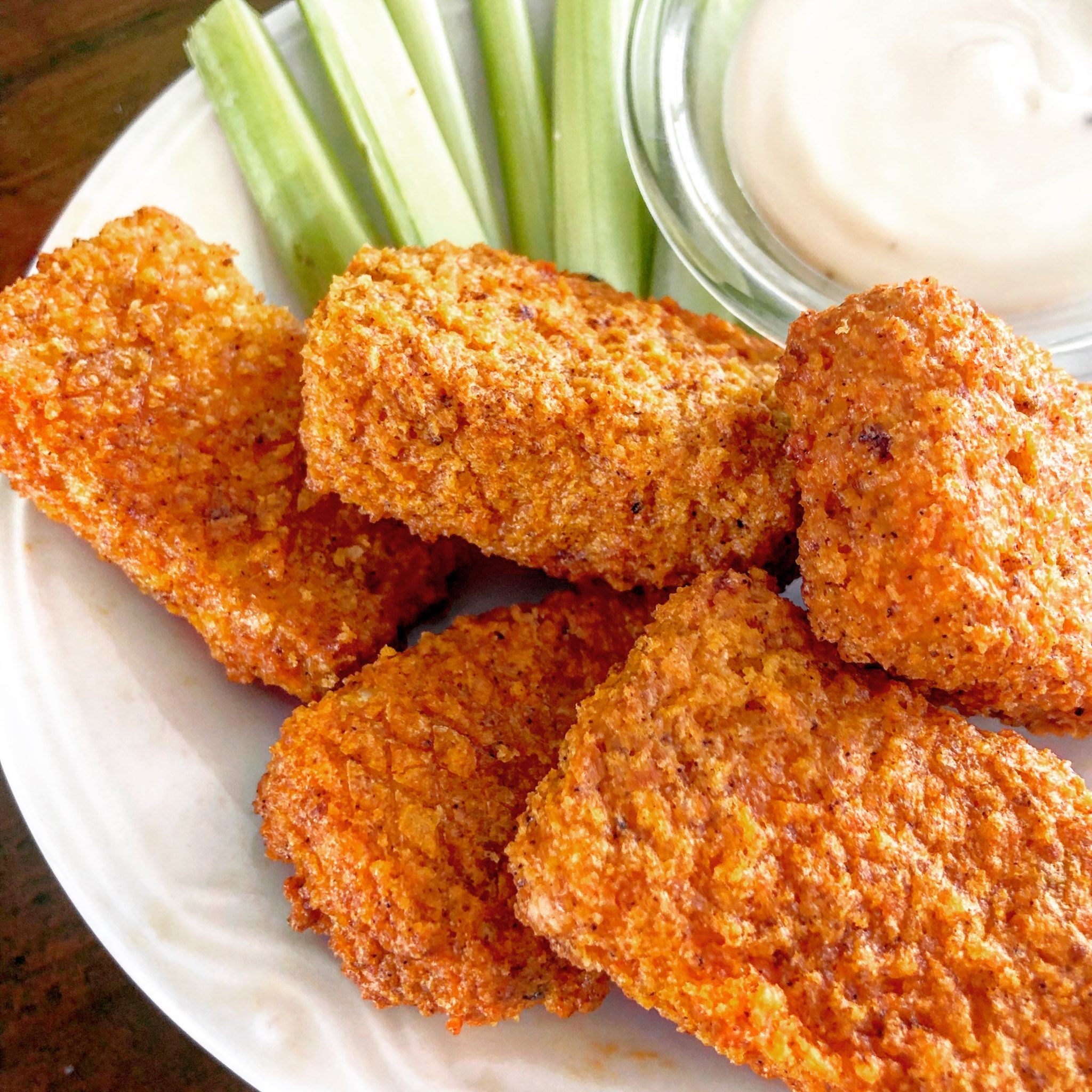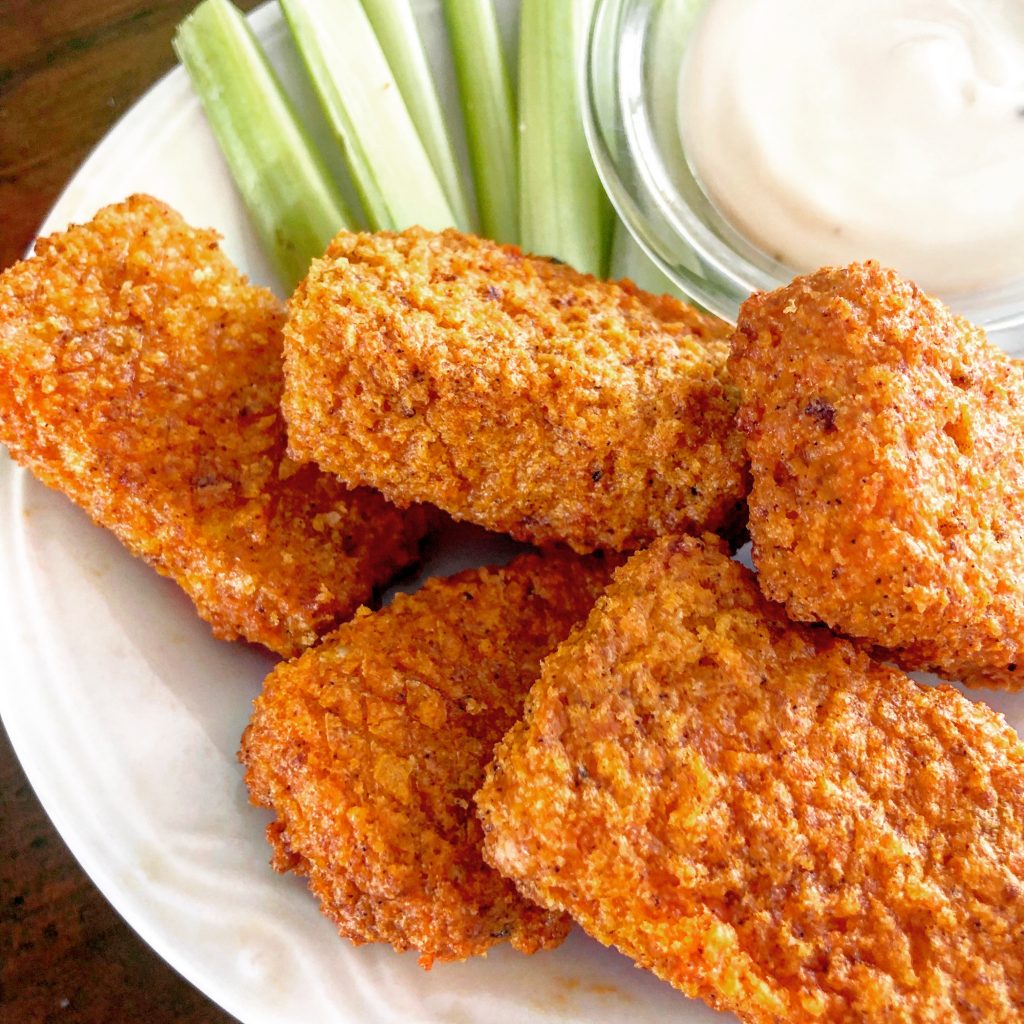 Cheers!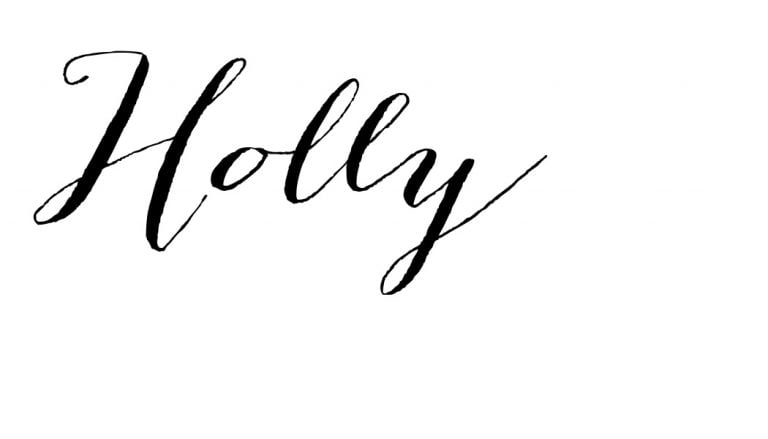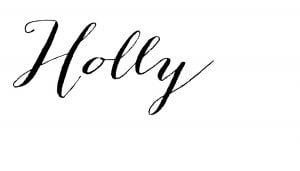 More recipes to feed a crowd:
Vegan Pub Style Beer Cheese Dip – Perfect for game day, movie night, or anytime you need a crowd pleasing appetizer; you just can't go wrong with a classic cheese dip.
Air Fried Shishito Peppers – A super easy crowd-pleasing plant-based snack that is ready to go in just 10 minutes!
Vegan 7-Layer Party Dip – Seven tasty layers of savory taco-spiced refried beans, an easy homemade guacamole, vegan sour cream, crisp lettuce, fresh tomatoes, black olives, and green onions.
Vegan Sausage & Cheddar Stuffing Balls – Lightly crispy on the outside and tender on the inside, these crowd-pleasing sausage and cheddar stuffing balls are the perfect addition to your Super Bowl spread!
Vegan Corn Chip Pie – A hearty and baked crowd-pleasing version of the cold weather and Game Day classic!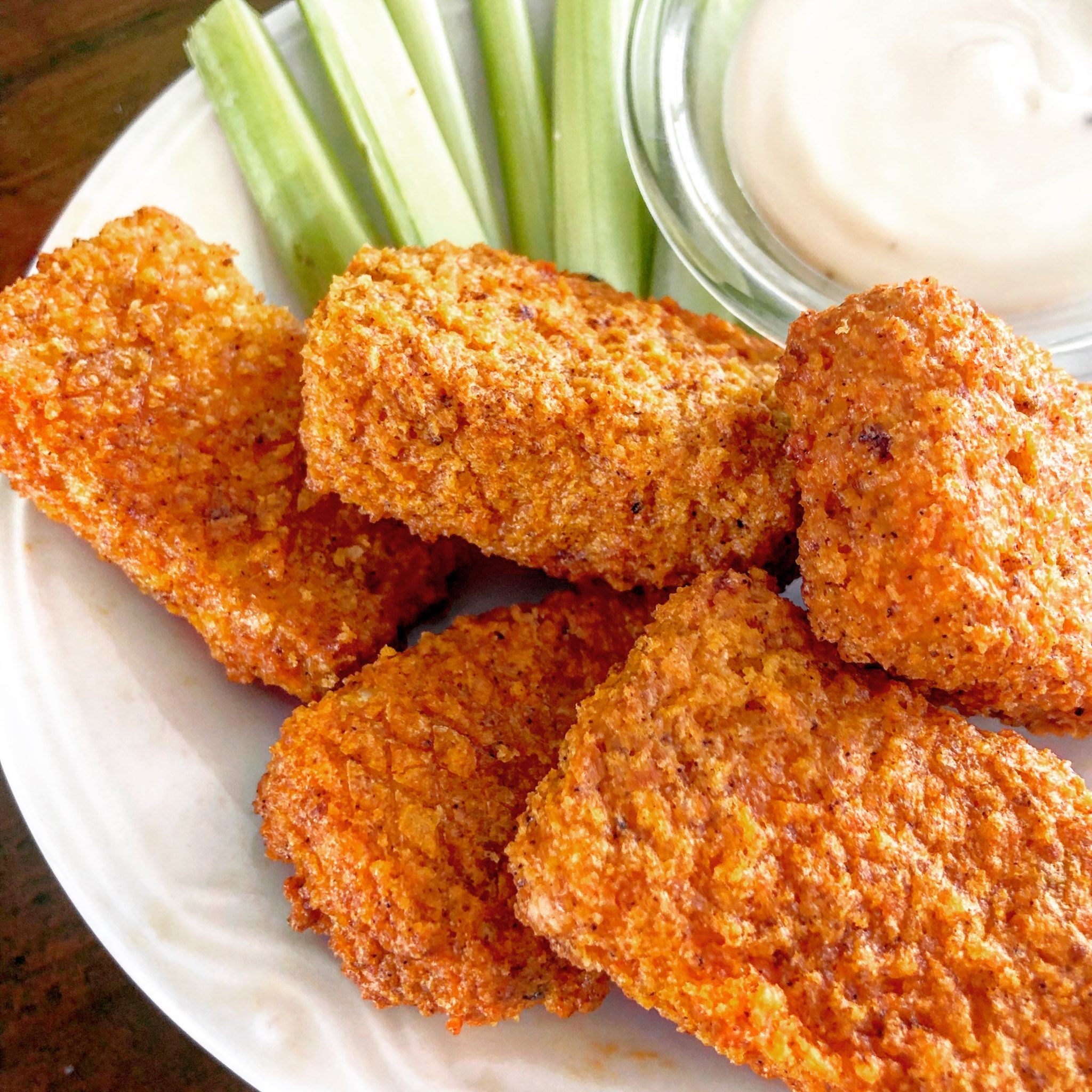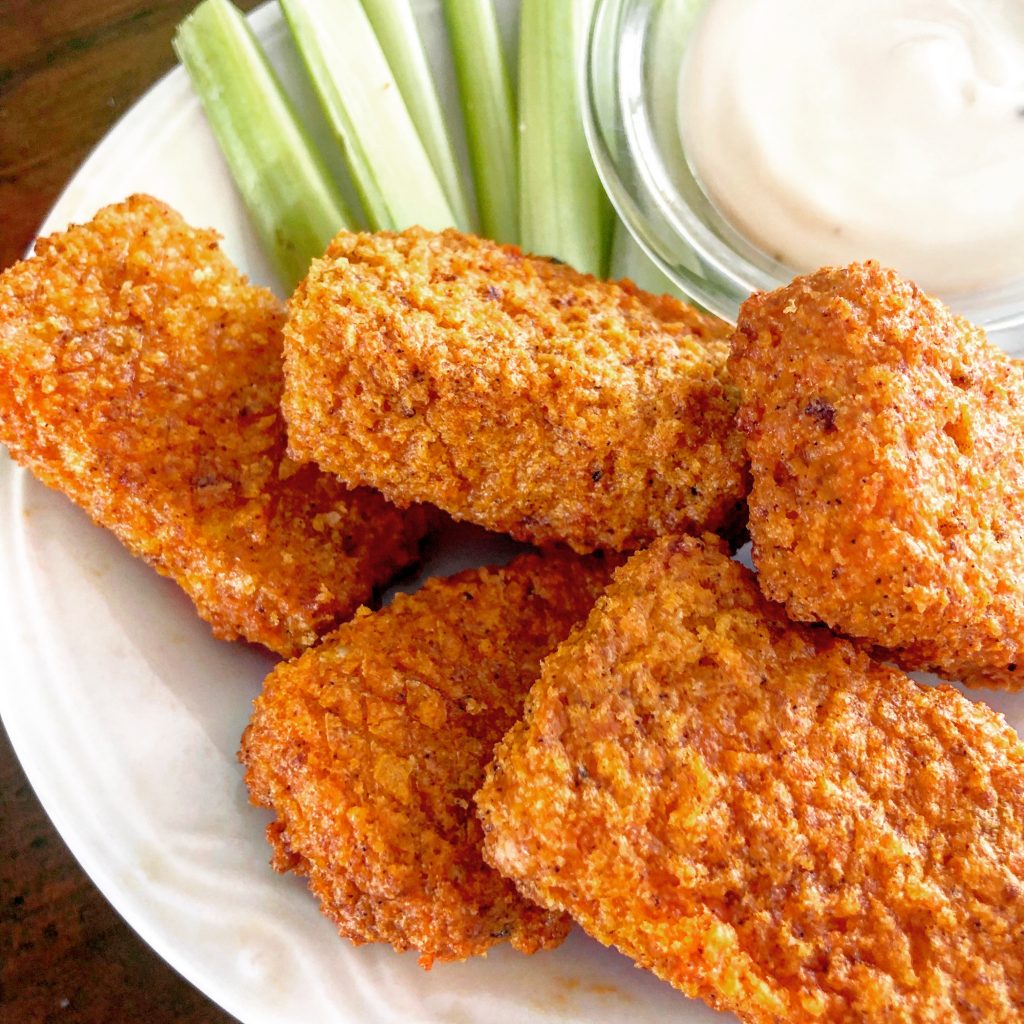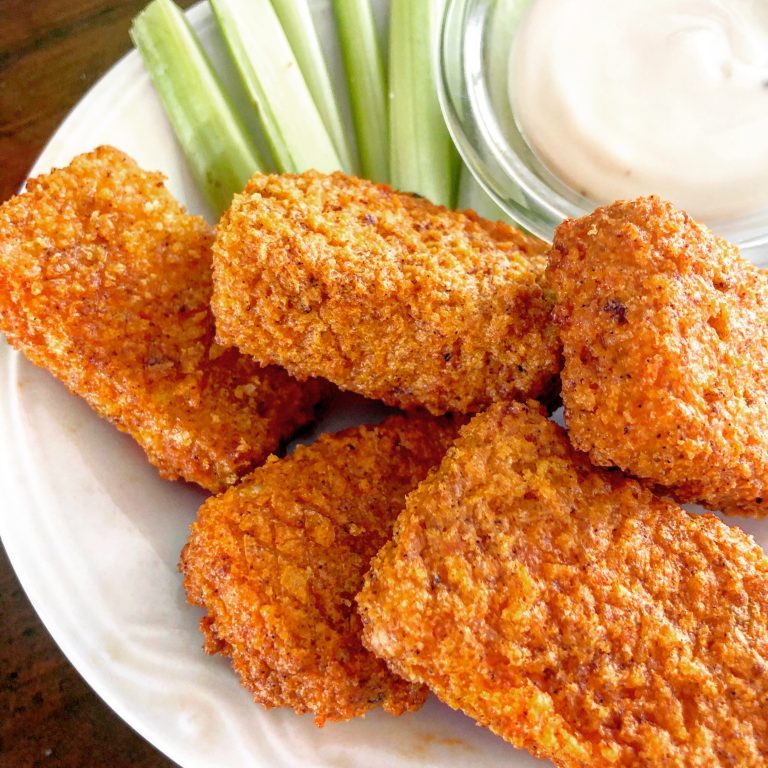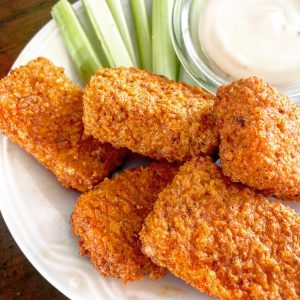 Ingredients
1 - 14-

ounce

package extra firm tofu

pressed and drained well

6

tablespoons

arrowroot flour

1/4

cup

unsweetened almond milk

1

cup

Panko breadcrumbs

2

tablespoons

olive oil

1/2

teaspoon

paprika

1/2

teaspoon

sea salt

1/2

teaspoon

ground black pepper

2/3

cup

prepared Buffalo-style sauce
Instructions
Slice tofu into six pieces, length-wise. Then slice vertically and again horizontally so that you have 12 pieces.

To a small bowl, add the arrowroot powder.

To a second small bowl, add the almond milk.

To a third bowl of medium size, add Panko breadcrumbs, olive oil, paprika, sea salt, and black pepper.

One at a time, dredge each piece first through the arrowroot flour, then the milk, and finally into the breadcrumb mixture, coating well on each step.

Set air fryer to 350 degrees F. Add tofu in an even layer. Air fry 8 minutes.

Remove tofu and toss with Buffalo sauce until evenly coated.

Place back in the air fryer in an even layer. Continue cooking another 5 minutes, or until desired crispiness is achieved.