There was a time, five years ago to be precise, when I absolutely loved crab cakes and can honestly say it's one of the very few dishes I actually "missed" going vegetarian.
But, let me tell you…
Amidst the virtual sea of meatless "crab" cake recipes out there I have finally hit on one that seriously delivers. These cakes have all the texture and flavor you remember, without harming a single crab.
This recipe comes directly from The Sexy Vegan Cookbook by Brian L. Patton. And considering I alter nearly every recipe I encounter, I tip my hat to him because my only deviations from the original recipe are minor (using a food processor in the prep and yielding 8 smaller cakes rather 4 large ones.)
Serve over succotash and top with remoulade sauce.
Indulge and enjoy!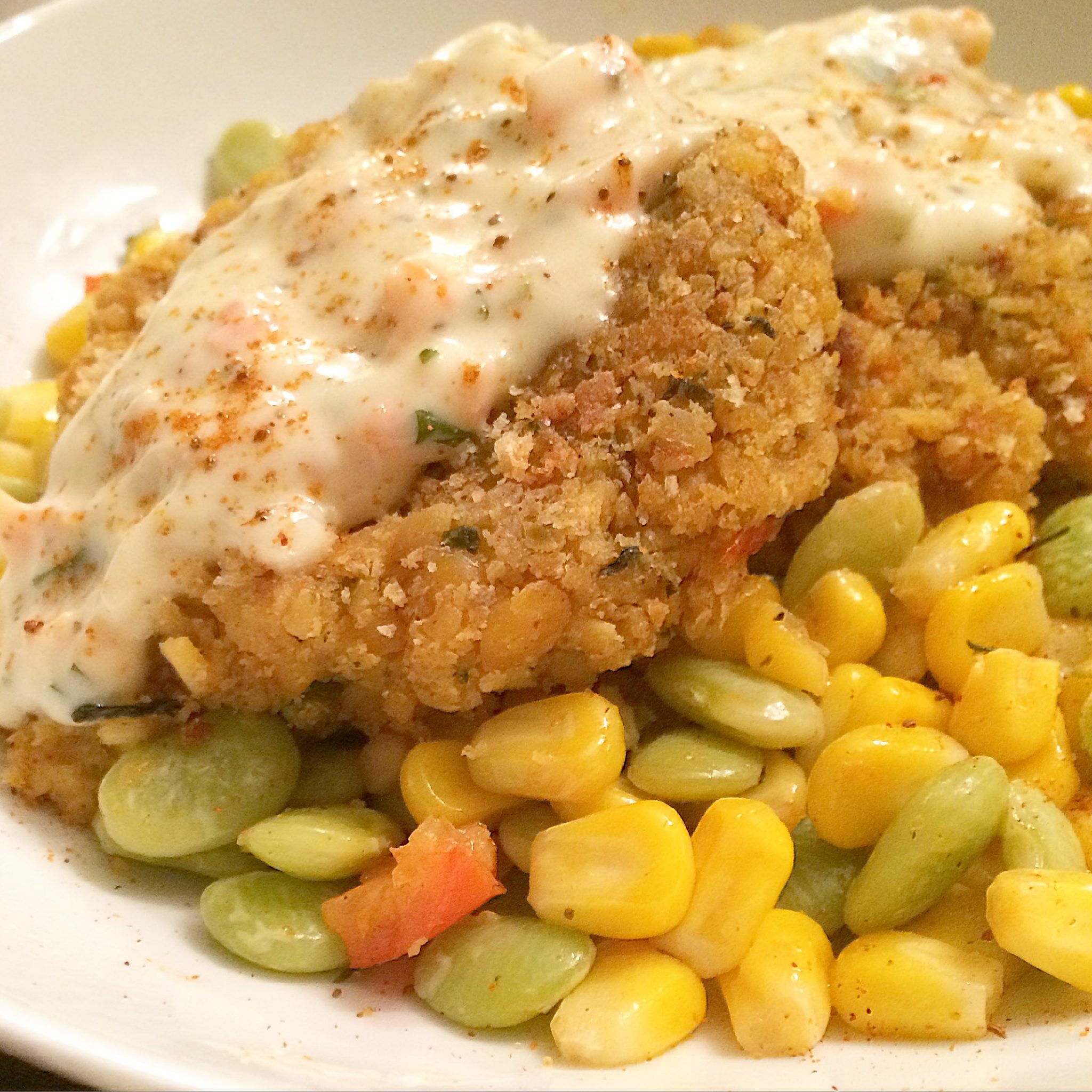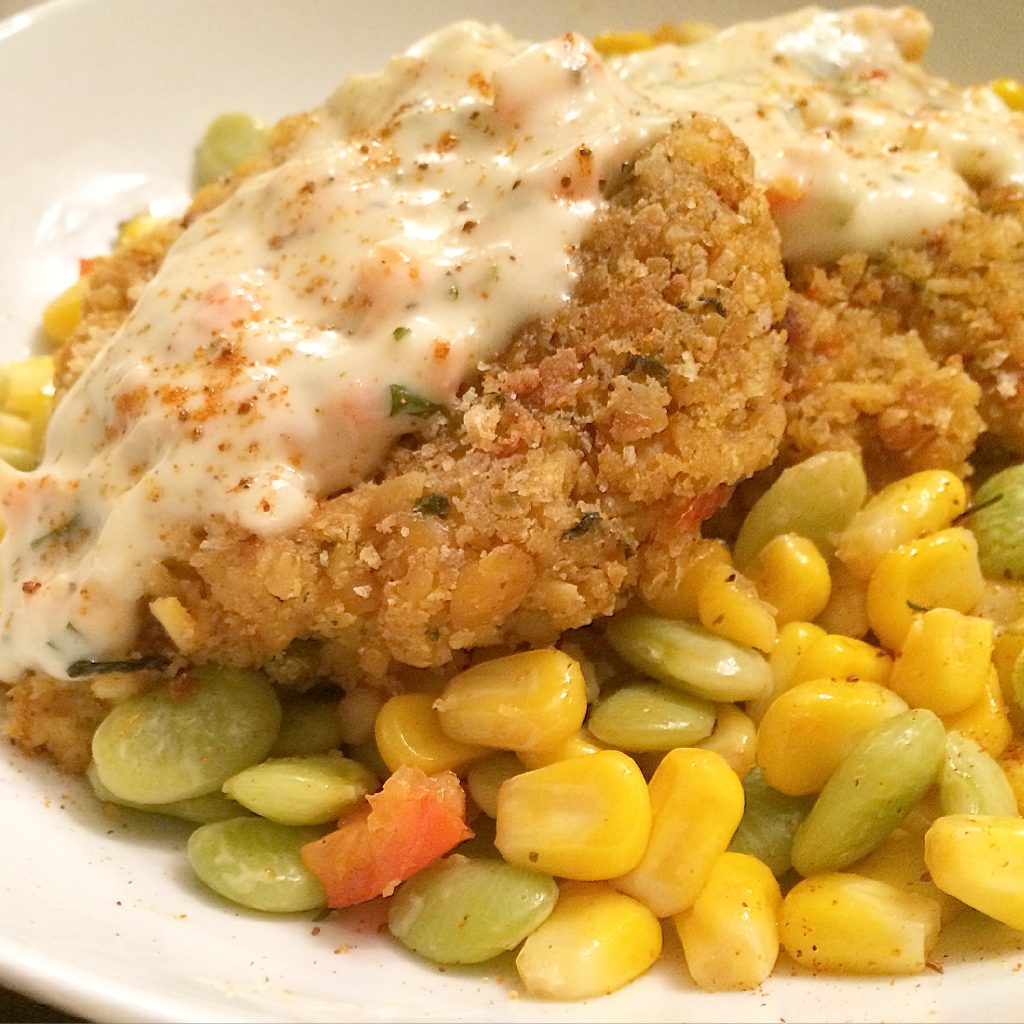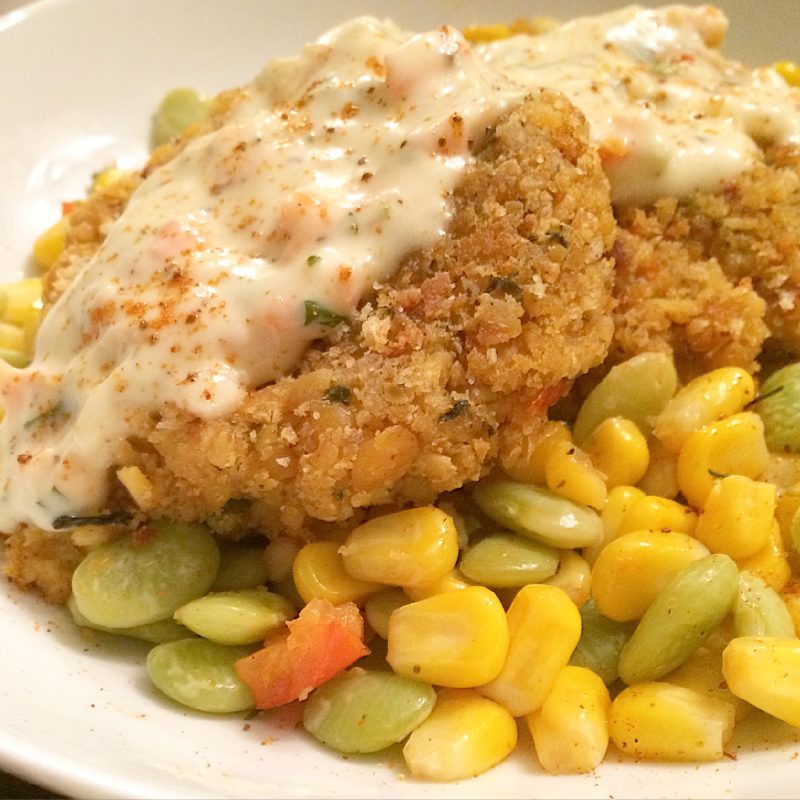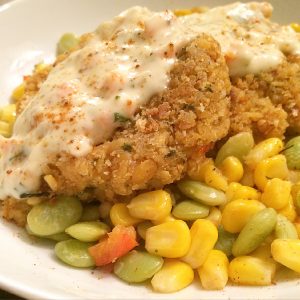 Ingredients
1

8-oz. package tempeh

1

15-oz. can chickpeas, rinsed, drained, and dried completely

2

Tablespoons

+ 2 teaspoons olive oil

divided

1/4

cup

yellow onion

1/4

cup

red bell pepper

1/4

cup

celery

salt

to taste

1

cup

Panko bread crumbs

1

Tablespoon

Old Bay seasoning

1/4

cup

vegan mayonnaise

1

Tablespoon

capers

drained and chopped

1

Tablespoon

Italian parsley

chopped

2

Tablespoons

lemon juice

2

teaspoons

Dijon mustard

2

teaspoons

kelp or seaweed powder

I used crushed nori flakes and that worked fine

Cayenne pepper sauce

to taste

Ground black pepper

to taste
Instructions
Using a steamer basket, steam the tempeh for 25 minutes, then set aside to cool.

Add chickpeas to a food processor and pulse until rough chopped. Be careful to not overdo it here; you want to retain the texture of a real crab cake. Scrape chopped chickpeas into a large mixing bowl.

Add the onion, bell pepper, and celery to the food processor. Pulse until finely diced.

Heat 2 teaspoons olive oil in a large pan over medium heat. Add onions, celery, red pepper, and salt. Cook, stirring frequently, 8 minutes, or until onion are tender. Set aside to cool.

Crumble the tempeh into a large mixing bowl. Add the cooked veggies, 1/2 cup of the bread crumbs, 1/2 Tablespoon (1 1/2 tsp.) Old Bay, mayonnaise, chickpeas, capers, parsley, lemon juice, mustard, kelp powder, a few dashes of cayenne pepper sauce, and a few twists of salt and pepper.

Using your hands, mash everything together. Divide the mixture into 8 small patties.

Combine the remaining 1/2 cup breadcrumbs with the remaining 1/2 Tablespoon (1 1/2 teaspoons) Old Bay in a bowl.

In a large pan, heat 2 Tablespoons olive oil over medium-high heat.

Dredge each cake in the bread crumb mixture and place them in the pan to cook for 3-5 minutes, or until lightly browned. Flip over and brown the other side.

Drain on a paper towel-lined plate and sprinkle with a little extra Old Bay.

To serve, place on top of succotash and top with remoulade.