Classic Coleslaw
To me, coleslaw is a perfect addition to any summertime cookout and was delicious paired with our BBQ Baked Beans last week.  What I like about this one is that the cabbage retains just the right amount of crunch and flavor because it's not drenched in dressing.   I can't stand a soggy coleslaw!
I usually opt for coleslaw mix in a bag because I like the blend of colors.  It's important for my food to be pretty.  🙂  Sometimes I also stir in chilled apple chunks for a little something extra just before serving – yum!
3/4c mayonnaise
1/2 tsp. salt
1/2 tsp. black pepper
1/2 tsp. celery seed
1/2 tsp. garlic powder
1/2 tsp. onion powder
2 TBSP apple cider vinegar
14oz. pkg. coleslaw mix
1.  In a medium bowl, combine all ingredients except coleslaw mix.  Stir until well blended.
2.  Add coleslaw mix and toss to coat.
3.  Refrigerate until chilled.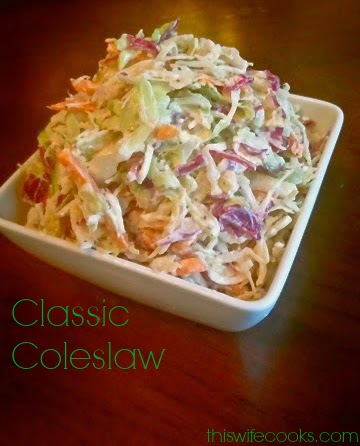 ---
---