Vegan Fettuccine Alfredo with Shiitake Mushrooms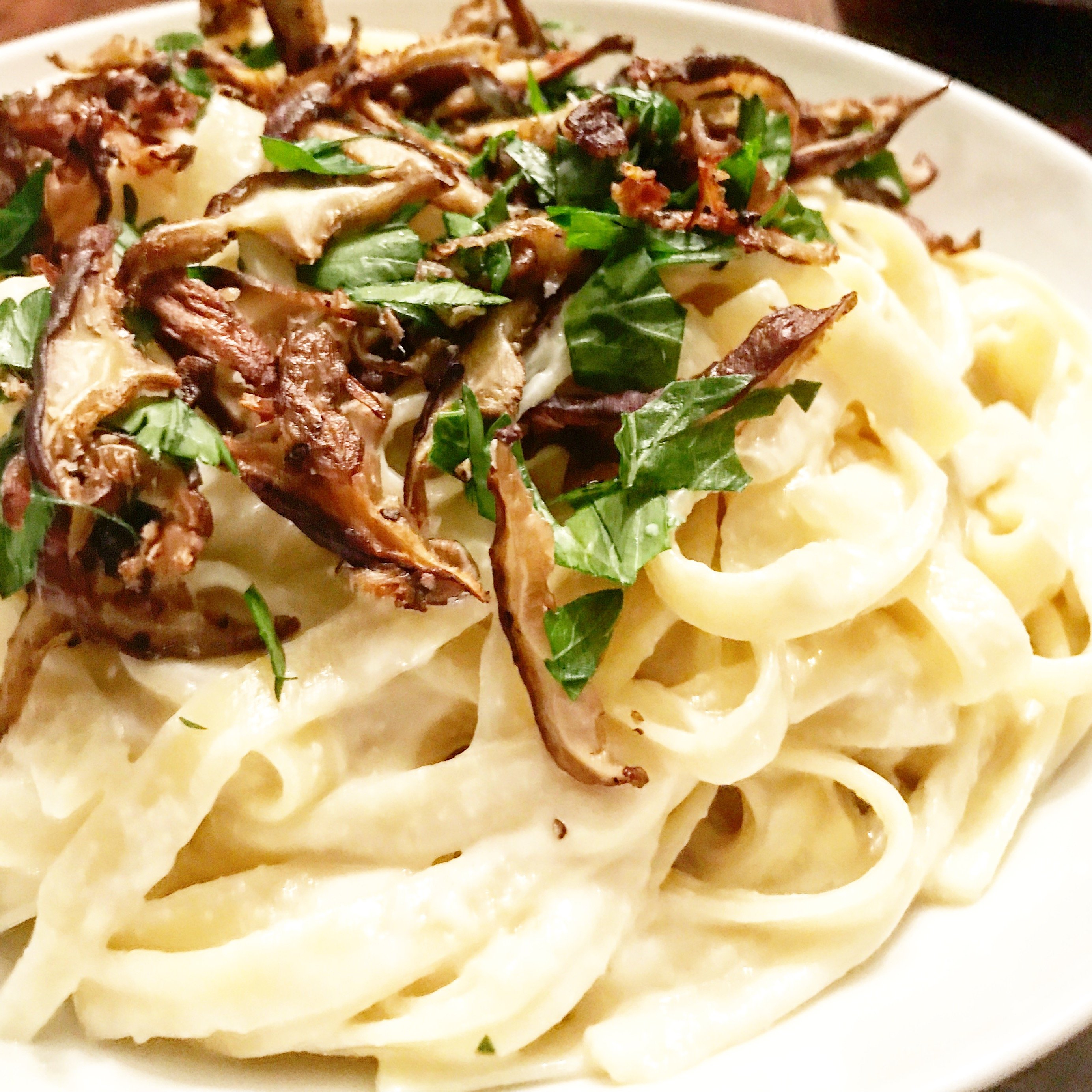 If you love rich, creamy, mushroomy, garlicky, Alfredo-y deliciousness, then this is the dish for you!
My husband is a huge fan of the classic Fettuccine Alfredo so I made this as his birthday dinner recently and we were practically licking the bowls clean! With all the flavor of a traditional Alfredo pasta, this dairy-free version is sure to impress even the toughest critics!
Perfect for a cozy night at home!
Enjoy!
Vegan Alfredo-Style Fettuccine with Shiitake Mushrooms
Ingredients
2 tablespoons olive oil
1/2 cup yellow onion, chopped
3 large cloves garlic, minced
16 ounces silken tofu
1/2 cup water
2 tablespoons lemon juice
2 1/2 teaspoons sea salt
1/2 teaspoon ground black pepper
1/4 cup Italian parsley, chopped
1/2 pound shiitake mushrooms, stems removed, and thin sliced
2 tablespoons olive oil
1 teaspoon sea salt
1/2 teaspoon ground black pepper
Instructions
Preheat oven to 375 degrees.
To a medium size mixing bowl add mushrooms, olive oil, sea salt, and ground black pepper. Toss to coat. Onto a baking sheet, spread mushrooms in an even layer. Bake 20 minutes, until lightly crisp.
To a medium skillet over medium high heat, add olive oil. When oil is hot, add onions; cook 3-5 minutes, until softened. Add garlic and cook an additional 1-2 minutes.
To a high speed blender, add onions and garlic, silken tofu, water, lemon juice, sea salt, and ground black pepper. Blend on high 2 minutes, until consistency is smooth.
Prepare fettuccine according to package directions. Drain well and toss with sauce mixture.
To serve, top fettuccine with baked shiitake mushrooms and a sprinkling of Italian parsley. Serve warm.
https://thiswifecooks.com/2018/02/vegan-fettuccine-alfredo-with-shiitake-mushrooms/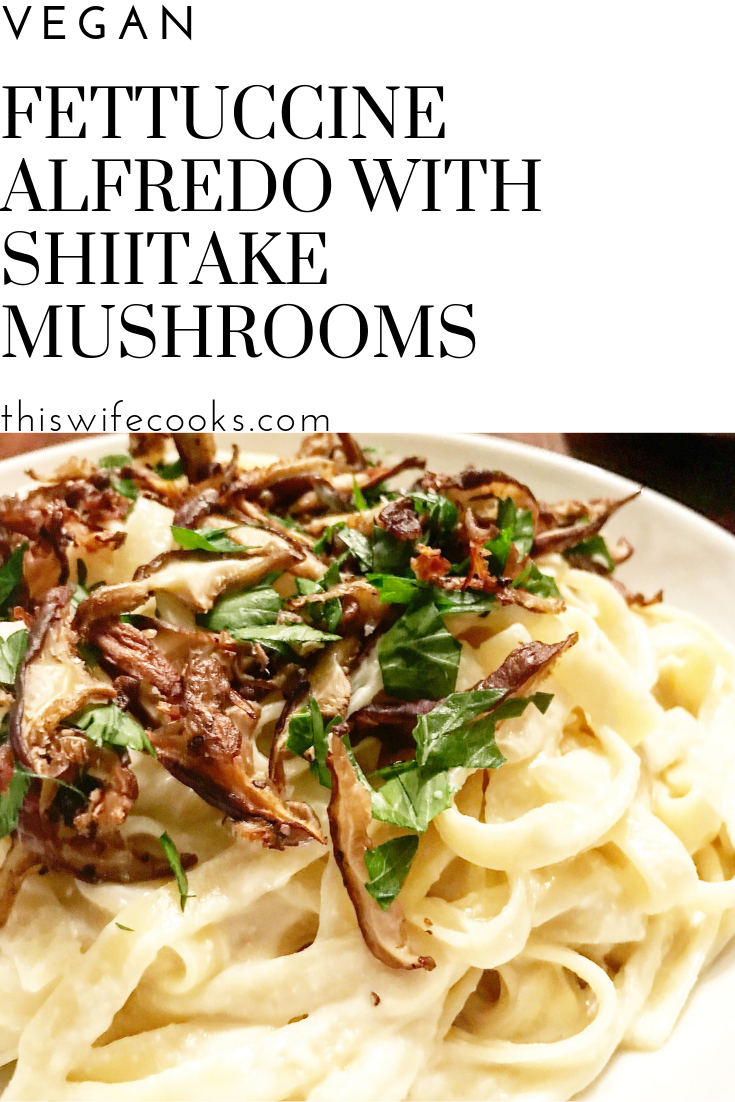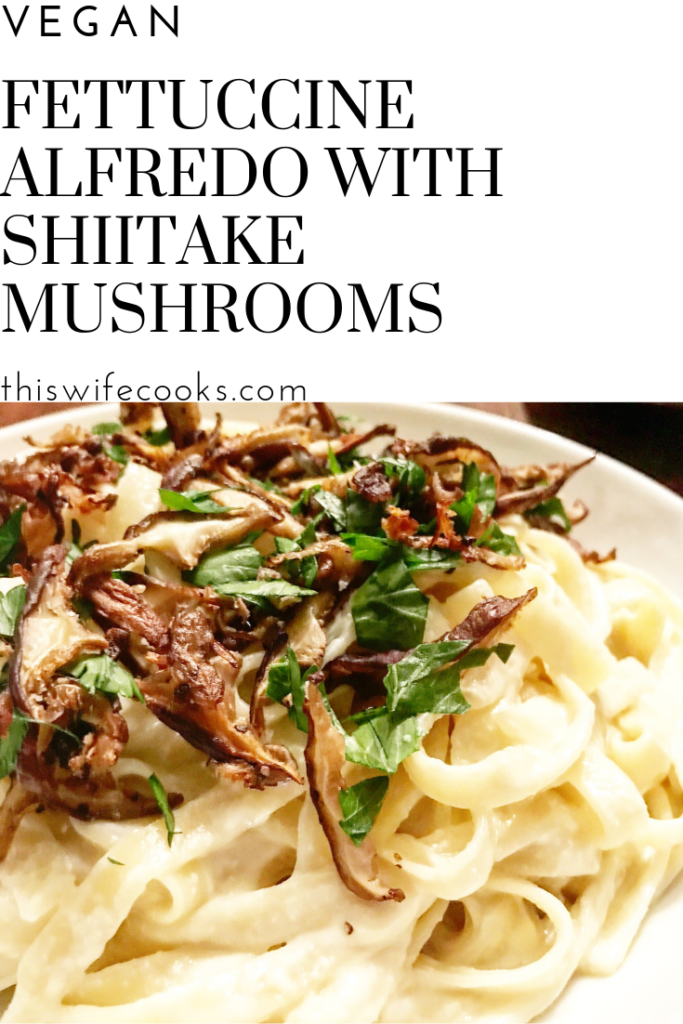 SaveSave
SaveSave
SaveSave
SaveSave
---
---