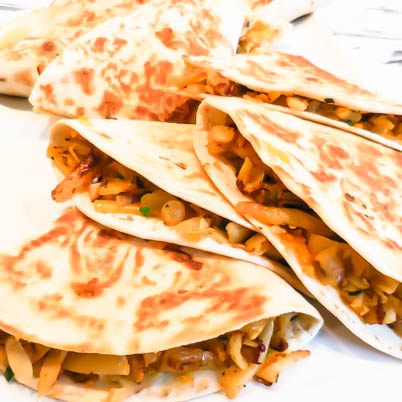 H
Southwest Hash Brown Quesadillas
Today, I'm sharing a super easy and delicious new quesadilla recipe featuring Simply Potatoes®,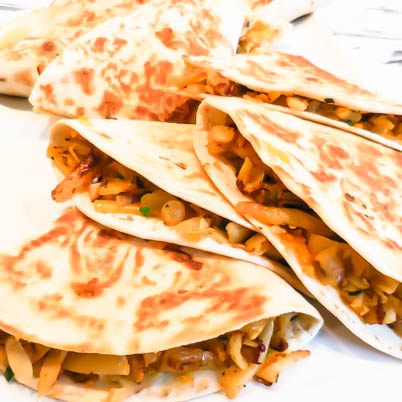 But first, I want to tell you that I am writing this post from the comfort of my warm and well lit kitchen which is kind of a big deal right now because…
We had some crazy weather over the weekend! March definitely came in like a lion.
There was an intense windstorm (we're talking 60mph winds!) that did some major damage around here. Fortunately, our damage was minimal, relatively speaking.
The greenhouse that we thought was pretty tightly secured lost a door, a few windows, and a roof panel. All but one piece was recovered but still, that's a weekend repair project added to the list.
And just when we thought the worst was over, the power went out.
Lights had been flickering all day but then everything finally went out for real in the afternoon. And it stayed out. All night. And the next morning.
We had a fire going but it was cold.
Then, around 24 hours later, as we're settling into at-home-camping mode – lights and heat were back!
And now I can get back to sharing the recipe I wanted to on Friday and it's one that includes one of my favorite and most versatile ingredients – potatoes.
I like Simply Potatoes because they're so super easy to prepare, always fresh, never frozen, and you just can't beat the convenience factor. Let's be honest, especially when you've got hungry kids to feed, who wants to spend a lot of time peeling and shredding potatoes? Not me.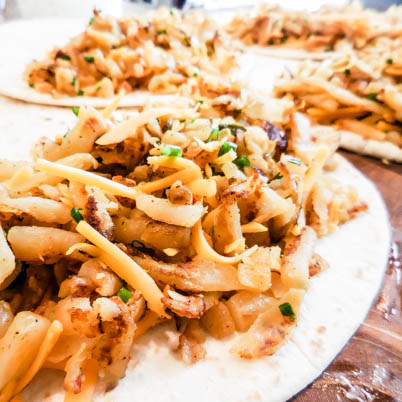 This is one of those meals that can really work any time of day.
Hashbrowns aren't just for breakfast, you know.
We've had these for Saturday morning brunch as well as breakfast-for-dinner.
It's all good.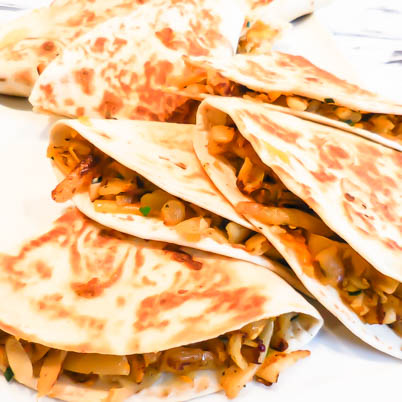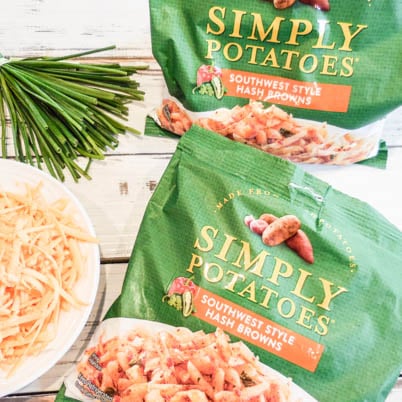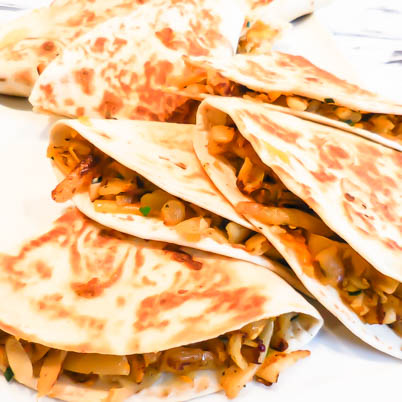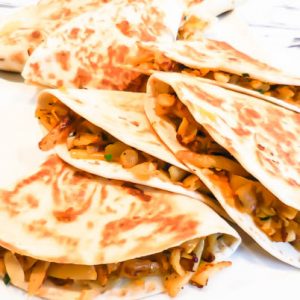 Ingredients
1 - 20-

ounce

package Simply Potatoes Southwest Style Hash Browns

1/2

cup

vegan Cheddar cheese

1/4

cup

chives

chopped

1

tablespoon

vegan butter
Instructions
Prepare hash browns according to package directions.

Stir in vegan Cheddar cheese and chives.

Divide hash brown mixture evenly across half of each of the tortillas; fold in half.

Add vegan butter to a large skillet over medium heat.  Cook each quesadilla 2-3 minutes on each side or until golden brown. Serve warm.
SaveSave
SaveSaveSaveSave
SaveSave
SaveSave
SaveSave
SaveSave