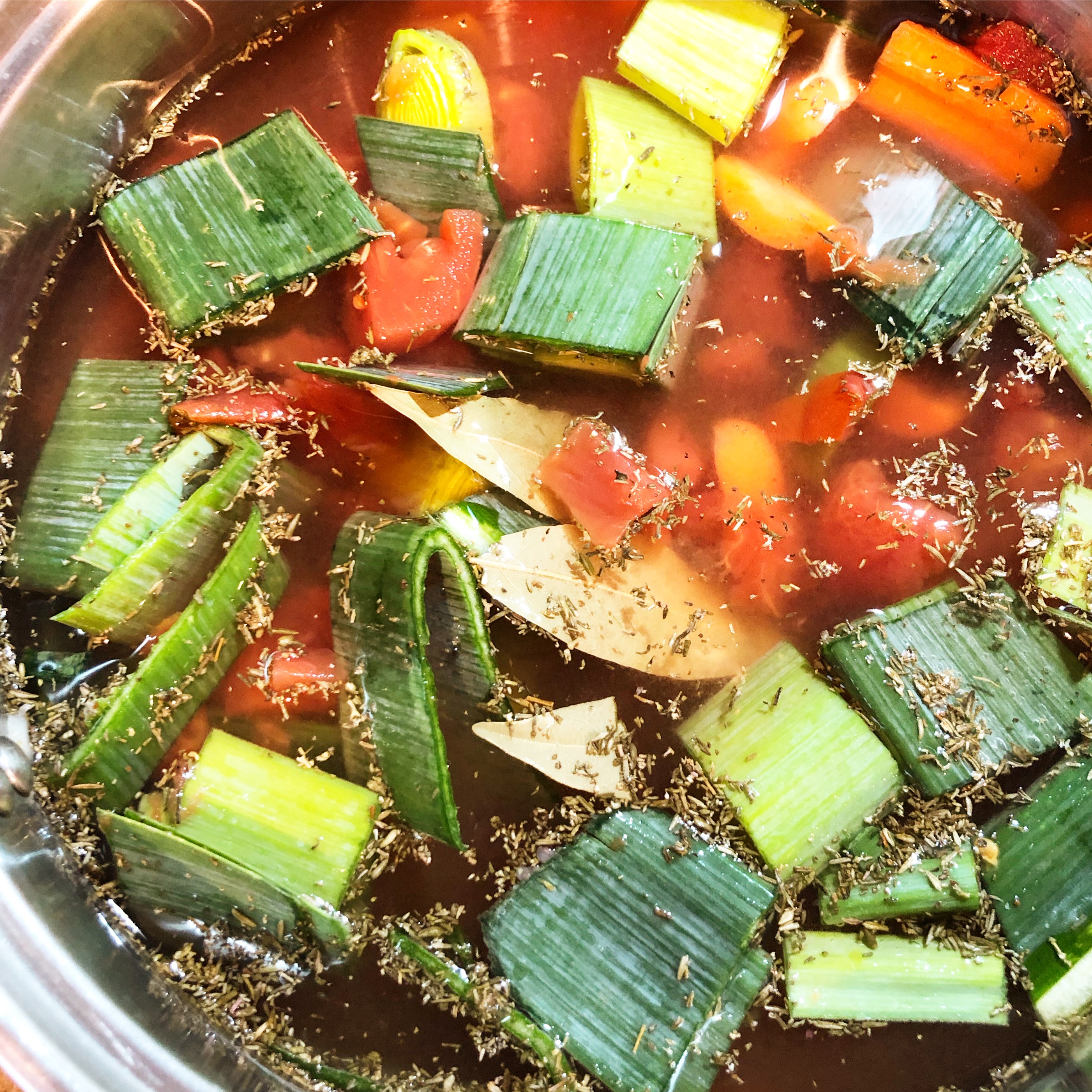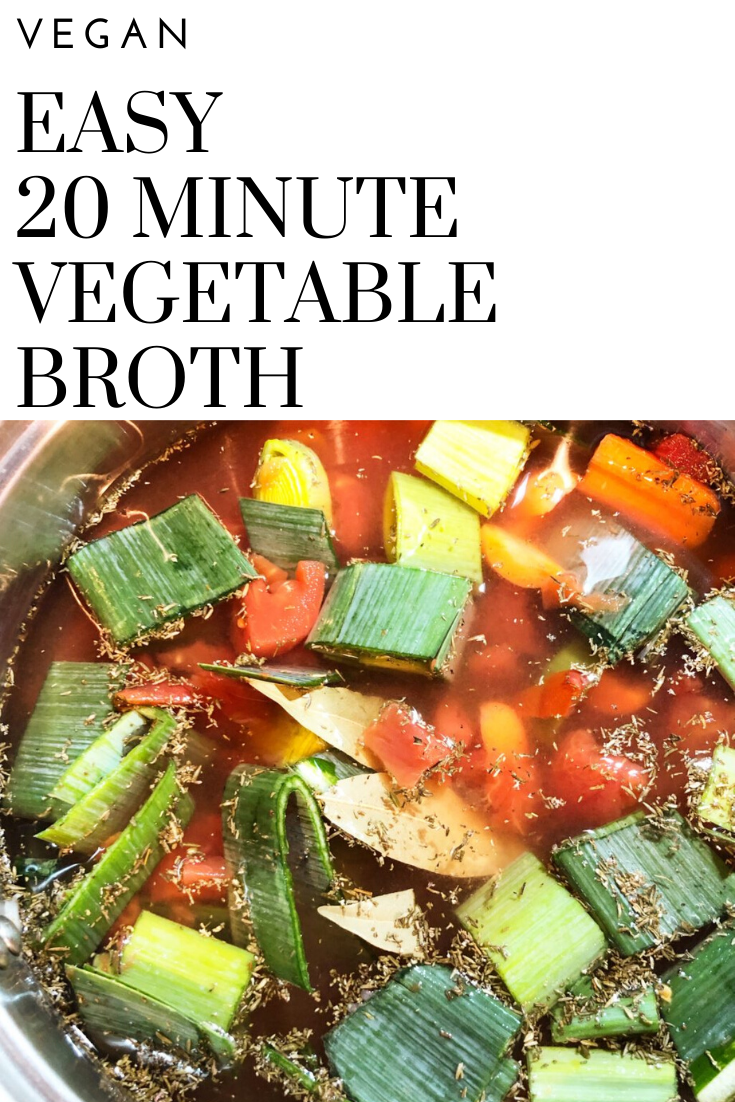 This rich, fragrant, easy to make homemade vegetable broth is an excellent base for soups and also works to boost the flavor in risottos, pasta, and casseroles.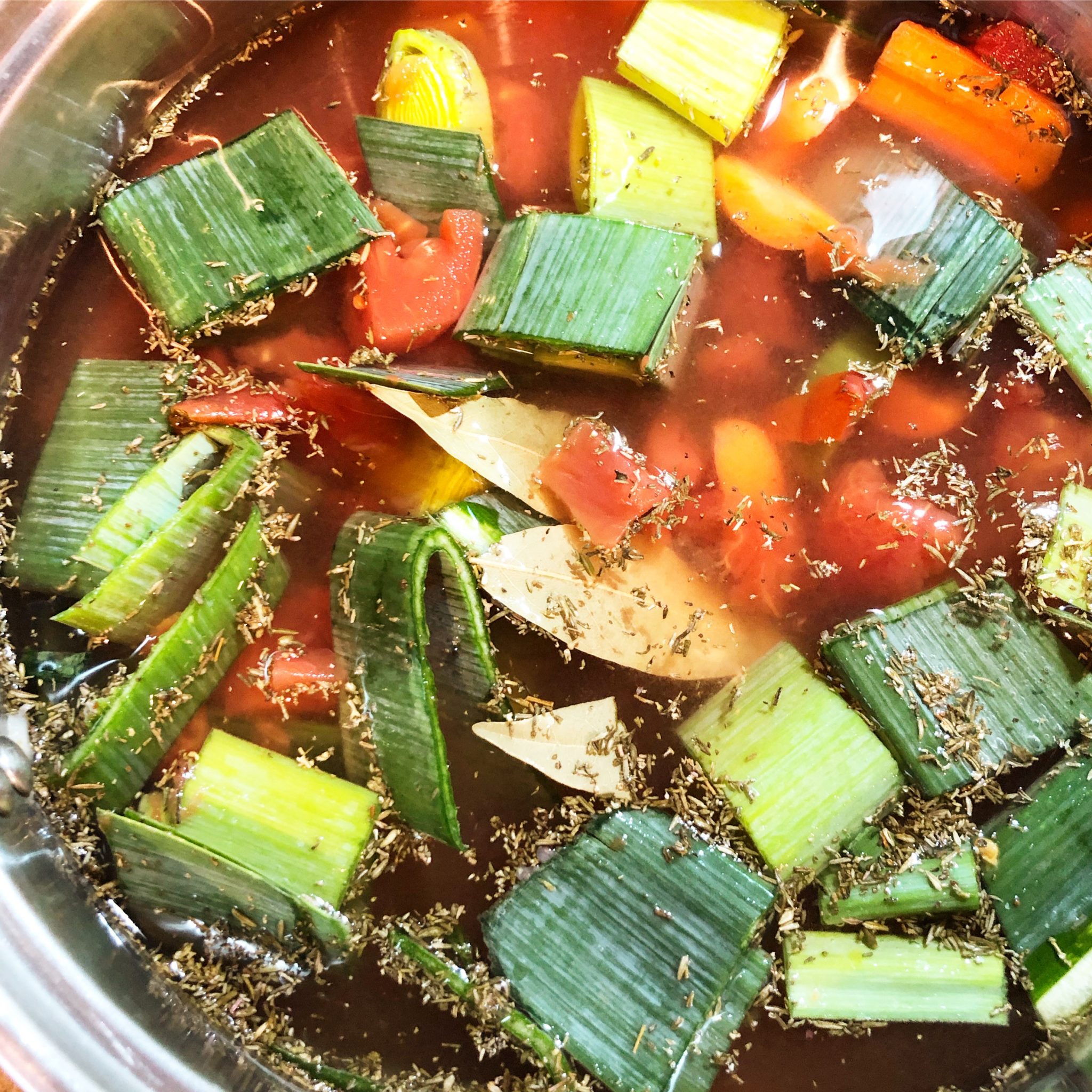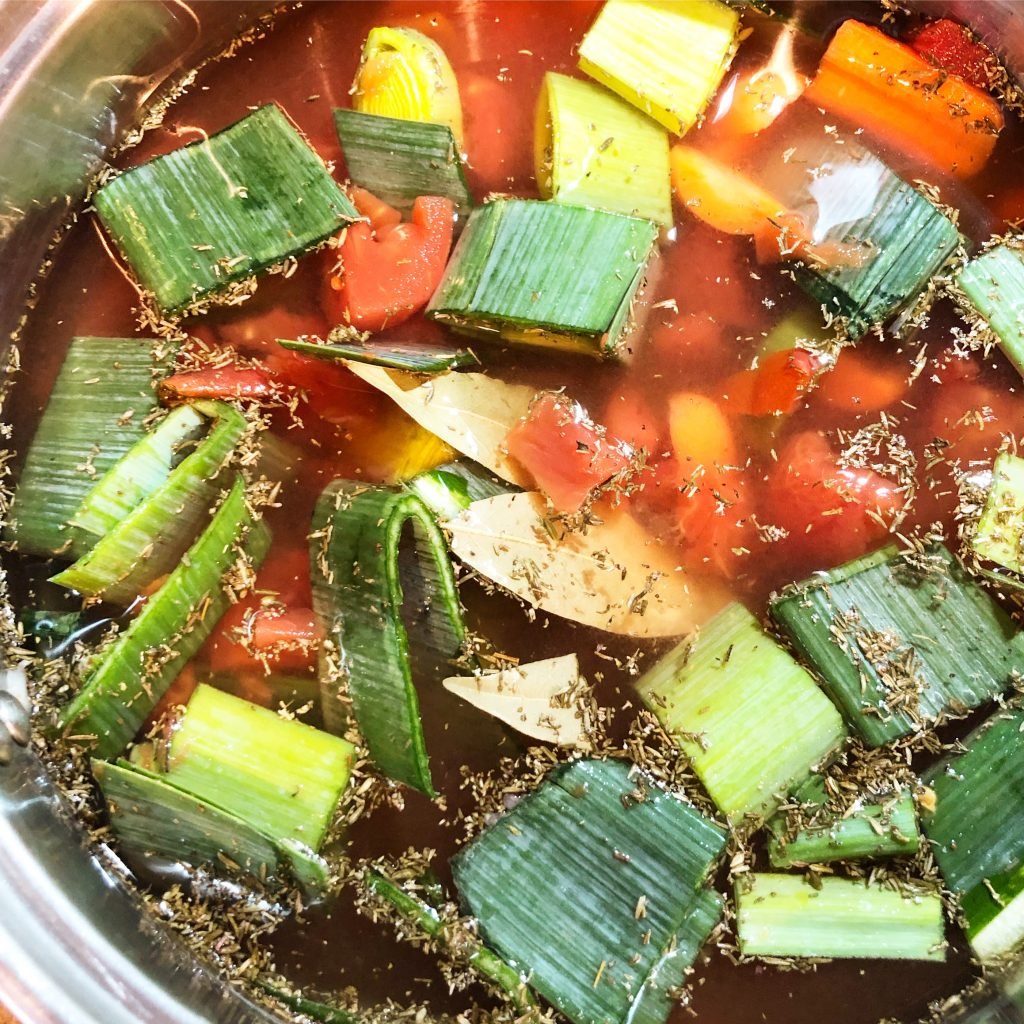 Homemade stock is a great way to use up vegetables that may otherwise get tossed!
This recipe was inspired by a big bunch of leeks I bought for a completely different recipe that never happened. Most likely, they would have just sat in the fridge and then been eventually thrown out.
But here's the great thing about broths: they can generally be easily customized to taste with whatever herbs and vegetables you have on hand.
Got parsley starting to wilt?
Throw it in.
Celery losing its crunch?
Toss that in as well.
That too-large bag of carrots you bought when the kids were on a carrot kick that suddenly stopped the minute the bag came home?
Into the pot, they go.
You get the idea.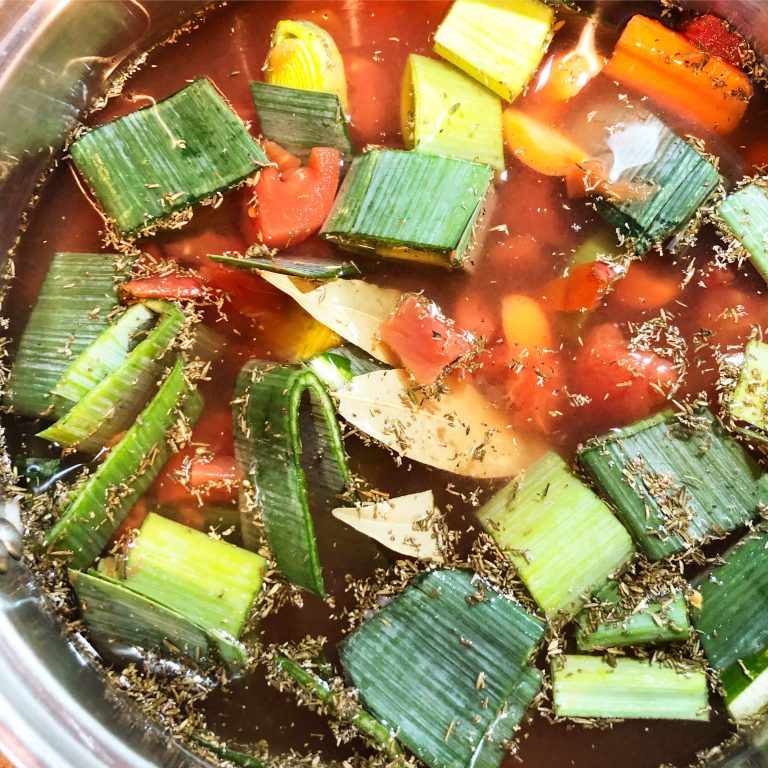 Is there a difference between broth and stock?
I used to use these terms interchangeably but it turns out there really is a difference.
Broth is made exclusively from either vegetables or meat whereas a stock recipe also includes bones.
Why should I make my own broth?
For me, the main reasons are:
Quality control
Reduced food waste
And flavor that is far superior to canned broth.
How long can I store this in the refrigerator?
For maximum freshness, I recommend using it within a week.
Can I make a big batch and freeze it for later?
Absolutely!
Just double or triple the ingredients; cook time remains the same.
In airtight containers or freezer bags, this broth is good in the freezer for up to 6 months.
Cheers!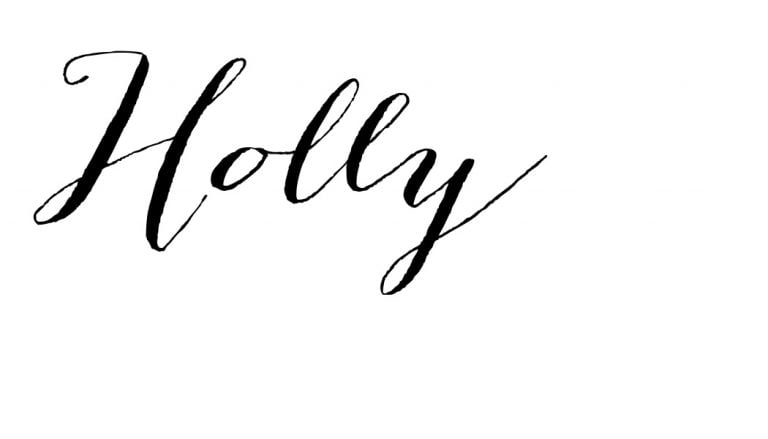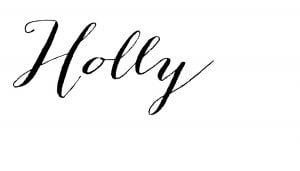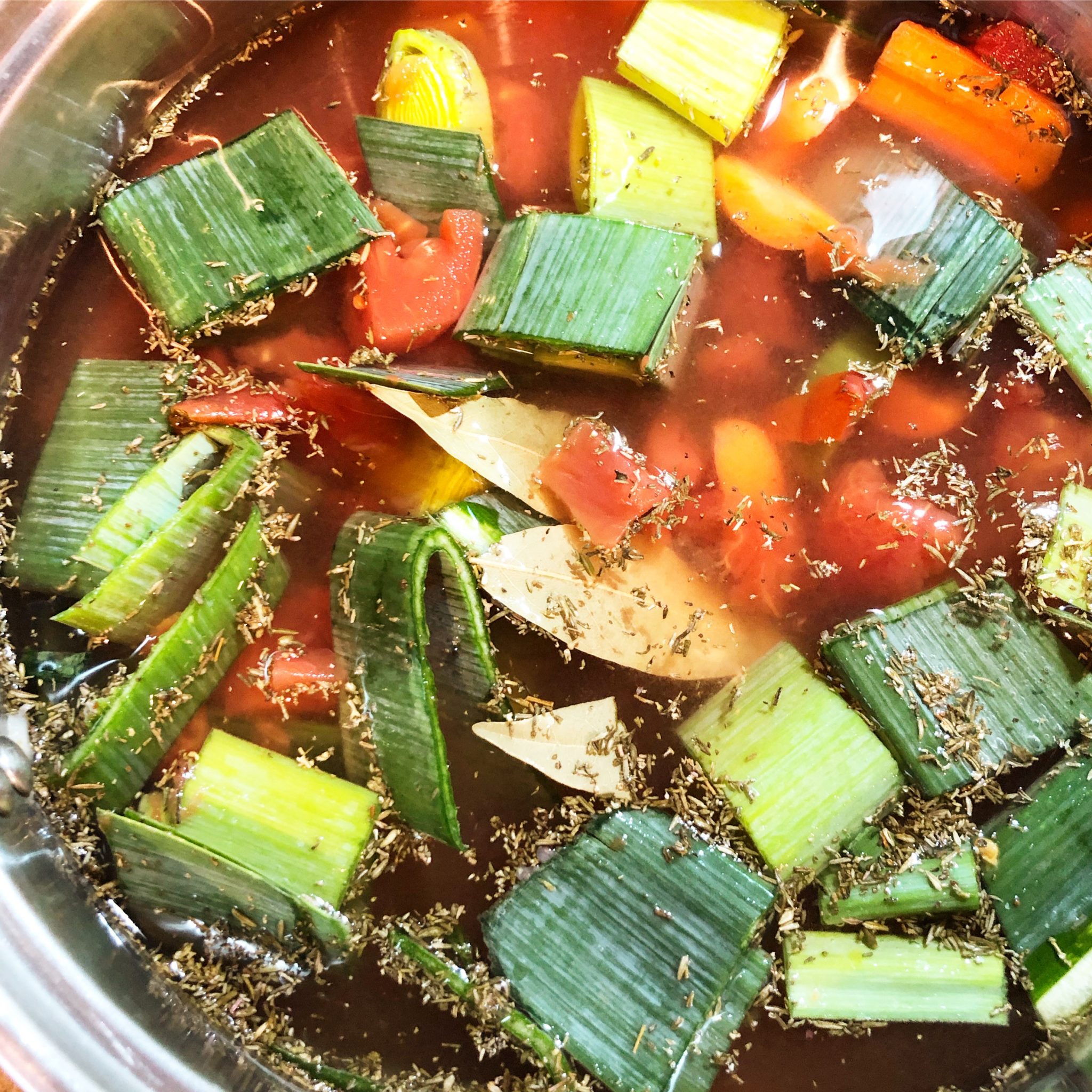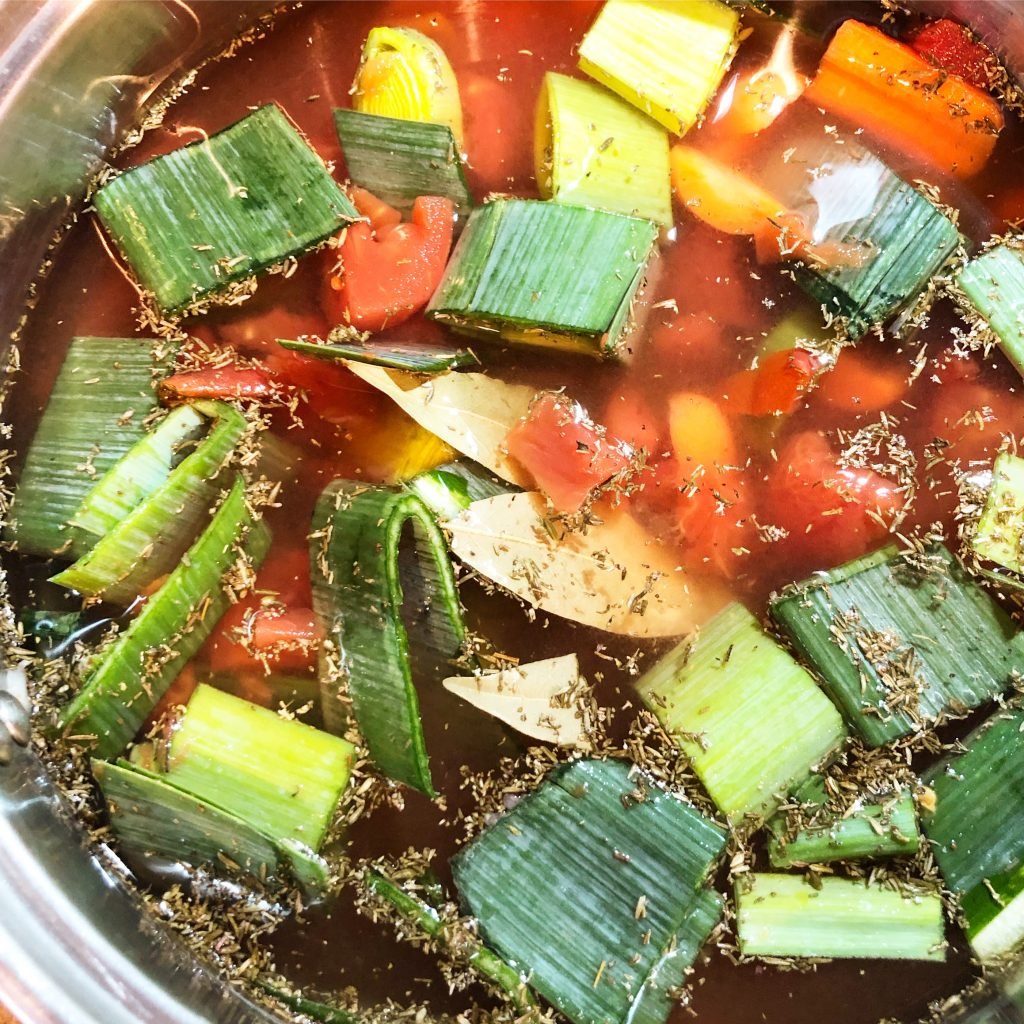 Favorite recipes using vegetable broth:
Chickpea & Pasta Soup with Spinach – The soup recipe that finally got me making my own broth. It's great for really showcasing the depth of flavor that comes with using fresh homemade broth.
Easy Vegan Parmesan Risotto – This creamy classic is ready to serve in just 30 minutes!
Sriracha Ramen Soup with Bok Choy & Shiitake Mushrooms – A bold and satisfying soup that calls for 5 cups of vegetable broth.
King Oyster Mushroom Cioppino – King Oyster mushrooms, with their remarkably similar size and texture to scallops are seared and added to a hearty and fragrant, vegetable-rich and protein-packed stew seasoned with lots of garlic and Old Bay.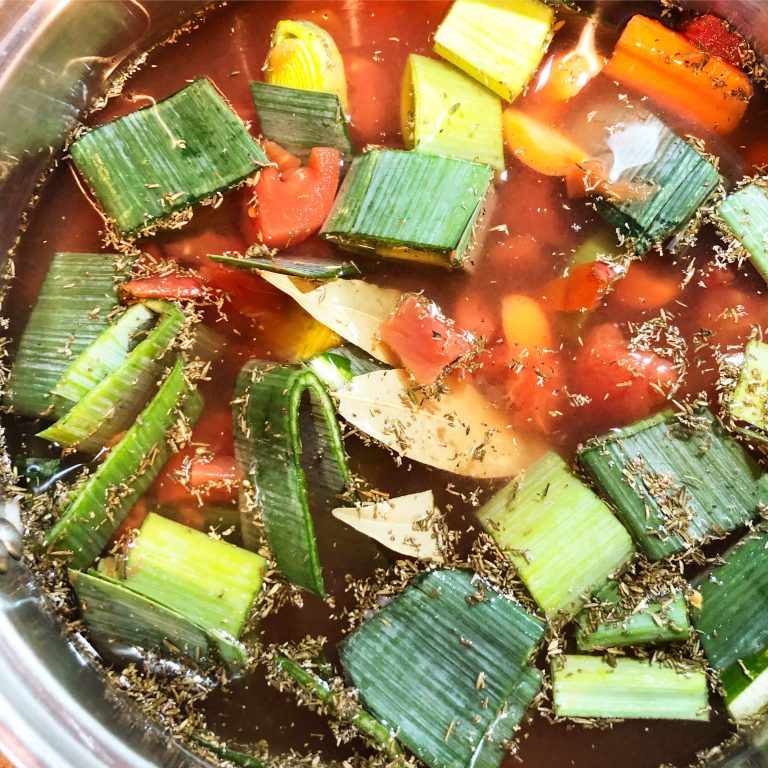 Easy 20-Minute Vegetable Broth
Use as a base for soups or to boost the flavor in risottos, pasta, and casseroles. This recipe yields 1 quart of broth.
Print
Pin
Rate
Ingredients
1

cup

leeks

white and light green parts, chopped

1/2

cup

carrots

sliced

1

tablespoon

coarse sea salt

2

bay leaves

2

fresh thyme sprigs

2

cans diced tomatoes

undrained
Instructions
Place leeks, carrots, salt, bay leaf, thyme, and tomatoes in a large pot with 4 cups of water.

Bring to a boil, then reduce heat and allow to simmer 10-15 minutes.

Strain into a large bowl, pressing down on the vegetables to get as much liquid as possible.

Return stock to the pot and discard the vegetables.