King Oyster Mushroom Cioppino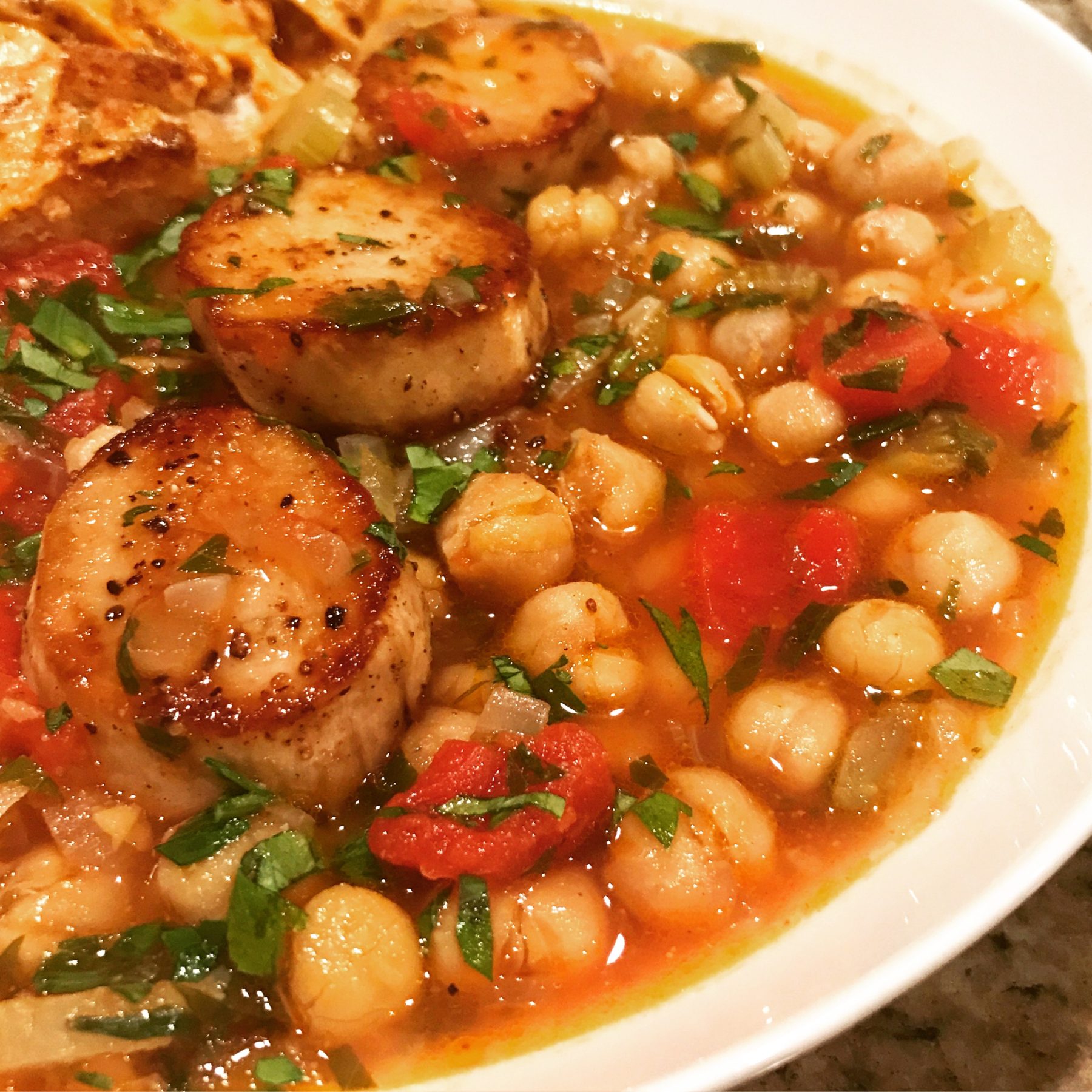 Cioppino – the Italian-American stew traditionally made with fish is getting a plant-based makeover that is sure to satisfy.
King Oyster mushrooms, with their remarkably similar size and texture to scallops are seared and added to a hearty and fragrant, vegetable rich and protein packed, stew seasoned with lots of garlic and Old Bay.
Round out the meal with toasted ciabatta bread smeared with saffron aioli and a glass of crisp white wine for an easy, gourmet quality meal at home!
To make the saffron aioli:
Stir together these four ingredients, and it's ready to go:
3 tablespoons vegan mayonnaise
1 tablespoon softened vegan butter
1 clove minced garlic
1/8 teaspoon saffron threads.
Enjoy!
King Oyster Scallop Cioppino
A gourmet quality vegan stew made with King Oyster mushroom "scallops" and seasoned with lots of garlic and Old Bay!
Ingredients
1/2 pound king oyster mushrooms, stalks cut into 1 1/2" thick rounds
1 tablespoon vegan butter
1 tablespoon olive oil
1/4 cup celery, thin sliced
1/4 cup yellow onion, small diced
4 cloves garlic, thin sliced
1 - 15-ounce can garbanzo beans, rinsed and drained
4 Roma tomatoes, diced
1 1/2 cups vegetable broth
1 teaspoon Old Bay seasoning
1/4 cup lemon juice
salt, to taste
ground black pepper, to taste
2 tablespoons fresh parsley, chopped and divided
Instructions
Place mushroom rounds in a medium size bowl filled with hot water. Soak 5 minutes then drain and pat dry.
To a large skillet over medium high heat, add vegan butter. When butter is melted, add mushrooms and cook 3-4 minutes, until browned. Flip and cook the other side another 3-4 minutes, until browned. Remove from heat and cover to keep warm.
To a large pot over medium high heat, add olive oil. Add celery and onion and cook 3-5 minutes, stirring frequently, until softened. Add garlic and cook 1 minute.
Add garbanzo beans, Roma tomatoes, vegetable broth, and Old Bay seasoning. Reduce heat to low an simmer 15 minutes. Stir in lemon juice and 1 tablespoon chopped parsley. Adjust seasoning to taste with salt and ground black pepper.
To serve, ladle the cioppino into shallow bowls and top with the mushroom "scallops". Sprinkle with remaining parsley.
https://thiswifecooks.com/2017/09/king-oyster-scallop-cioppino/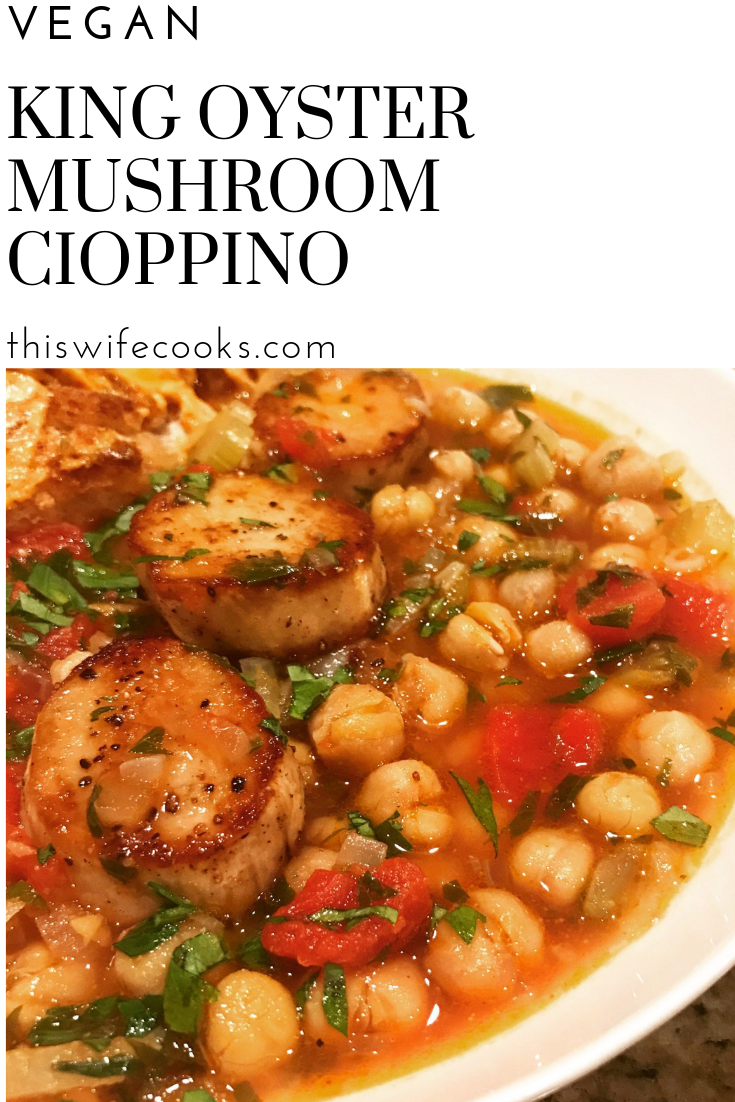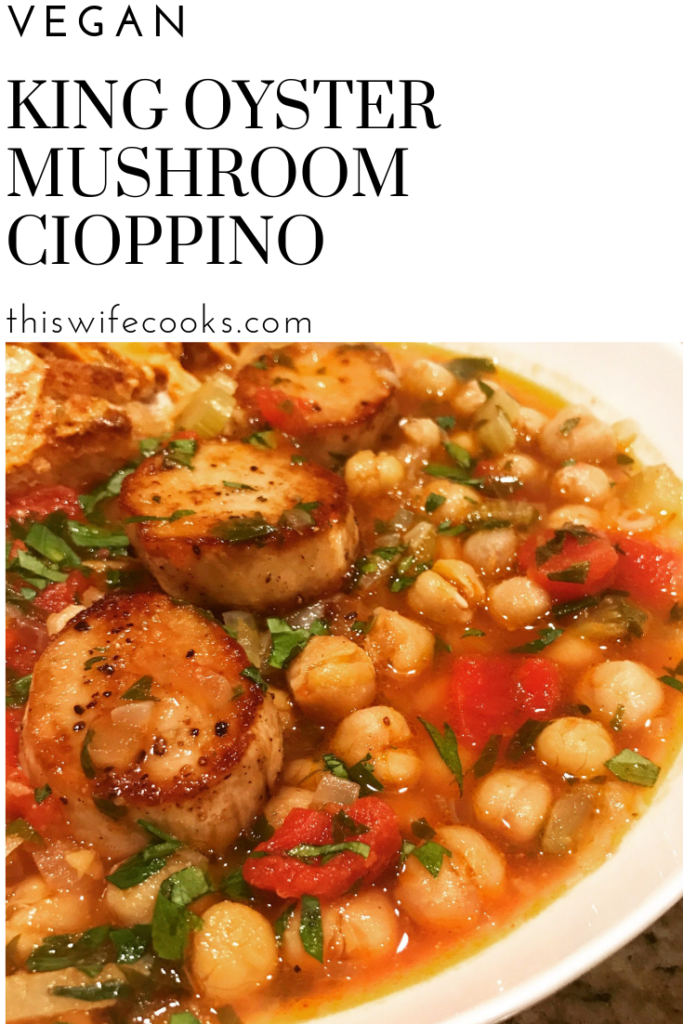 ---
---