I used to think there was only one way to do stuffed peppers – ground beef, tomato sauce, etc. My husband and I both have memories of eating them like this when we were kids. He would probably still eat them that way if it weren't for the fact I won't prepare them that way. Didn't like ground beef in my pepper then and I don't like it now. Which brings us to these stuffed peppers that my whole family loves (even my son, the veggie hater):
1c. vegetable broth
1 TBSP butter
1/2c. uncooked Arborio rice
4 red or green peppers, seeded and tops removed
2 TBSP olive oil
1/2 lb. veggie sausage
4 green onions, chopped
3 cloves garlic, minced
1/2c. mushrooms, chopped
2 tsp. dried basil
2 tsp. Italian or Greek seasoning
1 tsp. salt
1/2 tsp. black pepper
2 medium tomatoes, diced
8 oz. garlic & herb feta cheese, crumbled
2. In medium saucepan, bring broth and butter to a boil. Add rice, reduce heat to low, cover, and simmer approximately 20 minutes, or until done. Set aside.
3. Meanwhile, in large skillet, heat olive oil and add the sausage. Cook over medium heat until done.
4. To the skillet, add green onions, garlic, mushrooms, basil, Italian seasoning, salt, and pepper. Cook and stir about 5 minutes.
5. Add the tomatoes and cook for another 5 minutes or so.
6. Add the cooked rice and stir until everything is well blended and heated through.
7. Remove from heat and add feta.
8. Spoon everything into peppers and bake 30-40 min. and serve immediately.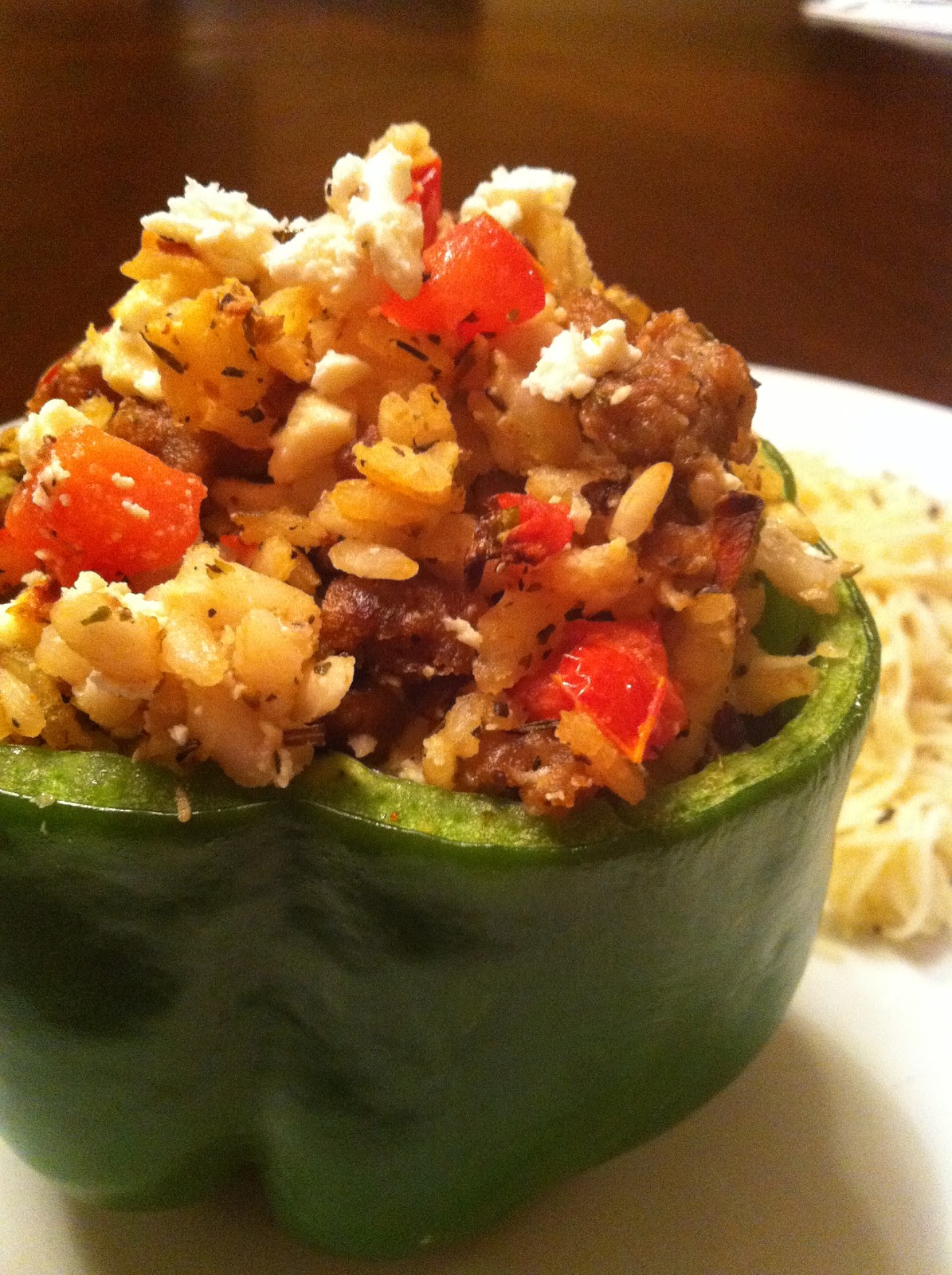 Served with garlic angel hair pasta.