Vegan Chili Mac Casserole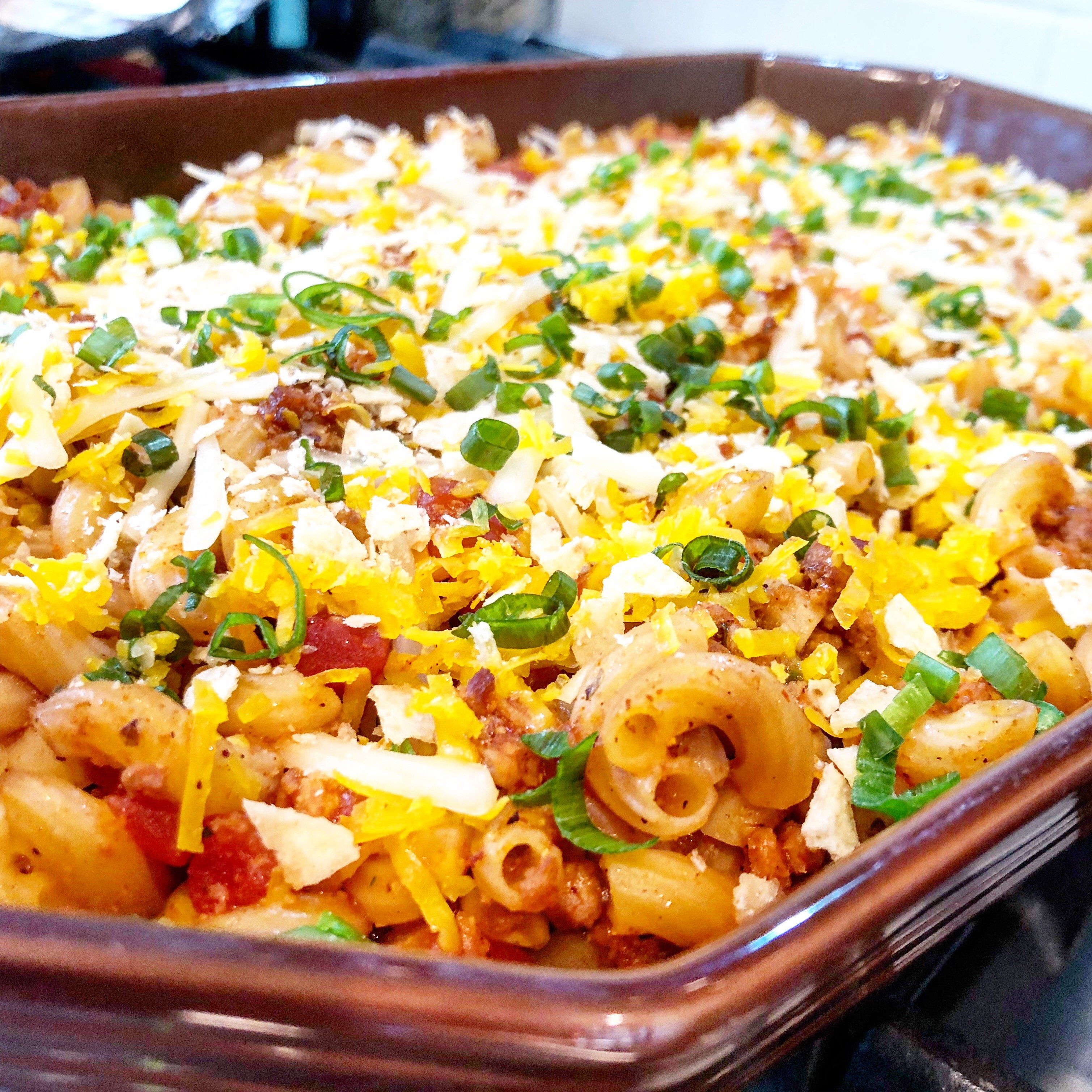 This post really should be titled "Dad's Chili Mac Goes Vegan." Isn't it funny how just thinking about a certain meal can bring back so many memories?
This classic comfort food takes me back every time.
When I was a kid, my dad made his famous chili mac every weekend so this dish is definitely one of my favorite food memories from childhood.
I can still picture the tiny apartment with it's narrow galley kitchen and hear Queen blasting 'We Will Rock You' through the speakers of our 70s stereo with the dial tuner.
I've tweaked dad's recipe over the years but not by much. The main upgrades are swapping meat and dairy for vegan ingredients and the addition of crushed tortilla chips on top.
I hope you love this family favorite as much as we do!
Vegan Chili Mac Casserole
A classic chili mac made with all plant-based ingredients.
Ingredients
8 ounces elbow pasta
1/2 pound plant-based ground beef substitute
1/2 cup yellow onion, chopped
1/2 large green bell pepper, chopped
3 tablespoons taco seasoning
1 - 10.75 ounce can tomato soup
1 - 14.5 ounce can diced tomatoes, drained
1 - 4 ounce can green chiles
1/2 cup vegan cheddar cheese, shredded
1/2 cup tortilla chips, crushed
14 cup green onions, sliced
Instructions
Preheat oven to 350 degrees F.
Prepare pasta according to package directions. Drain and set aside.
To a large deep skillet over medium high heat, crumble ground beef substitute and add onion and peppers. Cook, stirring frequently, until heated through and onions and peppers are softened.
Add taco seasoning and water. Stir to coat. Continue cooking until water is reduced.
Stir in tomato soup, tomatoes, and green chiles. Stir in pasta.
To a prepared 11" x 7" baking dish, add the entire mixture. Top with cheese and crumbled tortilla chips. Bake, uncovered 30 minutes.
Sprinkle with green onions and serve warm.
https://thiswifecooks.com/2019/07/vegan-chili-mac-casserole/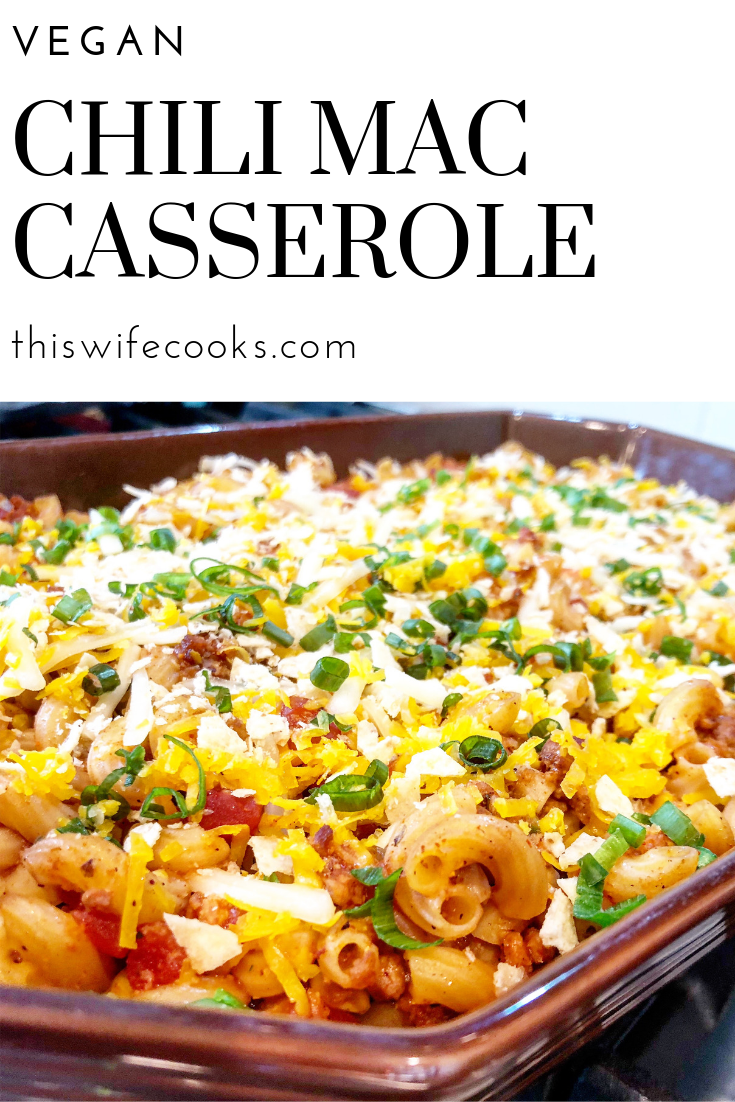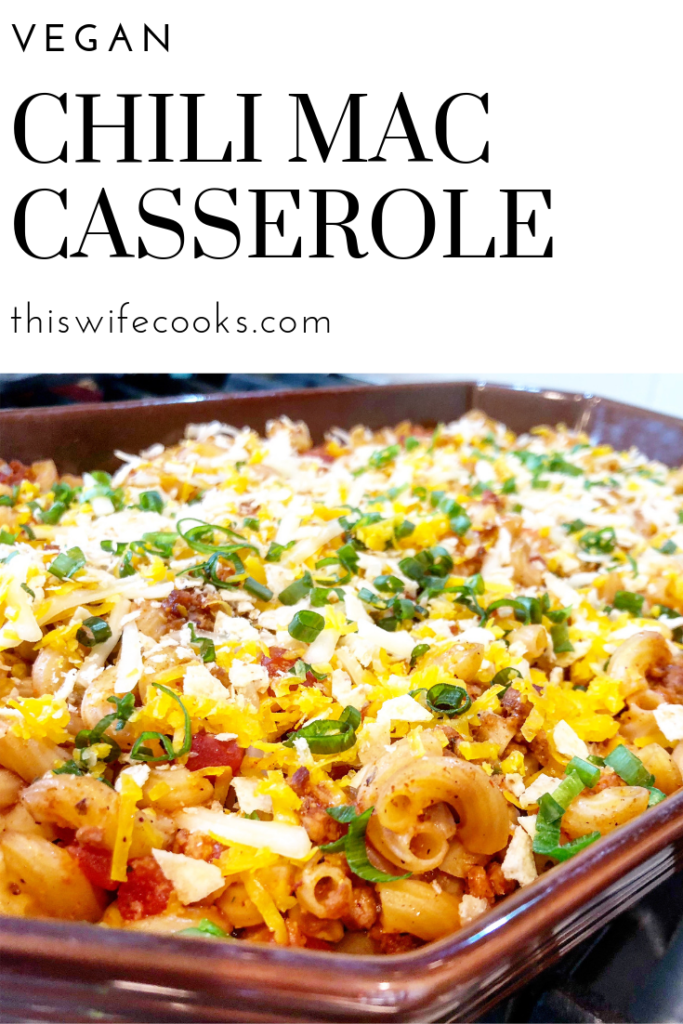 ---
---