Spaghetti Artichoke Barigoule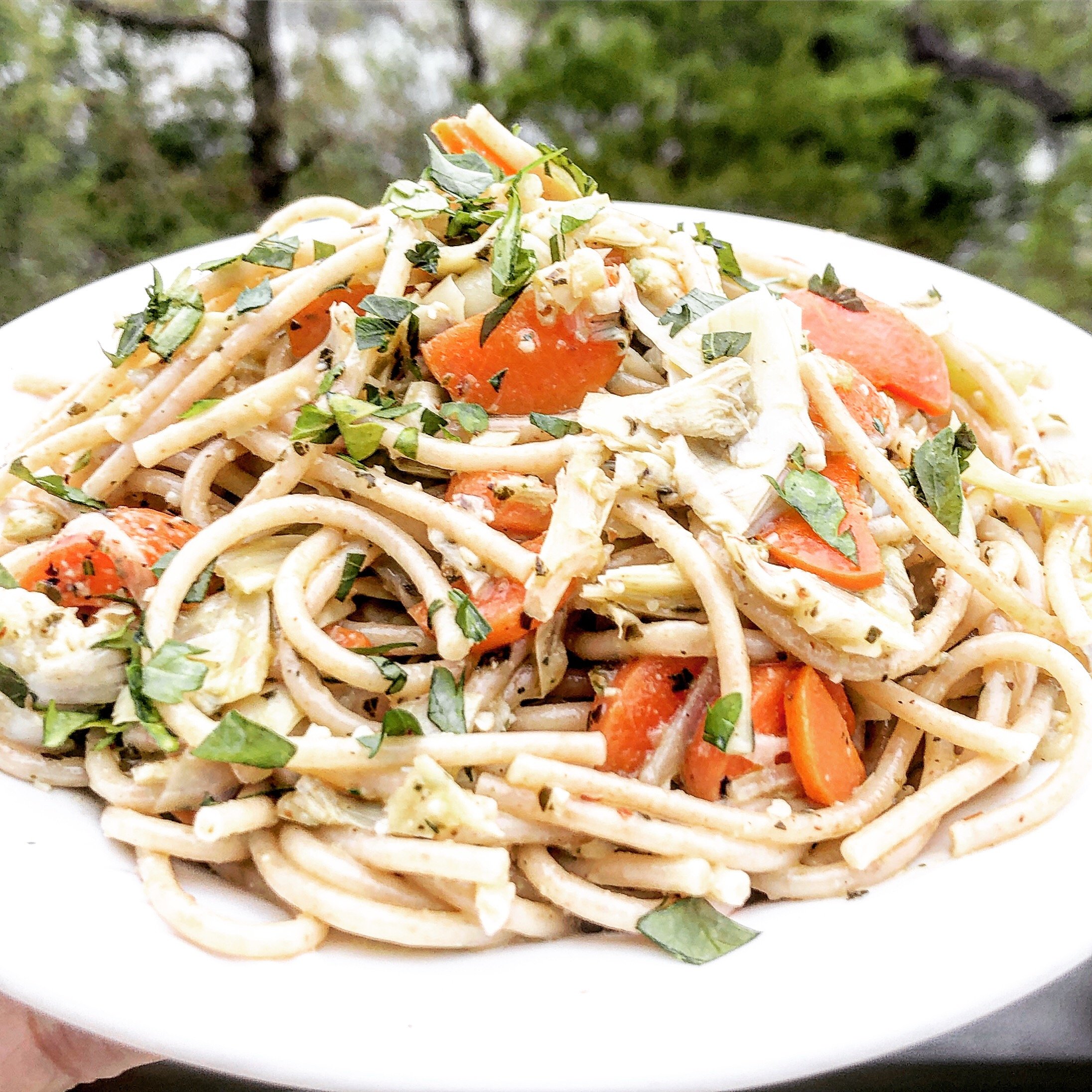 Spaghetti Artichoke Barigoule is a fancy way of saying spaghetti with artichokes braised in wine, broth, or water with onions, garlic, and carrots.
The addition of fresh basil pesto and lemon juice at the end of this recipe adds a refreshing seasonal touch.
For this recipe, I used vegetable broth but I think vegan chicken broth would work equally as well. Not sure about wine though. A full cup of liquid is needed and, first of all, that's a lot of wine. Second, I think it could end up being too overpowering.
This pasta is perfect served outdoors with a bottle of crisp white wine.
Cheers!
Spaghetti Artichoke Barigoule
Ingredients
8-ounces spaghetti
1 tablespoon olive oil
1/4 cup yellow onion
2 large carrots, sliced into half moons
14-ounce can artichoke hearts, drained and rough chopped
4 cloves garlic, minced
1 cup vegetable or vegan chicken broth
1/2 lemon, cut into 2 wedges
1/4 cup parsley, chopped
1/2 cup dairy-free basil pesto
Salt and pepper, to taste
Instructions
Prepare pasta according to package directions.
Into a large skillet over medium high heat, add olive oil. When oil is hot, add onions and carrots. Cook, stirring frequently 3-5 minutes, until vegetables begin to soften.
Add artichokes. Continue cooking another 2 minutes, until heated through.
Add garlic and continue cooking 1 minute more.
Add broth and continue cooking until carrots are fork tender.
Season with salt and pepper, to taste.
To the pot with the cooked pasta, add all of the vegetable mixture. Toss gently.
Squeeze lemon wedges over pasta.
Top with parsley. Serve warm.
https://thiswifecooks.com/2019/05/spaghetti-artichoke-barigoule/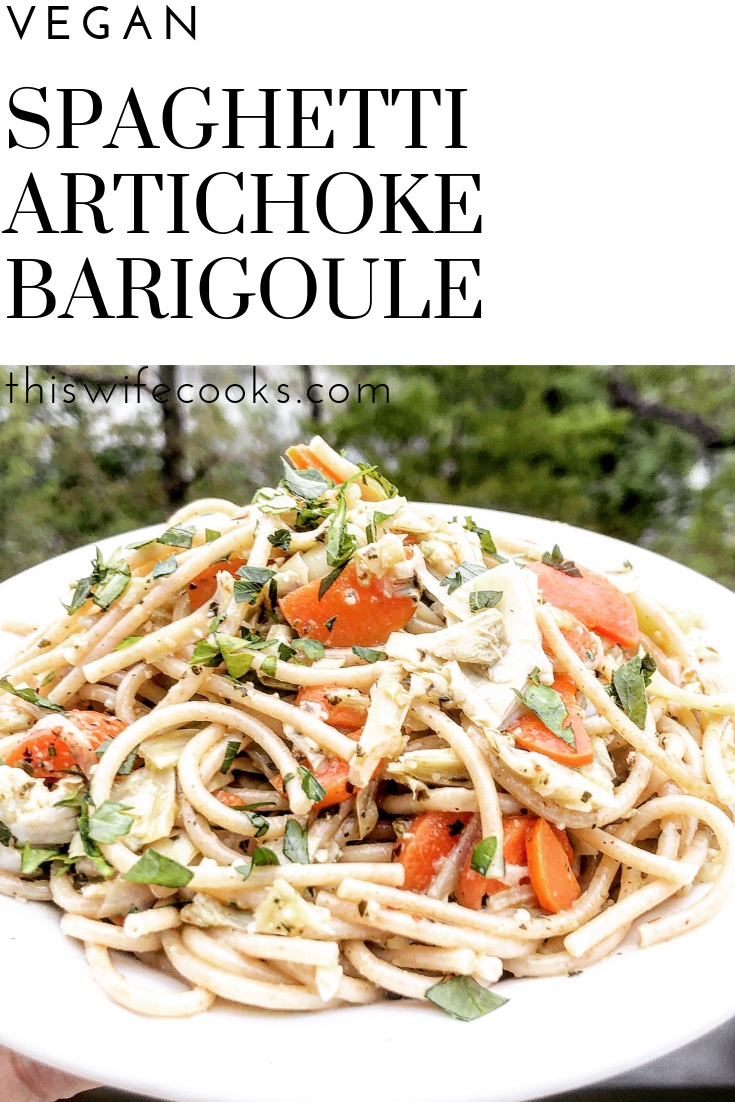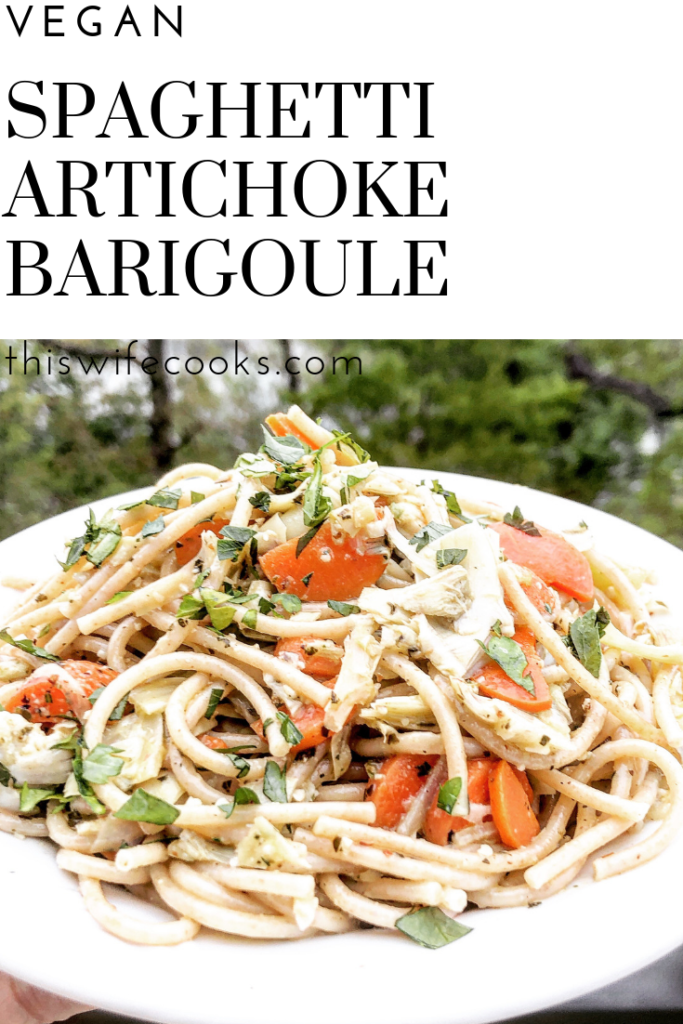 ---
---