Saturday Morning Tofu Scramble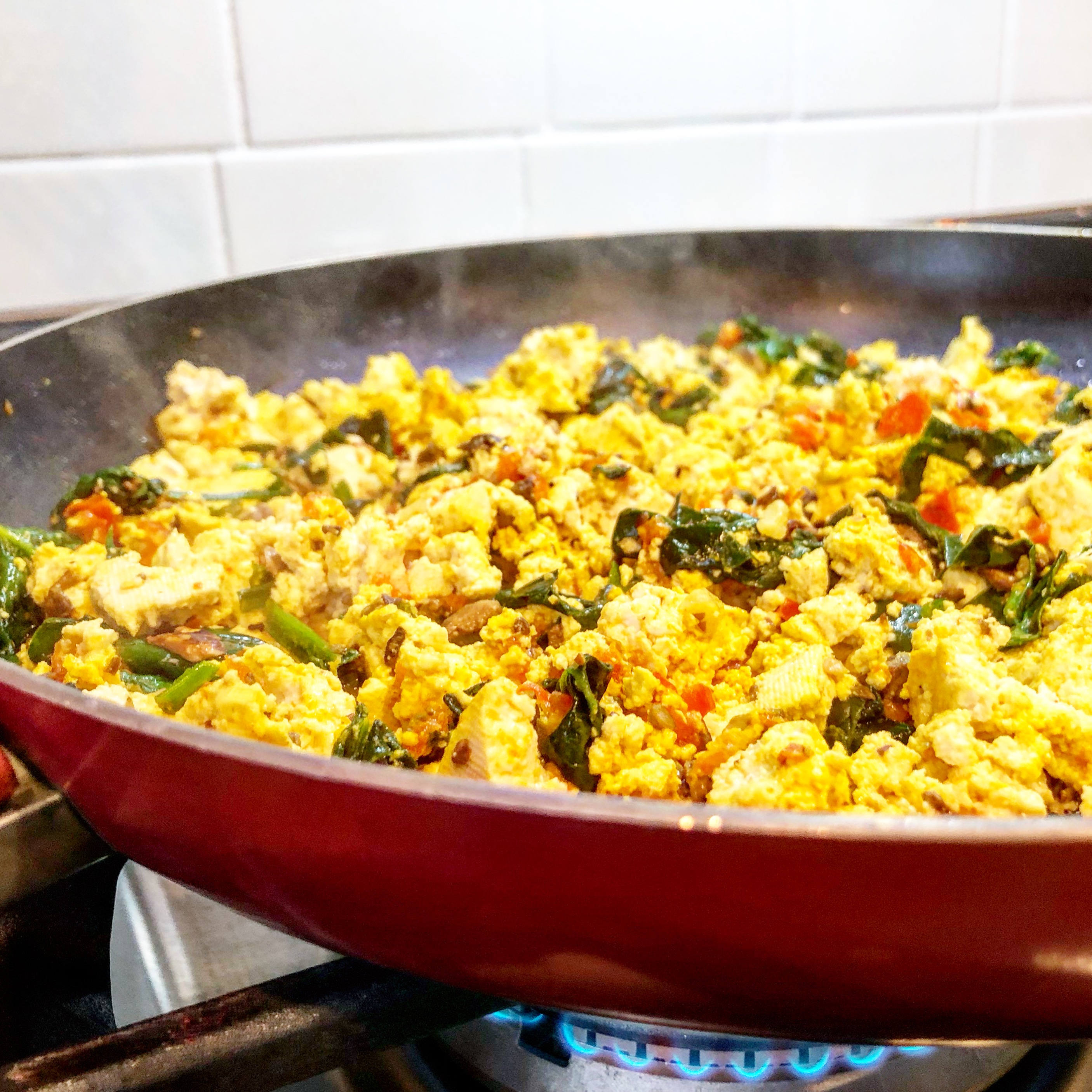 I love Saturday mornings at home.
We're not rushing to get here or there by any specific time and I get to enjoy cooking a big breakfast for everyone. Before going vegan, these breakfasts were largely egg-based – frittatas, omelettes, quiches – so I thought the days of those type of breakfasts was pretty much over but, it turns out, that is just not the case.  Scrambles are so easy and flavorful and I promise you won't miss the eggs!
The key to achieving a "scrambled egg" texture is taking the time to make sure the tofu is very well-drained. I used a tofu press the night before for squeezing out the maximum amount of water and then dried the tofu on paper towels before storing in the refrigerator for use in the morning.
Want to add a little southwest flair? Add these four spices to Step #3
2 tsp. chili powder
1 tsp. cumin
1 tsp. dried oregano
1/2 tsp. turmeric
Breakfast tacos, anyone?
Another favorite –> Vegan Tofu Benedict Florentine with Easy Vegan Hollandaise Sauce
Saturday Morning Tofu Scramble
Ingredients
1 tablespoon vegan butter
1/4 cup yellow onion, diced
1 medium red bell pepper, seeded and diced
1 clove garlic
1 cup fresh baby spinach
1 14-ounce package extra firm tofu, pressed
1 tablespoon nutritional yeast
1/2 teaspoon turmeric
salt and pepper, to taste
Instructions
To a large skillet over medium high heat, add butter. When oil is hot, add onion and peppers; sauce 2-3 minutes, until softened. Add garlic; continue cooking 1 minute.
Add spinach, stirring frequently until wilted.
Crumble the tofu and add it to the pan. Sprinkle with nutritional yeast, turmeric, salt, and pepper. Stir until well combined. Continue cooking for about 10 minutes. Serve warm.
https://thiswifecooks.com/2019/03/saturday-morning-tofu-scramble/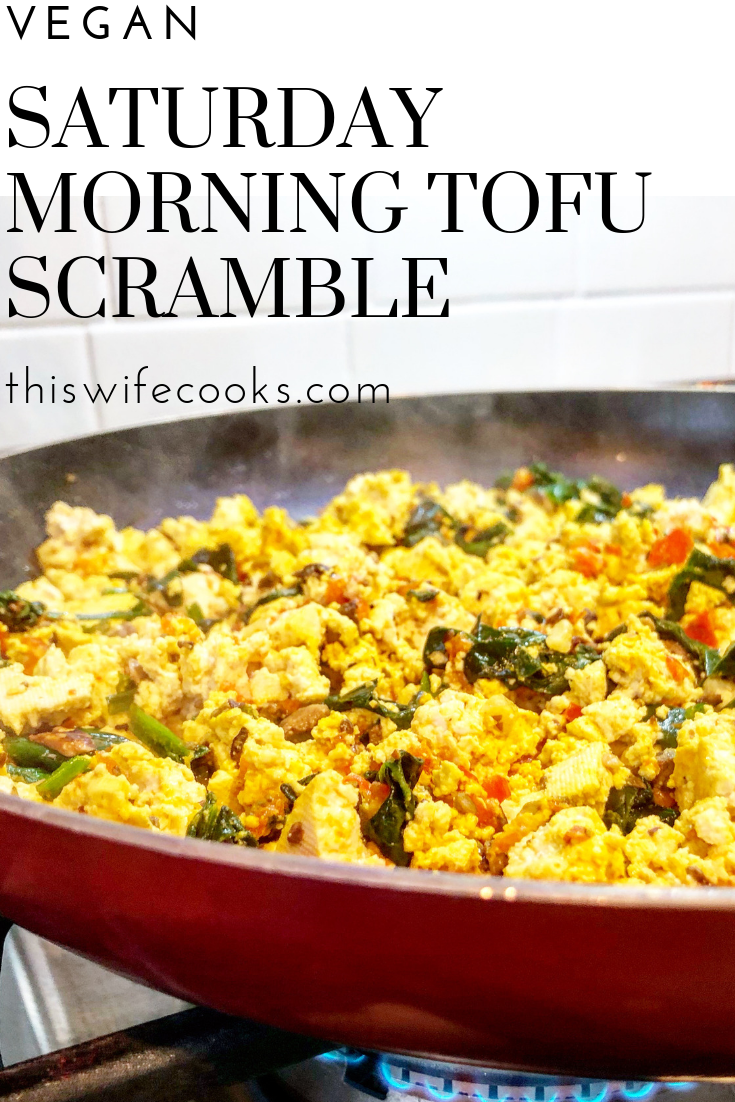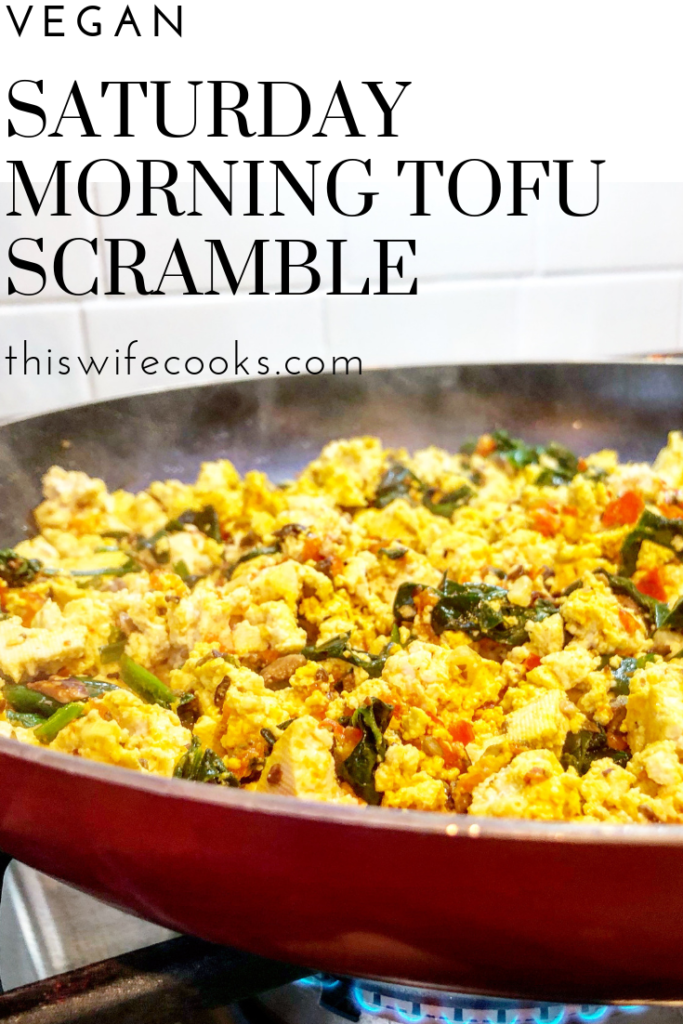 SaveSaveSaveSave
SaveSave
SaveSave
---
---