Twice-Baked Buffalo Cauliflower Tacos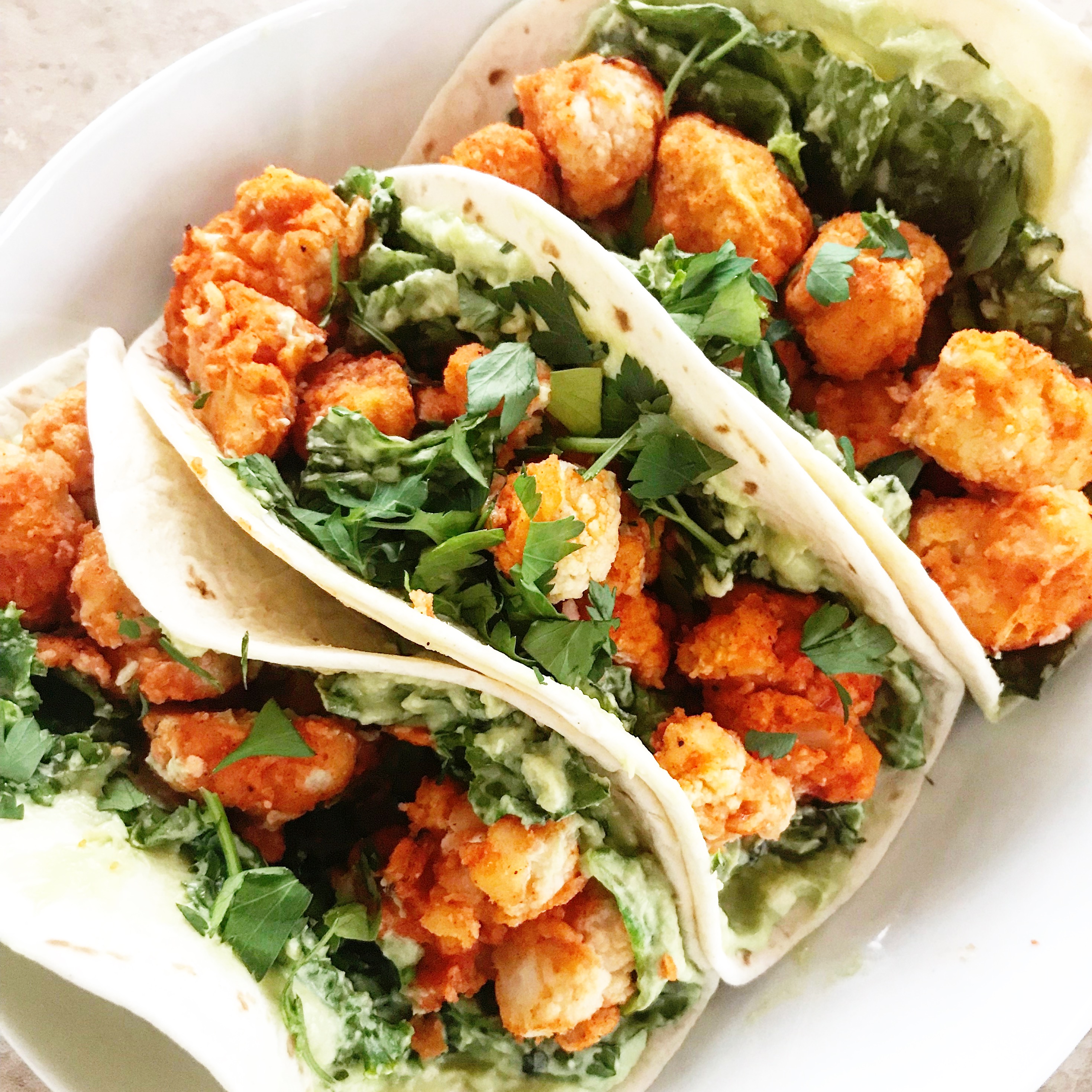 Seriously, if I could only eat one food group for the rest of my life, it would be tacos.
That's right; tacos absolutely qualify as an entire food group in my mind.
We had these the other night and they were so good! What I love most, besides the spicy Buffalo flavor, is that the cauliflower is baked rather than fried so you get that awesome crispy crunchiness without all the oil and mess that comes with frying.
Add to that, whatever fresh greens you have on hand (I used lettuce but also think kale or slaw mix would go great as well) tossed in an easy avocado crema and piled into a warm soft tortilla and you've got yourself a meal the family will love!
Another favorite Buffalo recipe:
Enjoy!
Twice-Baked Buffalo Cauliflower Tacos
Spicy Buffalo cauliflower with a cool vegan avocado crema on the table in 30-45 minutes.
Ingredients
1 avocado
1/8 + 1/4 teaspoon garlic powder, divided
2 tablespoons vegan sour cream
2 tablespoons water
1/4 teaspoon sea salt
1/8 teaspoon lime juice
1 cup all-purpose flour
1 cup unsweetened almond milk
1/4 teaspoon sea salt
1/4 teaspoon ground black pepper
4 cups cauliflower florets
3/4 cup prepared Buffalo-style sauce
2 cups green leaf lettuce, shredded
6 medium flour tortillas
2 tablespoons fresh cilantro, chopped
Instructions
Preheat oven to 450 degrees F.
Prepare the avocado crema: To a mini food processor, add avocado, 1/8 teaspoon garlic powder, vegan sour cream, water, salt, and lime juice. Puree until consistency is smooth.
For the cauliflower: To a large mixing bowl add all-purpose flour, unsweetened almond milk, remaining 1/4 teaspoon garlic powder, sea salt, and ground black pepper. Stir to blend well. Add cauliflower florets and toss to coat.
Set a cooling rack over a baking sheet. Remove cauliflower florets from batter and arrange in an even layer across the cooling rack. Bake in preheated oven for 20 minutes.
To the bowl used for batter, add the Buffalo-style sauce. Add baked cauliflower florets and toss gently to coat.
Place cauliflower back onto the cooling rack; bake an additional 10 minutes.
Toss shredded lettuce with avocado crema. To serve, layer lettuce and cauliflower into warm flour tortillas. Sprinkle with cilantro and serve warm.
https://thiswifecooks.com/2018/08/twice-baked-buffalo-cauliflower-tacos/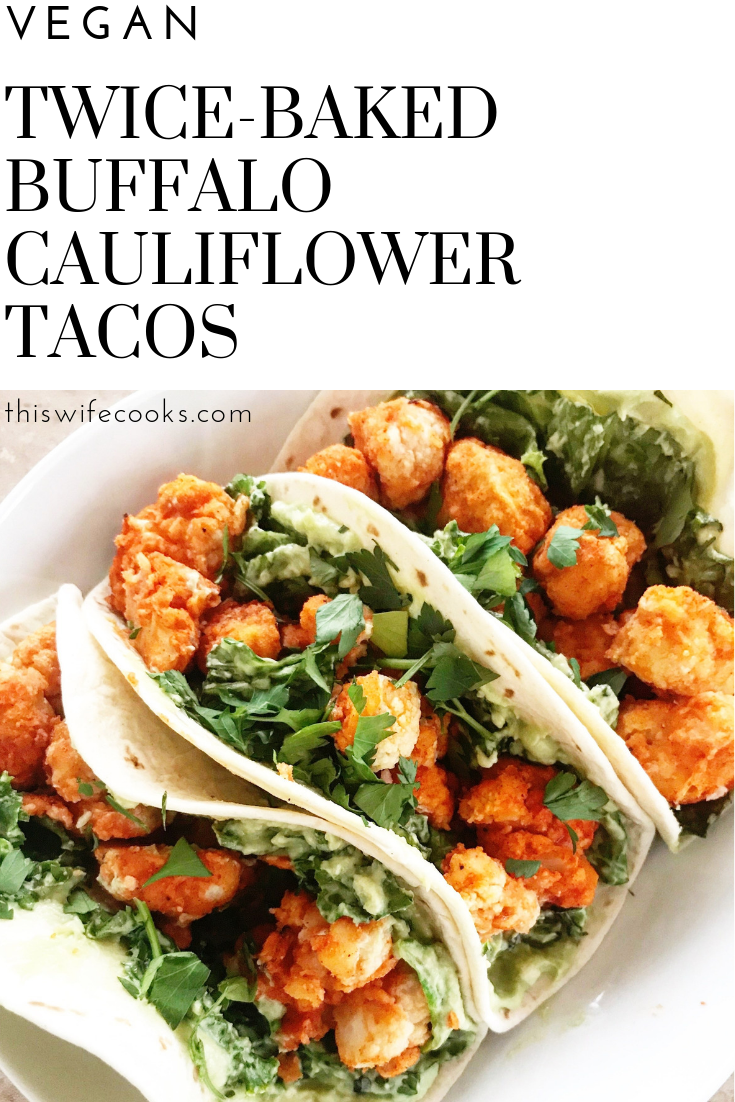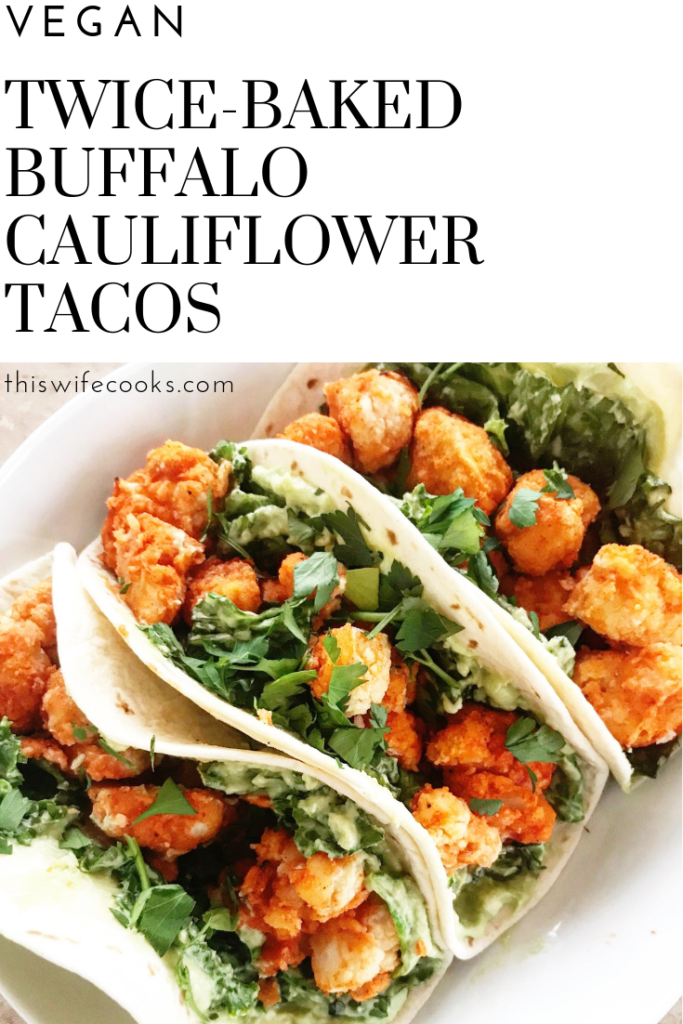 ---
---