Italian-Style Stuffed Peppers with Spinach and Mushrooms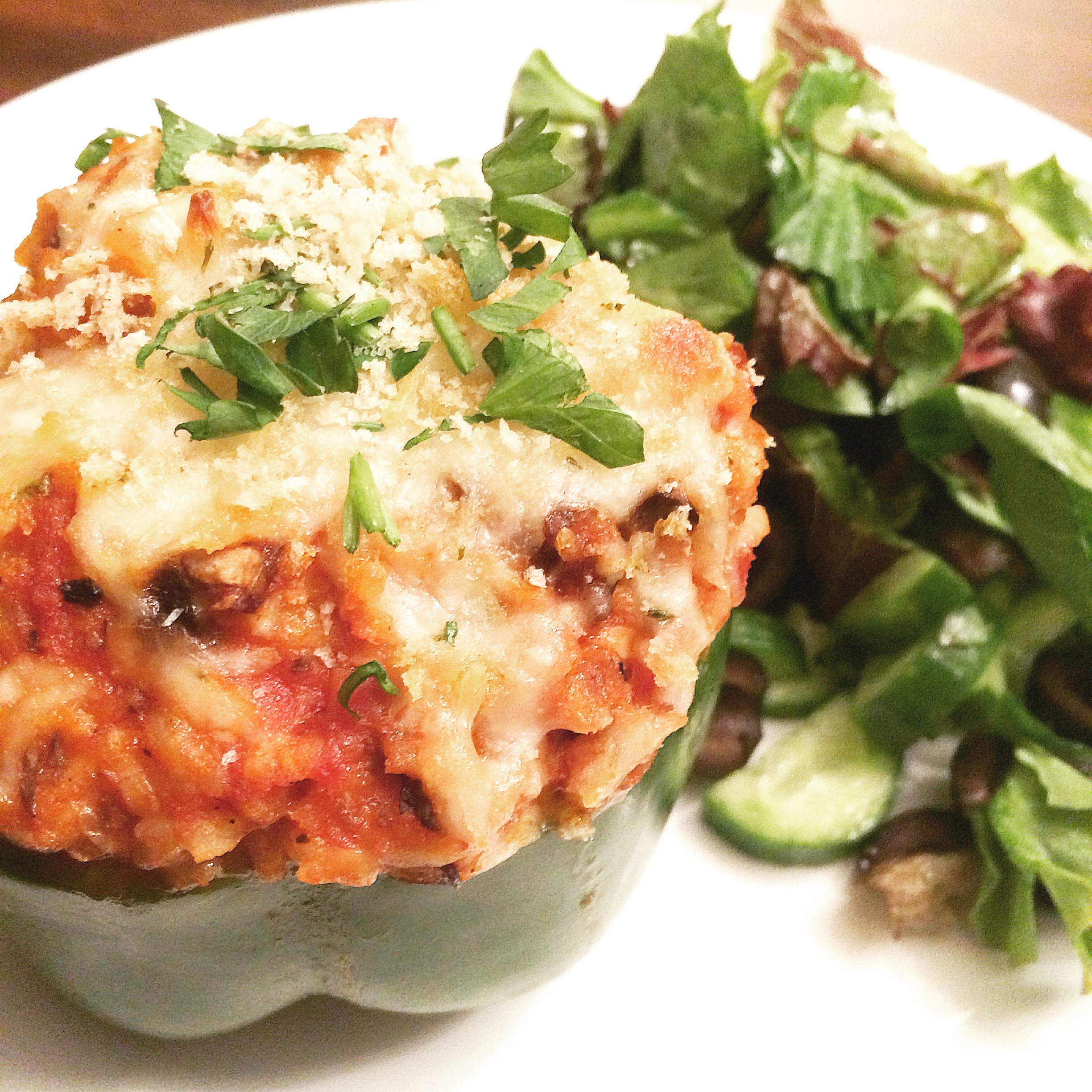 These are not the stuffed peppers of my childhood – loaded with rice-y ground beef and spaghetti sauce (?).
Today, I present to you a significant upgrade to those old school stuffed peppers.
Here, we're keeping the rice but replacing the ground beef with hearty mushrooms and throwing in some spinach just for fun. Italian-seasoned Panko bread crumbs add a satisfying crunch and the mozzarella cheese adds the ….well, it adds the cheesiness.
These were inhaled by my family in record time.  Enjoy!
Italian-Style Stuffed Peppers with Spinach and Mushrooms
Ingredients
2 tsp. olive oil
1/4 cup shallot, chopped
8 oz. cremini mushrooms, rough chopped
8 oz. baby spinach leaves, rough chopped
2 1/2 cups marinara sauce
1 1/2 cups long-grain white rice, cooked
1 1/2 cups mozzarella cheese, shredded
3 Tablespoons Italian-seasoned Panko bread crumbs
4 medium bell peppers, tops cut off, seeds and membranes removed
fresh parsley, optional, for garnish
Instructions
Note that this recipe includes pre-cooked rice!
Preheat oven to 375°
Heat oil in a large pan over medium heat. Add onions and mushrooms. Cook, stirring frequently 2-3 minutes, until vegetables are softened and fragrant. Add spinach and continue cooking another 1-2 minutes, until spinach is wilted.
Add marinara sauce and pre-cooked rice, stirring gently to combine.
Remove from heat. Fold in Panko bread crumbs and cheese.
Fill each hollowed out bell pepper with rice mixture and place in prepared baking dish. Top with additional cheese, if desired.
Cover and bake 30 minutes.
Top with extra breadcrumbs and a sprinkling of parsley. Serve warm.
https://thiswifecooks.com/2016/11/italian-style-stuffed-peppers-with-spinach-and-mushrooms/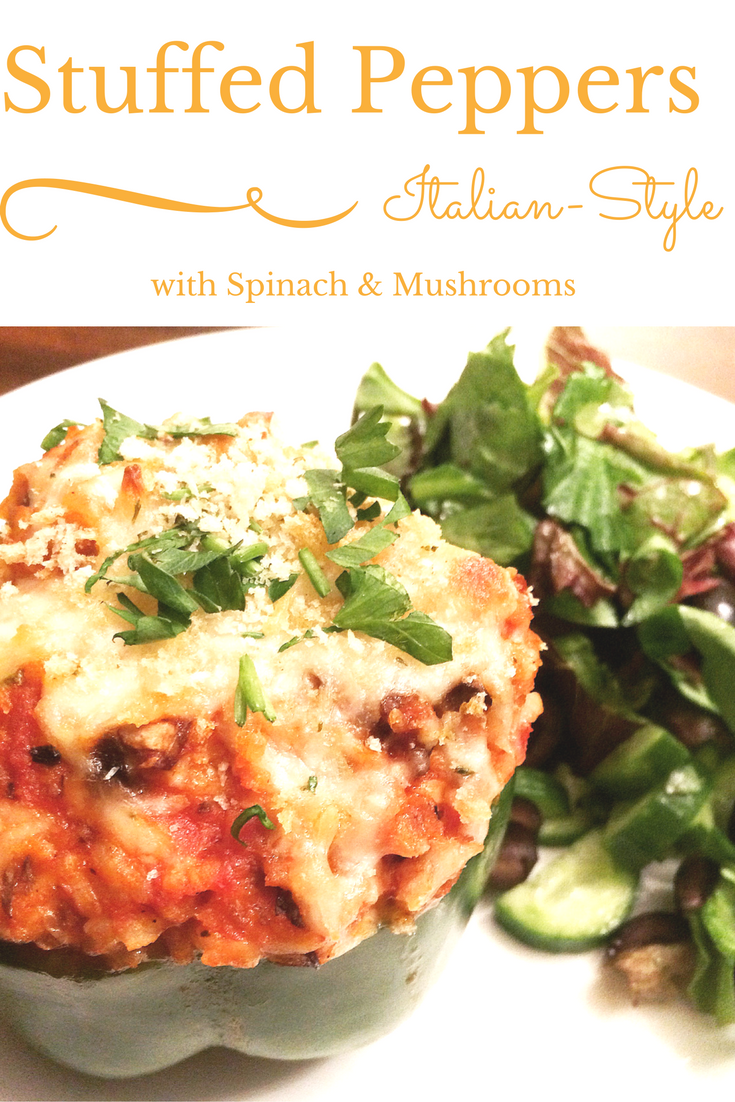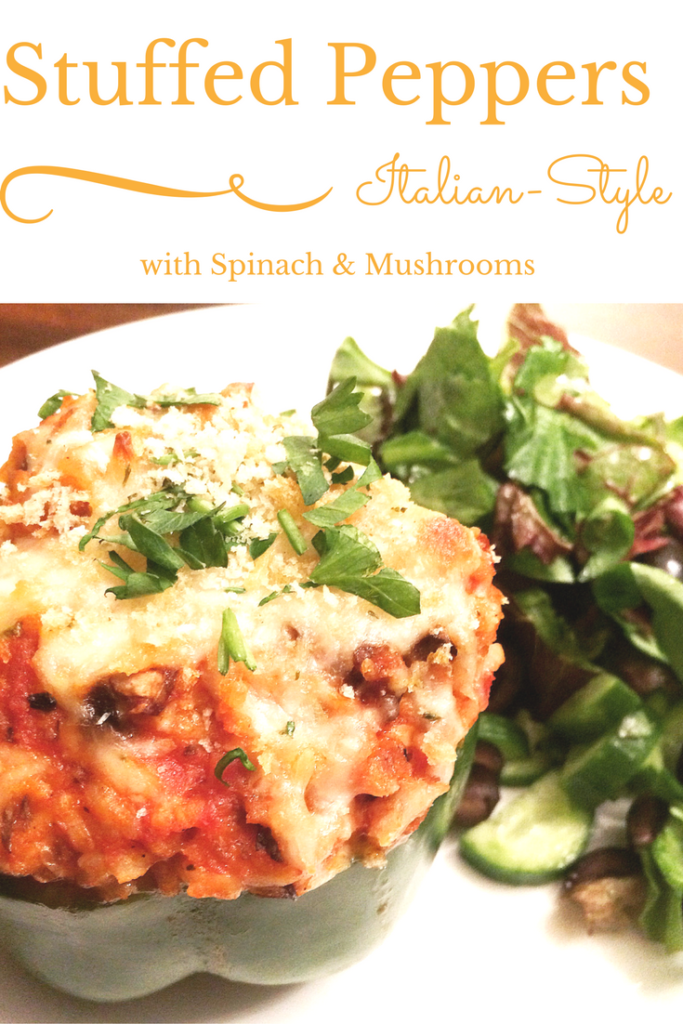 ---
---