Crunchy Homemade Granola Bars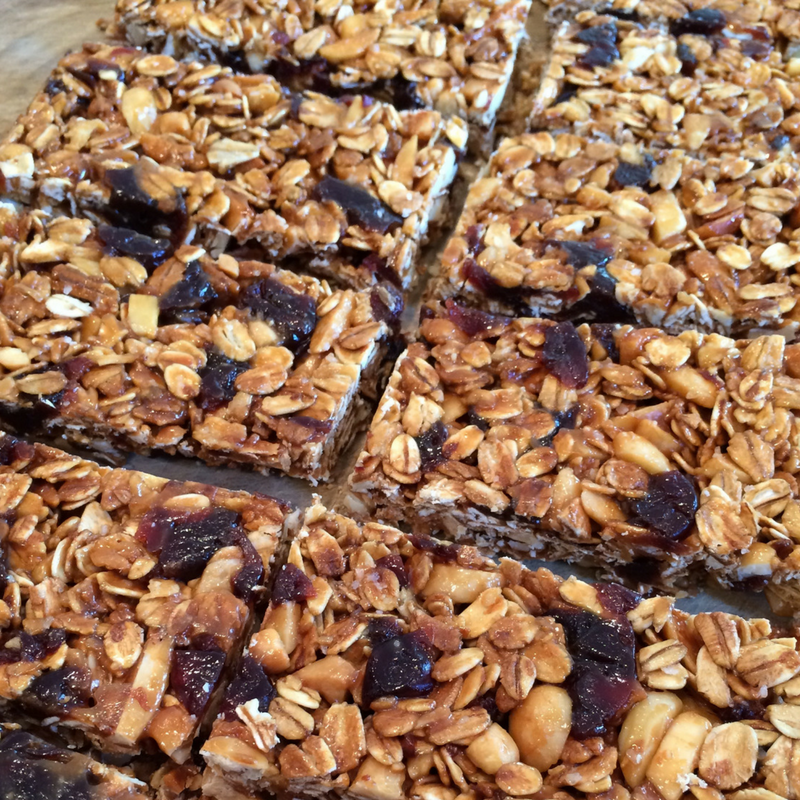 The kids are back in school this week, mornings are in the 60's here, and the leaves are beginning to hint at fall colors. All this makes me want to run out and buy pumpkins but I'll resist that urge for now. I did pick up the obligatory fall mums for the front porch a few days ago (Costco had big 4-packs for $12 so how could I not, right?)
This is also the time of year when my love for baking is renewed. I recently tried a few no-bake granola bars with varying results, and none had the satisfying crunch I was after. Maybe someone out there has a no-bake crunchy bar that doesn't fall apart but I haven't seen it.
These bars, though, are exactly what I've been craving.
The recipe is kind of a half and half: you roast the oats and nuts and then stir in everything else. Easy peasy. And they're good in an air-tight container in the fridge or at room temperature for up to a week.
Crunchy Homemade Granola Bars
Ingredients
3/4 cup agave nectar, divided
2 T vegan butter
3 cups rolled oats
1 - 6oz. pkg. slivered almonds
coarse salt, to taste
1 cup dried cherries or other dried fruit, chopped
1/3 cup crunchy nut or seed butter
1/4 cup light brown sugar
Instructions
Preheat oven to 325° and lightly butter two 8"x8" baking pans.
Place 1/4 cup agave nectar and butter in a small glass bowl and microwave in increments of 15 seconds, stirring each time, until butter is melted.
In a large mixing bowl, combine oats, almonds, and 1/2 tsp. salt
Drizzle agave and melted butter over oat mixture and stir to coat well.
Spread evenly onto a large baking sheet. Bake 20 minutes, stirring halfway, or until lightly golden brown. Remove from oven and allow to cool completely, around 10 minutes.
Return mixture to the large mixing bowl. Stir in the cherries or other dried fruit. Set aside.
In a saucepan, combine remaining 1/2 cup agave nectar, nut or seed butter, and brown sugar over medium heat. Bring to a boil then reduce heat and continue cooking, stirring frequently, until sugar is dissolved, around 10 minutes.
Remove from heat and drizzle over oat mixture, stirring to coat thoroughly.
Pour equal amounts into each of the prepared pans. Press everything down firmly and evenly.
Refrigerate at least 1 hour before slicing.
https://thiswifecooks.com/2016/09/crunchy-homemade-granola-bars/
---
---