Spinach Enchiladas
The first time I made spinach enchiladas, years ago, the result wasn't great. I would even go so far as to say they were rather bland and I hadn't made them since. But then… I came across the old recipe, complete with notes on what I thought could be improved. I decided to give it another shot and I'm really glad I did because this time was a success!
The only thing I haven't tried yet is making my own enchilada sauce. It seems like a very easy process but in the interest of convenience, I just grabbed a couple cans off the shelf in the market. For sure next time though, I'm making my own sauce.
Spinach Enchiladas
1 Tablespoon butter
1/4 cup yellow onion, diced
3 cloves garlic, minced
10-ounce bag fresh spinach, steamed and chopped (frozen, thawed, is fine)
1 cup ricotta cheese
1/2 cup sour cream
1 cup Monterrey Jack cheese, shredded
1 cup pepper Jack cheese, shredded
salt, to taste
10 6-inch flour tortillas
2 – 10-ounce cans red enchilada sauce
Optional: 1/4 cup chopped green onions, for garnish
1. Preheat oven to 375°
2. In a medium skillet over medium high heat, melt the butter.
3. Add onions and sauté 1-2 minutes, until fragrant and softened. Add garlic and continue cooking an additional minute.
4. Add the spinach and continue cooking and stirring occasionally for 3-5 minutes.
5. Remove pan from heat and stir in the ricotta cheese, sour cream, 1/2 cup Monterrey Jack, and 1/2 cup pepper Jack cheese. Season to taste with salt.
6. One at a time, add 1/4 cup of the mixture to the center of each tortilla. Roll and place seam side down in a prepared 11″x7″ baking dish.
7. Pour enchilada sauce evenly over the top of the enchiladas. Sprinkle with additional Monterrey Jack and pepper Jack cheeses.
8. Bake, uncovered, 20-25 minutes. Sprinkle with cilantro, if using, and allow to sit 5 minutes before serving.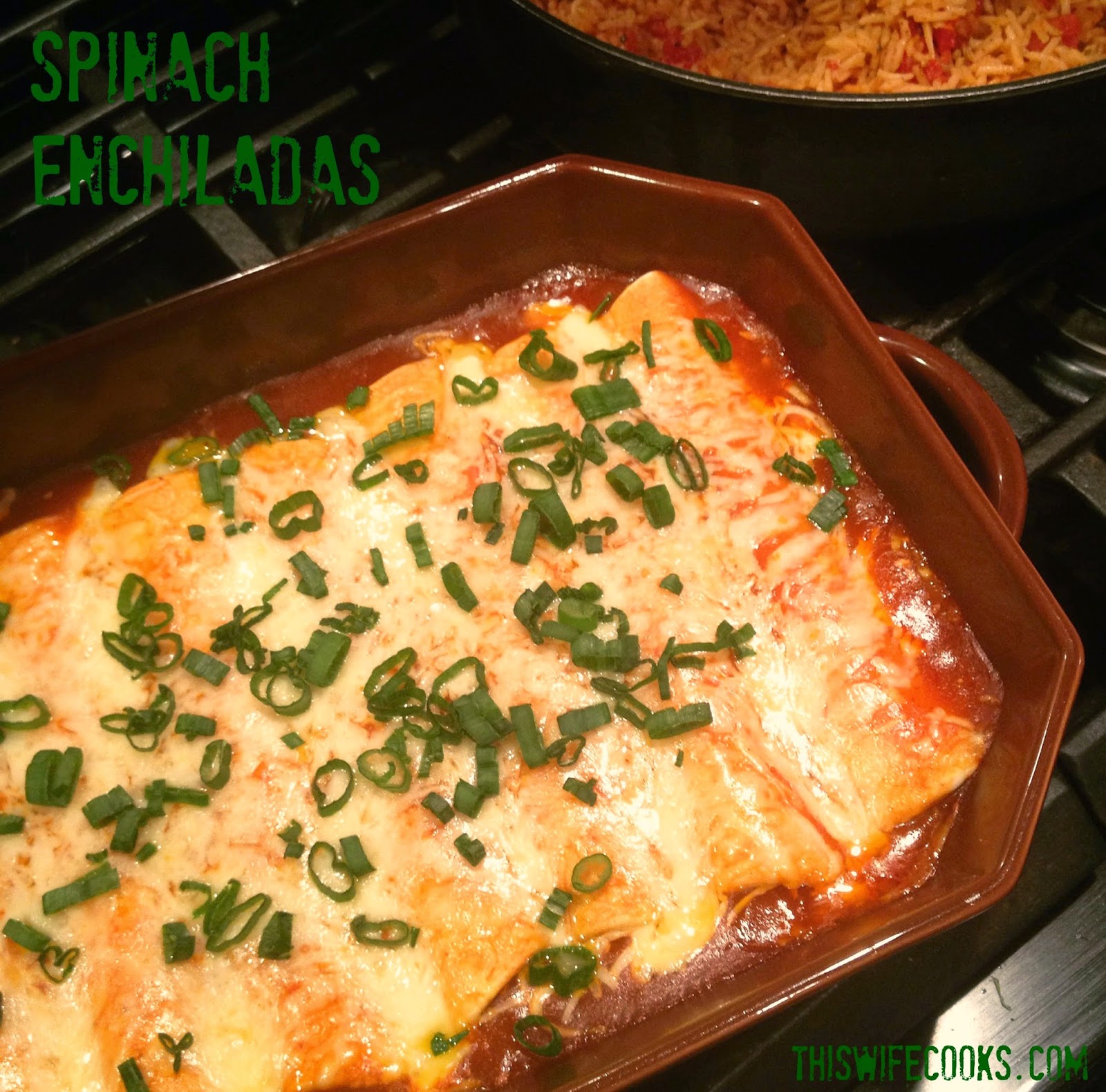 ---
---