Marinated Cheese and Olives ~ Game Night Snack
This was our Thanksgiving night snack as we were all gathered around the dining table, playing Taboo, which has recently become my new favorite old game. We all enjoyed the briny-cheesy-carby goodness so much I'm thinking this may make an encore appearance as part of the 2015 Super Bowl spread.
Do you even know who's playing? I don't and honestly, I don't care. I watch football one day a year and that day is Super Bowl Sunday. And even then, I'm really only interested in the food and the half-time show. And of course, the commercials but I'm not sure they're as good as they used to be.
1 – 8 ounce pkg. cream cheese, chilled and sliced
10 ounces sharp white Cheddar cheese, sliced
10 ounces Muenster cheese, sliced
1 cup green olives
1 cup black olives
1/4 cup white balsamic vinegar
1/4 cup olive oil
1 Tablespoon fresh parsley, minced
1 Tablespoon fresh basil, minced
2 cloves garlic, minced
2 Tablespoons chopped pimiento peppers
1 medium size baguette
1. Prepare the marinade: In a small bowl, combine the white balsamic vinegar, olive oil, parsley, basil, and garlic.
2. On a round, medial size serving platter, arrange cheeses, in an alternating pattern, in a ring.
3. Place green and black knives in the center of the ring.
4. Drizzle marinade over the cheeses and olives. Sprinkle with pimento peppers.
If you are preparing this in advance, stop here. Cover and refrigerate until ready to serve before moving on to the next step.
5. Slice baguette and place around the outer edge of the serving platter.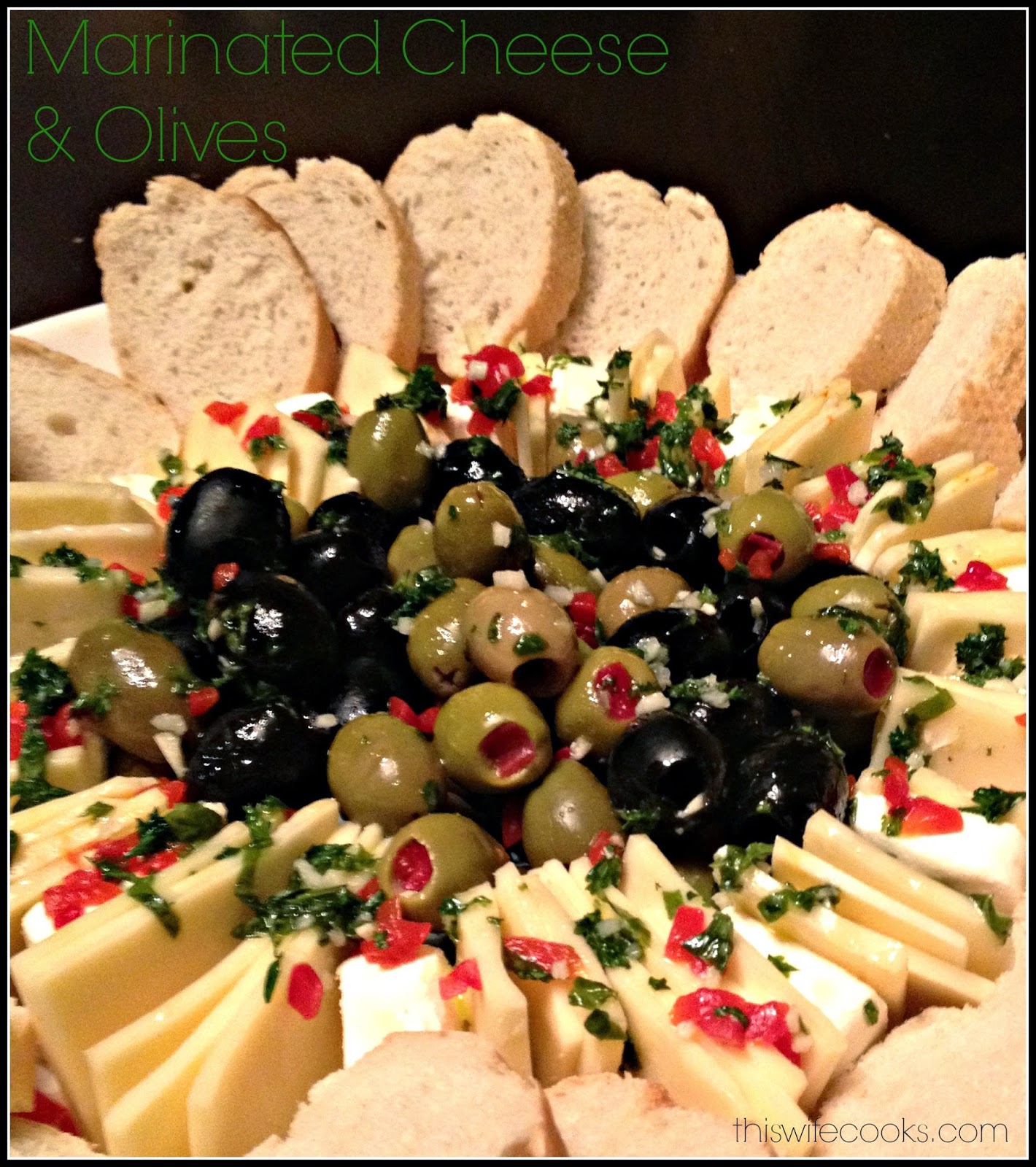 ---
---