Easy Beer and Cheddar Dip
This dip is amazing with pretzels!  Don't think about the calories, just eat it!  But wait a day or so, if you can.  While the dip is good right away, it's even better the next day so it's a great make-ahead appetizer or snack.
The first time I made this, I used Guinness.  Today, I used a pale ale.  Both are good, which just goes to show, whatever you have on hand is probably fine.  Also, this is one of those recipes that can be very easily adapted to suit personal taste.
1 (8oz.) pkg. cream cheese, softened
1/2 of 10z. pkg. Ranch dressing mix
1/4c beer
1 1/4c Cheddar cheese
1/8 tsp. seasoned salt
1/8 tsp. cayenne pepper
1/8c green onions, chopped
1.  Mix everything together in a small bowl and adjust seasoning to taste. 
2.  Cover and refrigerate. Give it a few hours for the flavors to really blend before serving.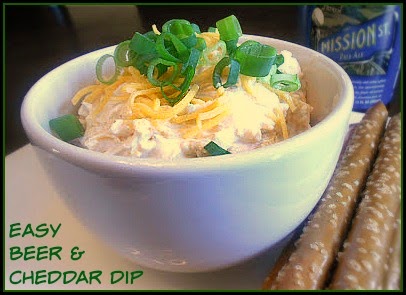 ---
---