White Wine Alfredo Sauce
My husband could probably eat fettuccine Alfredo every day of his life and I've experimented with various combinations over the years.  Most were tasty, some were so-so, but this one has emerged as the clear favorite: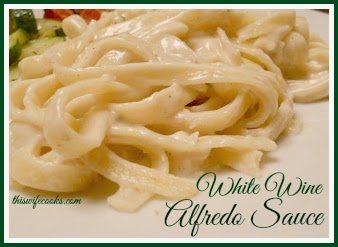 Ingredients
4 TBSP butter
4 TBSP all-purpose flour
1c. heavy cream
1 cup chicken flavored broth (Better Than Boullion makes a great veg version)
1 cup Mozzarella cheese, shredded
1/2 cupParmesan and Romano cheese, shredded
3 tablespoons Italian flat-leaf parsley, chopped
5 cloves garlic, minced
1/2 teaspoon ground nutmeg
1/4 cup dry white wine
salt and pepper, to taste
Instructions
In a medium-size sauce pan, melt butter over low heat.
Add flour. Cook and stir with a whisk until well blended. (2-3 min.)
Stir in cream and broth.
Add remaining ingredients and continue stirring over low heat until cheeses are melted and sauce is a smooth consistency. If the sauce begins to get a little too thick, just thin it back out with a splash of wine or broth.
Toss with cooked pasta and serve warm.
https://thiswifecooks.com/2014/10/white-wine-alfredo-sauce/
---
---