Sweet and Salty Pumpkin Seeds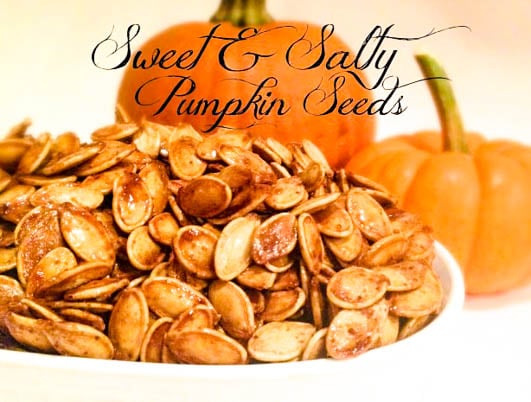 Have you carved your pumpkins yet?  If not, get to it; it's Halloween week!   If you're ahead of the game, I hope you didn't throw out the built-in snack.
This is the one and only time of year we eat pumpkin seeds so it's important to roast them with the perfect blend of sweet and salty.
Confession: I had never gotten this quite right, until now.  I'm convinced the secret ingredient is the brown sugar.
The husband agreed these are the best yet and seriously addictive!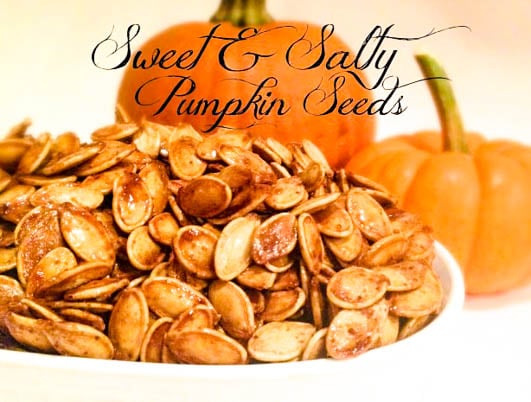 Sweet and Salty Pumpkin Seeds
Ingredients
2 cups dry pumpkin seeds
3 tablespoons vegan butter, melted
3 tablespoons light brown sugar
3/4 teaspoon sea salt + a little extra
1/4 teaspoon chili powder
1/4 teaspoon cumin
Instructions
Preheat oven to 250°
To a medium size mixing bowl, add pumpkin seeds,melted butter, brown sugar, sea salt, chili powder, and cumin; toss to coat.
Pour seeds evenly into a prepared 11x13 baking dish.  Bake 90 minutes, stirring every 30 minutes.
Remove from oven and season with additional salt, to taste.
https://thiswifecooks.com/2014/10/sweet-and-salty-pumpkin-seeds/
SaveSave
SaveSave
SaveSave
---
---