4-Ingredient Stir-Fry Sauce
After spending the entire day at home with a highly irritable and feverish baby, I needed a quick and easy dinner… Vegetable stir fry, coming up…
I started some wild rice on the stove, heated up the wok, and pulled out a pre-cut package of fresh mixed vegetables.
The only real "work" left to be done was make the sauce, and even that was easy!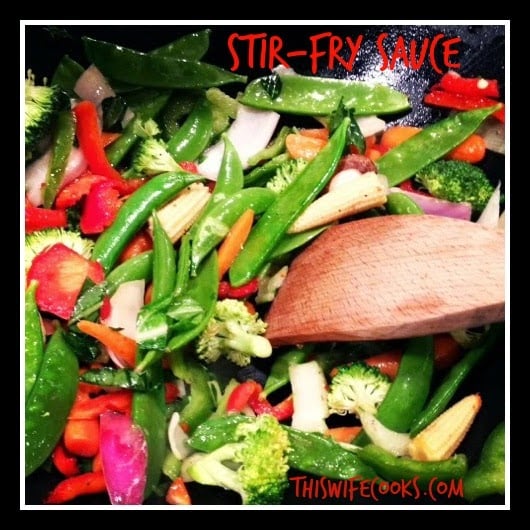 4-Ingredient Stir-Fry Sauce
Ingredients
3/4c vegetable broth
1/4c teriyaki sauce
1 TBSP cornstarch
1/3 tsp. ground ginger
2 lbs. fresh mixed vegetables
Instructions
Combine vegetable broth, teriyaki sauce, cornstarch, and ginger in a small bowl and set aside until ready to use.  
Preheat a wok or large pan over high heat.
Add grape seed oil and vegetables. Stir frequently until vegetables are crisp tender.
Add the sauce, to taste, and continue stir frying until heated through.
https://thiswifecooks.com/2013/10/easy-stir-fry-sauce/
---
---