My husband and I both have childhood memories of eating
bell peppers stuffed with ground beef and tomato sauce.
Nothing wrong with that but it's a little bland for our
current tastes and I am convinced there are better ways.
Last night I made Emeril's version and it was fantastic!
The peppers are stuffed with pork sausage, celery, onions, rice,
yummy spices….and not a single tomato!
We all agreed these are the best stuffed peppers I've made so far:
1/2 lb. bulk pork breakfast sausage, crumbled
1c. onions, chopped
1/2c. bell peppers, chopped
1/2c. celery, chopped
1/2 tsp. salt
1/4 tsp. cayenne
1 1/2c. long-grain rice, cooked
1/4c. green onions, chopped
3 TBSP parsley, chopped
4 medium bell peppers, sliced in half lengthwise, seeds removed
1/4c. dried fine bread crumbs (I seasoned mine with garlic
powder, oregano, and Essence)
1/4c. freshly grated Parmesan
1/2 tsp. Emeril's Original Essence
1. Preheat the oven to 400* Brown the sausage in a dry skillet
over medium-high heat.
2. Add the onions, bell peppers, celery, salt, and cayenne.
Cook, stirring often, for 4 to 5 minutes, or until the vegetables are wilted.
3. Add the rice and mix well. Cook for about 5 minutes.
4. Remove from the heat and add the green onions and parsley.
Mix again.
5. Spoon the mixture into the bell peppers.
6. Combine the bread crumbs, cheese, and sprinkle evenly
over the tops of the bell peppers.
7. Place the peppers in a shallow pan and add just enough water
to cover the bottom. Bake for about 30 minutes, or until
the tops are crusty and brown.
8. Top with extra Parmesan cheese and parsley.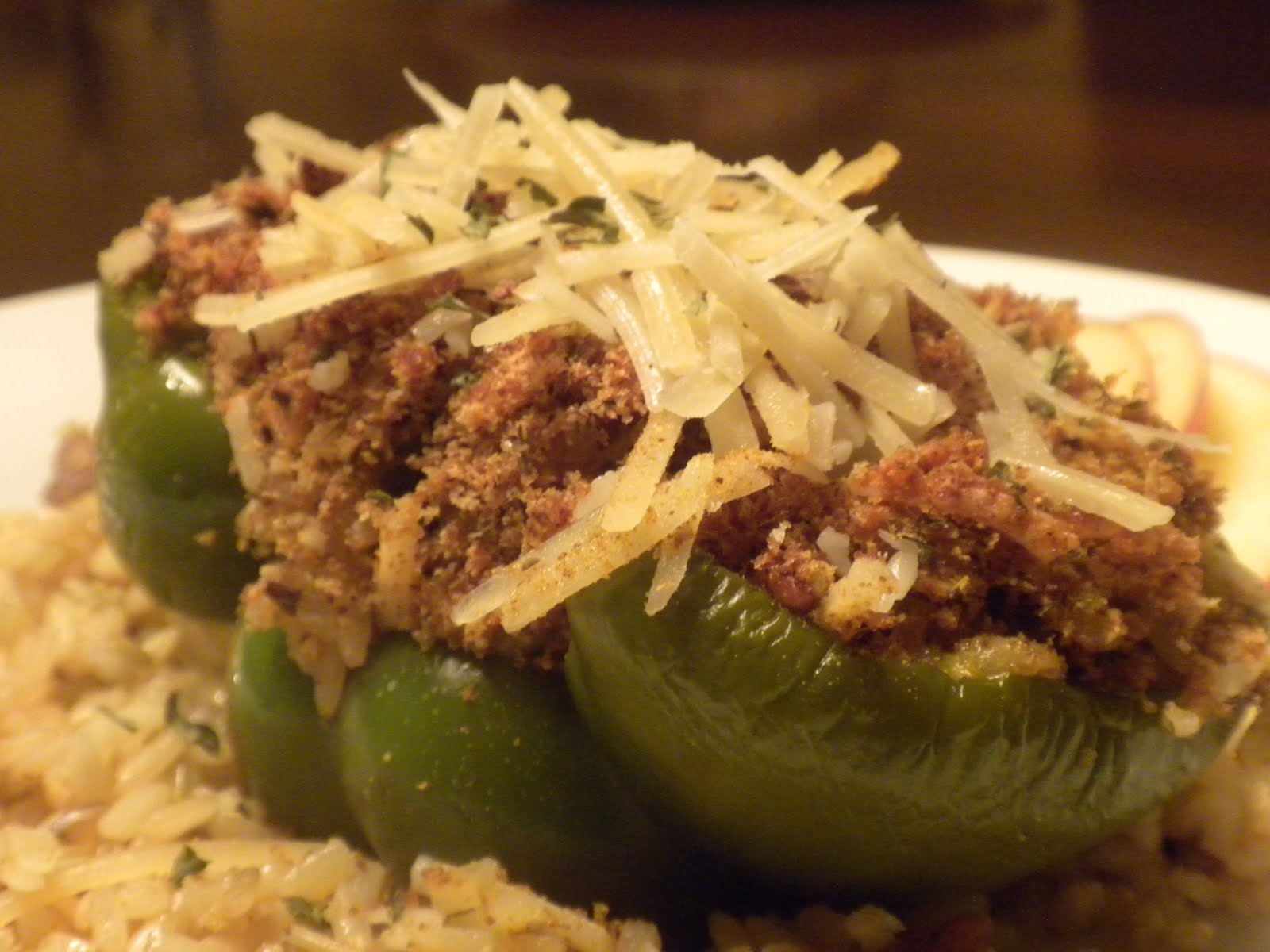 Served with Fuji apple slices and French bread.
The apples are a great contrast to the spiciness
of the peppers.