My husband and I are big fans of Indian food so I knew he would be happy to find this curry in the works when he came home yesterday. I served it over a blend of wild rices and all the flavors together, with just the right amount of heat, were really quite fantastic. This recipe (when served over rice) yields three hearty bowls:
1/2c red lentils, rinsed well
1 TBSP red curry paste
1 1/2 tsp. curry powder
1/2 tsp. ground turmeric
1/2 tsp. ground cumin
1/2 tsp. chili powder
1/2 tsp. salt
1/2 tsp. white sugar
2 cloves garlic, minced
1/2 tsp. ginger root, minced
1 TBSP vegetable oil
1/2c yellow onion, diced
2 large roma tomatoes, diced
1/4c cilantro, chopped
1. In a medium saucepan, add lentils to approximately 3 cups of water and simmer on Low until tender (but don't let them get mushy or the texture will be all wrong!). Mine cooked in about 10 minutes. Drain and set aside.
2. In a small mixing bowl, combine the curry paste, curry powder, turmeric, cumin, chili powder, salt, sugar, garlic, and ginger; set aside.
3. In a medium size skillet over Medium High, heat the oil and cook onions until tender and slightly caramelized.
4. Stir in the curry mixture and tomatoes. Reduce heat to Low and allow to simmer 5-10 minutes.
5. Add the lentils and continue cooking another 5 minutes or so until heated through. Top with cilantro and serve immediately.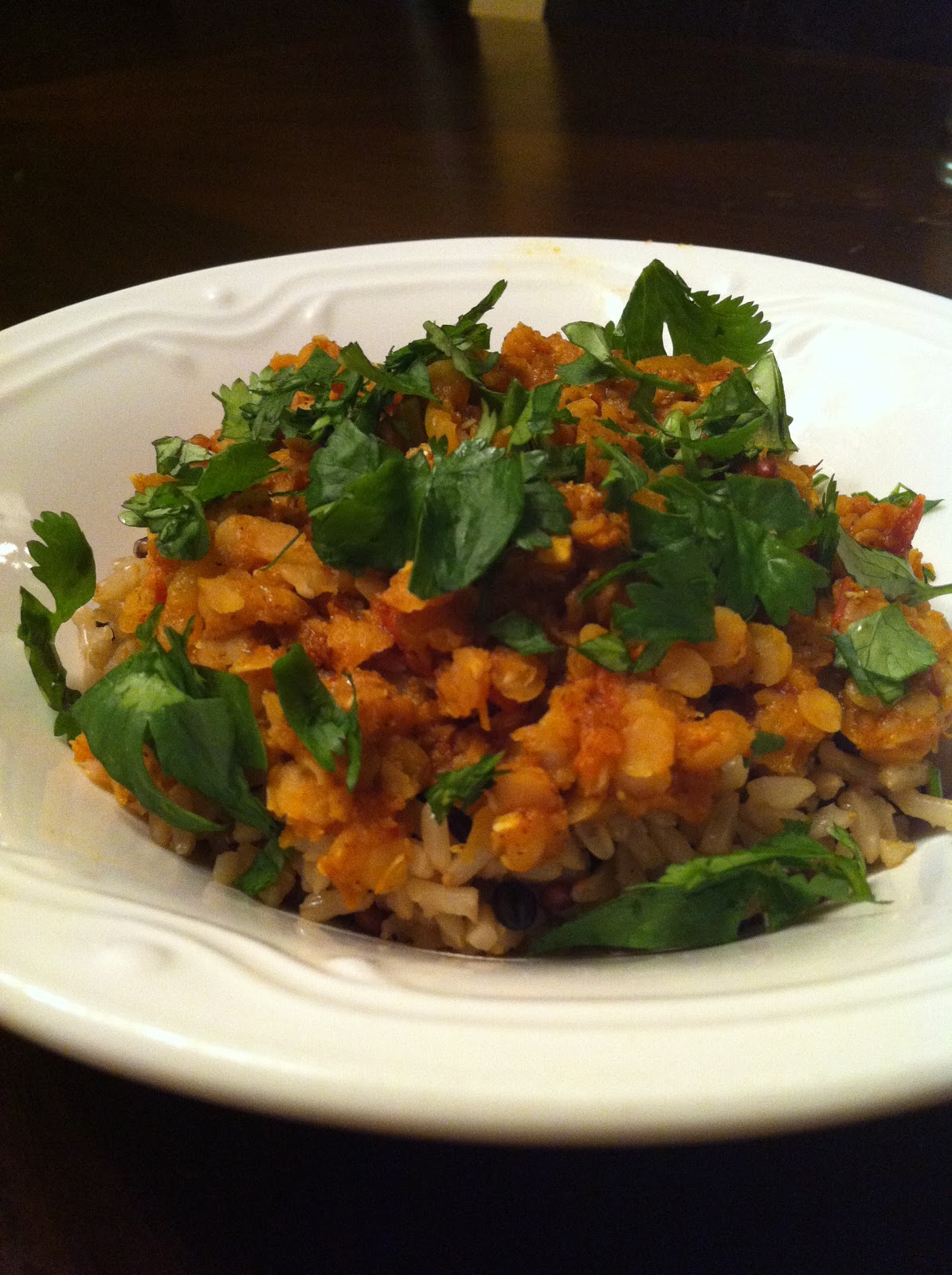 Served with naan and tzatziki sauce.