Glazed Corned Seitan Roast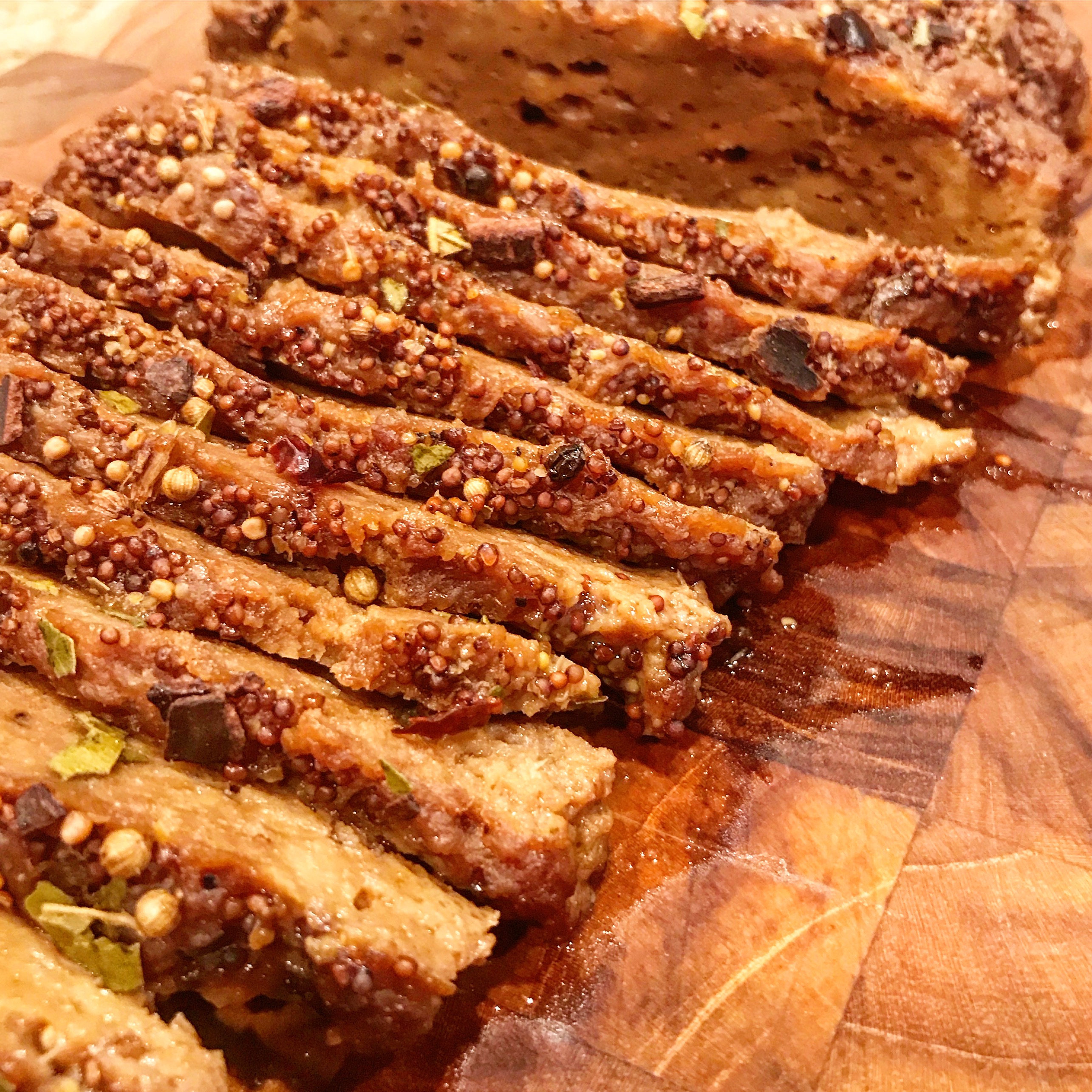 Guys, why have I never made my own seitan before?!
It's is so ridiculously easy! And cheap compared to how much this much seitan would cost in the grocery store. And you probably already have all or most of the ingredients needed in your pantry right now.
This recipe begins with a basic seitan and then gets fancy with the addition of a sweet mustard glaze and topped off with pickling spices.
If you want to make extra of the basic seitan for use another day (which I highly recommend!), just skip adding the glaze and pickling spice blend and go straight to the baking.
The glazed corned seitan will look like this just before going into the oven…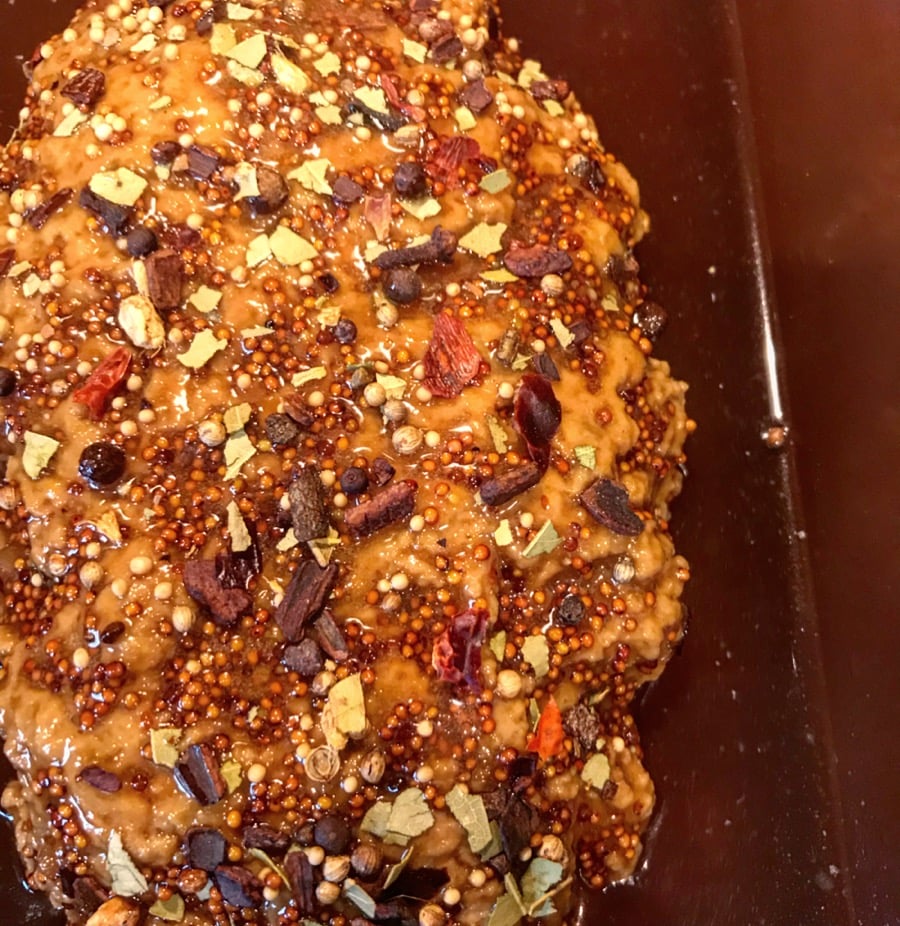 … And while it is roasting, your kitchen will smell AMAZING!!
When you take the roast out of the oven, set it straight onto a cutting board. Let it hang out for a bit until cool enough to handle then just slice and serve.
I started out with these semi-thick slices, which I think is the ideal size for serving with mashed potatoes. But then I decided what I really wanted was a Reuben so  I took the uncut portion and ran it across the mandolin for super thin slices.
Piled it onto pumpernickel/rye bread with Russian dressing, sauerkraut, and vegan provolone. Cooked it up grilled cheese style and – oh, man! it was good!
We even two whole meals out of the leftovers. The first was the corned seitan over mashed potatoes with a little gravy. And then we used the remaining seitan with coleslaw for some really tasty tacos the next night.
For more seitan deliciousness, check out this recipe:
Blackened Seitan Philly Cheesesteak – Homemade seitan with a sweet mustard glaze and pickling spices – perfect for vegan Reuben sandwiches or your St. Patrick's day roast!
Glazed Corned Seitan Roast
Homemade seitan with a sweet mustard glaze and pickling spices - perfect for vegan Reuben sandwiches or your St. Patrick's day roast!
Ingredients
2 cups vital wheat gluten
1 teaspoon onion powder
1 teaspoon coriander
1/2 teaspoon allspice
1/2 teaspoon sea salt
1/4 teaspoon ground black pepper
3 tablespoons tamari
3 tablespoons + 1 teaspoon coarse brown mustard, divided
1 teaspoon apple cider vinegar
3 tablespoons light brown sugar
2 tablespoons pickling spice blend
2 cups vegan beef broth
Instructions
Preheat oven to 350°.
To a large mixing bowl, add vital whet gluten, onion powder, coriander, allspice, sea salt, ad black pepper. Mix well to combine.
Add 1 1/2 cups water, tamari, 1 teaspoon of coarse brown mustard, and apple cider vinegar. Stir to blend then knead 2 minutes, until all ingredients are well combined and texture is smooth and springy. Shape into a loaf and set aside.
To a small mixing bowl, add remaining coarse brown mustard and light brown sugar. Mix well then spread in an even layer over seitan. Press pickling spice blend over the top.
Place roast in a prepared 9" x 13" baking dish. Pour vegan beef broth around roast (not over the top!). Cover tightly with foil and bake 1 hour. Remove foil cover and continue baking an additional 30 minutes.
Enjoy!
https://thiswifecooks.com/glazed-corned-seitan-roast/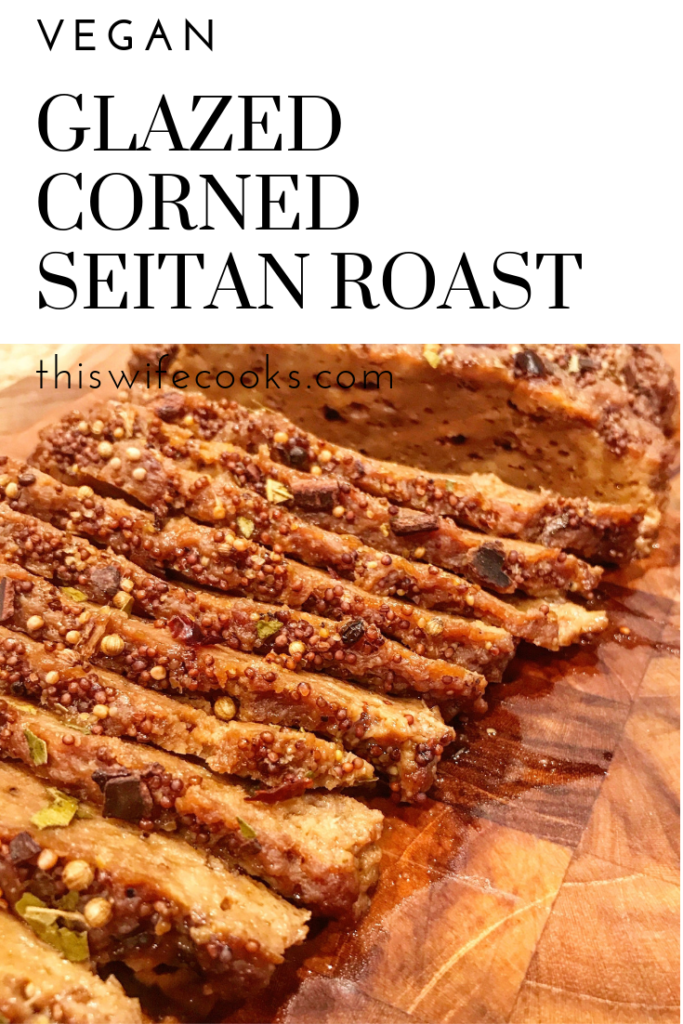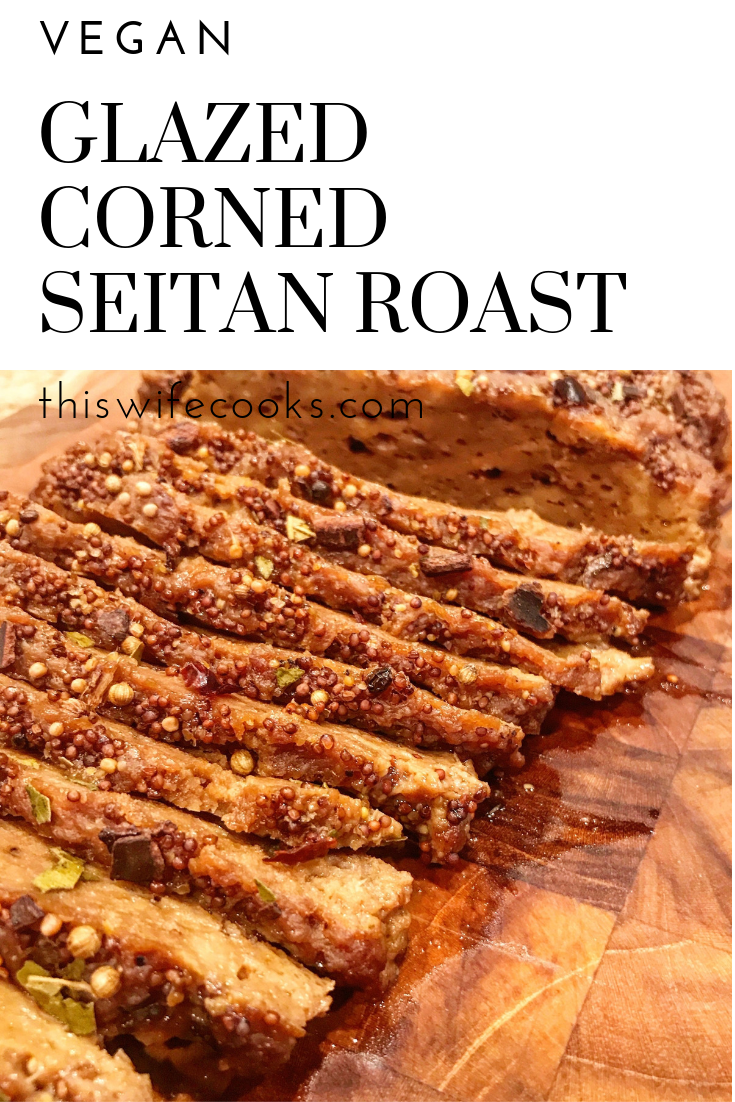 SaveSave
SaveSave
SaveSave
---
---