Easy Cheesy Vegetable Chowder
I think my youngest daughter could eat soup every day of her life and be perfectly happy. Seriously, every day she asks me what we're making for dinner that evening and every day she suggests soup. Yesterday was no different so, with the snow coming down outside and the house filling with the aroma of rosemary bread in the slow cooker, this recipe is what I came up with for dinner. There is a similar recipe on this blog – Clean Out the Fridge Soup. The main difference, other than a few ingredients here and there, is that this one is a chowder. Which really just means it's creamier due to the addition of…you got it… cream.
This is a very forgiving recipe so pretty much whatever vegetables you have sitting around that need to get used up can be thrown in.
Easy Cheesy Vegetable Chowder
1 Tablespoon olive oil
3 Tablespoons butter, divided
1/4 cup celery, sliced
1 cup carrots, chopped
1/4 cup yellow onion, diced
2 cloves garlic, minced
1 1/2 cups vegetable broth
1 cup broccoli florets
2 cups cauliflower florets
1/4 teaspoon dried thyme (or 3/4 tsp. fresh)
salt and pepper, to taste
3 Tablespoons all-purpose flour
1 1/2 cup milk (almond works great!)
1/4 cup half-and-half or non-dairy creamer
1 cup sharp Cheddar cheese, shredded
In a large pot over medium heat, combine olive oil and 1 Tablespoon butter.
Add the celery, carrots, and onion. Saute 2-3 minutes. Add garlic and allow to cook, stirring occasionally, for another 1 minute.
To the vegetable mixture, stir in the broth, broccoli, cauliflower, thyme, salt and pepper. Reduce heat to low, cover, and simmer 20-30 minutes.
Meanwhile, in a small saucepan, heat remaining 2 Tablespoons butter. Whisk in flour until thickened and combined.
Gradually pour in milk and creamer, whisking until smooth; no lumps.
Stir in to the soup and allow to continue cooking, uncovered, on low until heated through and slightly thickened.
Remove from heat and stir in cheese until thoroughly combined and melted.
Serve warm.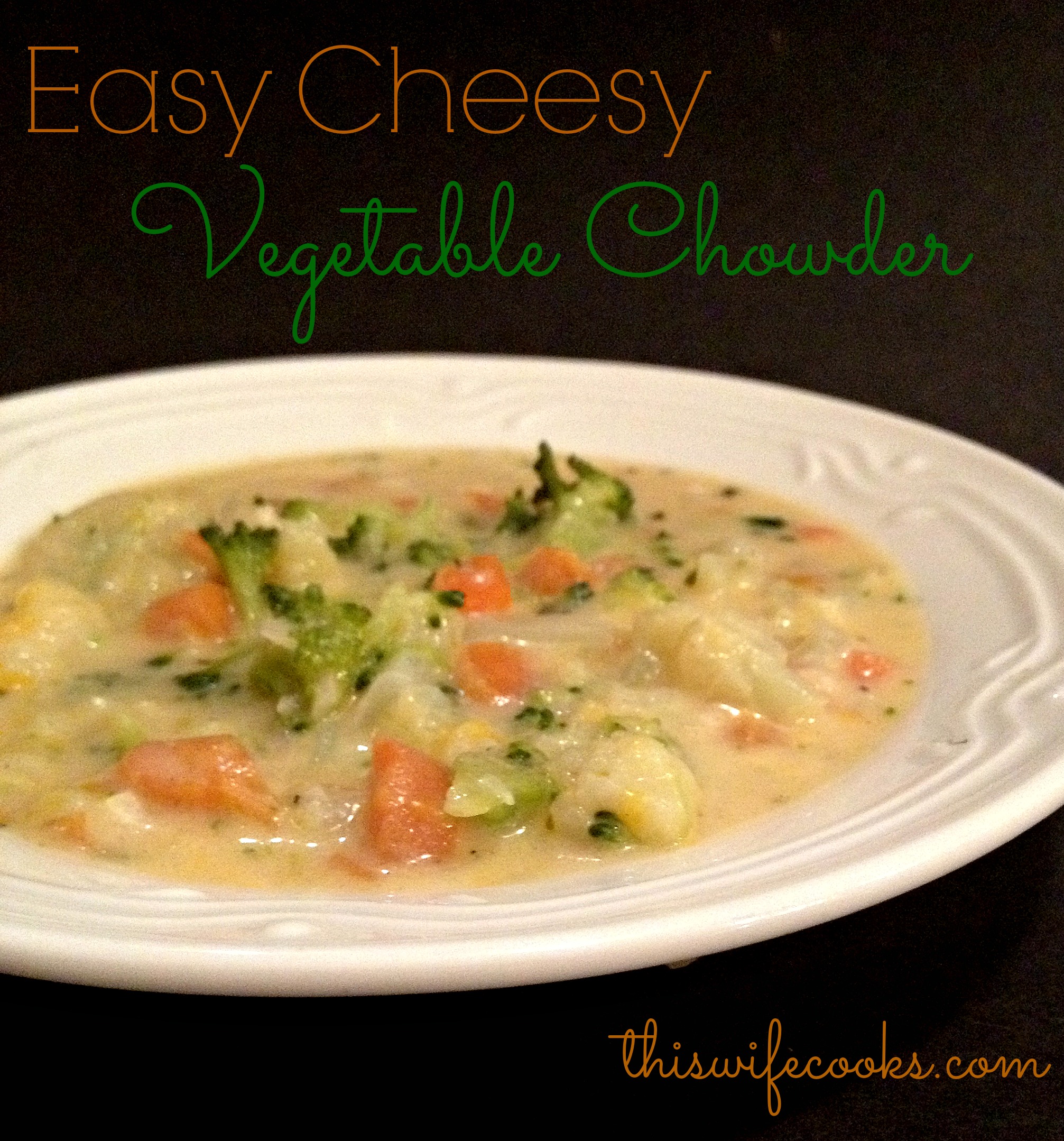 ---
---