I love to be home during a snowstorm. It's exactly the kind of weather that makes me want to just stay in and bake. So yesterday I decided to make cranberry orange cookies.
The texture is chewy and flavor is a delicious balance of cranberry, orange, and walnut.
1 c. real butter, softenened
1 c. white sugar
1/2 c. packed brown sugar
1 egg
1 tsp. grated orange zest
2 TBSP orange juice
2 1/2 c. all-purpose flour
1/2 tsp. baking soda
1/2 tsp. salt
2 c. cranberries, chopped
1/2 c. walnuts, chopped
For the glaze:
1/2 tsp.grated orange zest
3 TBSP orange juice
1 1/2 c. confectioners' sugar
1.Preheat the oven to 375*
2. In a large bowl, cream together the butter, white sugar
and brown sugar until smooth.
3. Beat in the egg until well blended.
4. Mix in 1 teaspoon orange zest and 2 tablespoons orange juice.
5. Combine the flour, baking soda and salt;
stir into the orange mixture.
6. Mix in cranberries and if using, walnuts, until evenly distributed.
7. Drop dough by rounded tablespoonfuls onto ungreased cookie
sheets. Cookies should be spaced at least 2 inches apart.
8. Bake for 12 to 14 minutes in the preheated oven, until the edges
are golden. Remove from cookie sheets to cool on wire racks.
9. In a small bowl, mix together glaze ingredients and drizzle
over the tops of cooled cookies. Let stand until set.
I almost cut the recipe in half but then decided to go through with the
full four dozen. This may not have been the best decision because
now I'm not so sure I trust myself alone in the kitchen with them.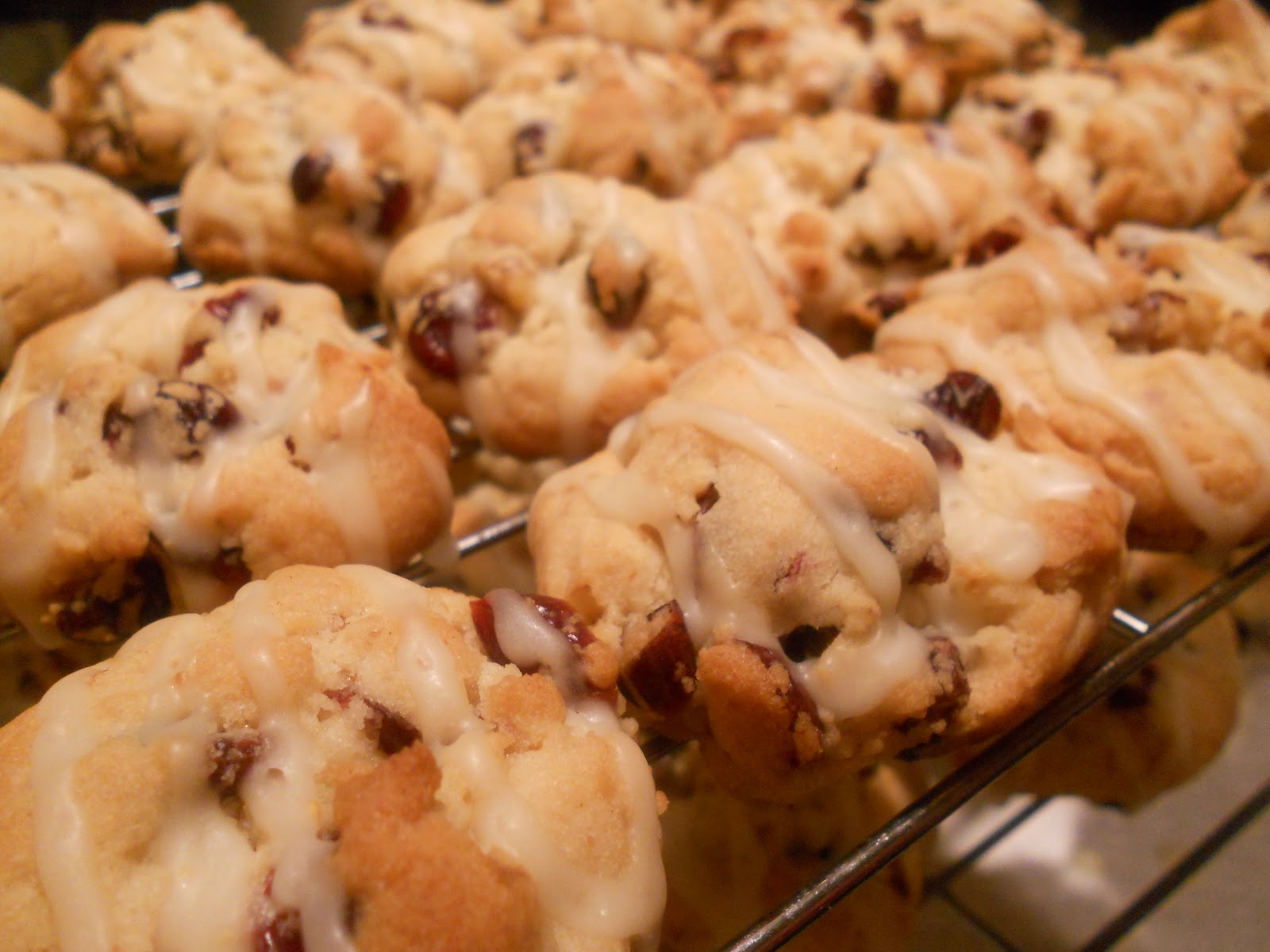 Yummy!