Vegan Smoked Gouda Risotto with Spinach and Mushrooms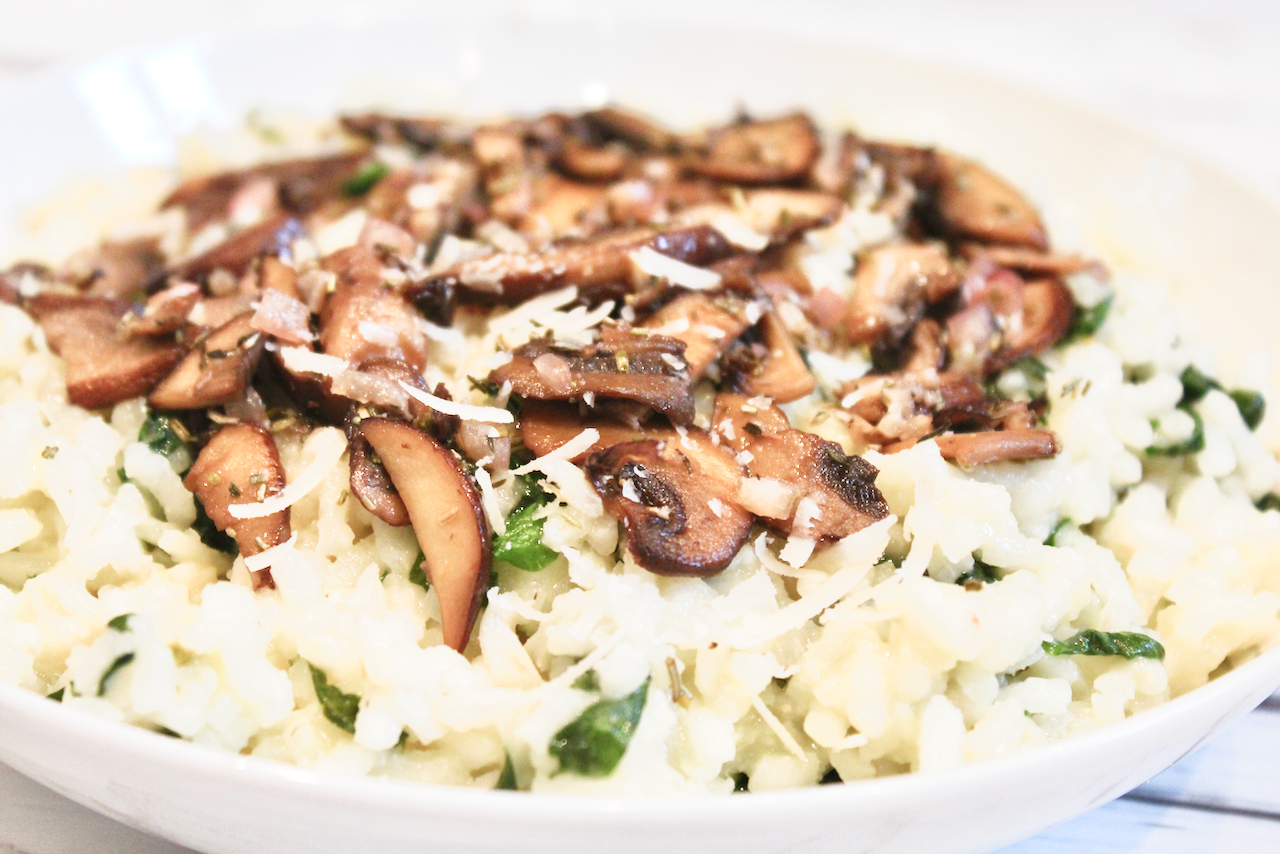 Rich, creamy, smoky, and beautiful spinach risotto topped with herbed mushrooms and parmesan makes for a deliciously easy and
This is good stuff.
Something about the smokiness of the gouda makes me think of autumn even though it's like 100 degrees outside. I don't care; I'm ready for it.
This risotto is positively decadent on it's own so it really doesn't need much on the side. You could totally just throw together a simple spinach salad, toast some garlic bread and be set.
Vegan Smoked Gouda Risotto with Spinach and Mushrooms
A rich and creamy, deliciously easy vegan gourmet risotto.
Ingredients
2 1/2 cups vegan chicken broth
1 cup water
1 tablespoon vegan butter
2 tablespoons shallot, chopped
1 cup Arborio rice
1/4 teaspoon sea salt
1/4 cup dry white wine
2 cups baby spinach, chopped
1 cup vegan smoked gouda, shredded
1 tablespoon olive oil
1 cup cremini mushrooms, sliced
2 tablespoons shallot, chopped
2 tablespoons dry white wine
1 clove garlic, minced
1/3 teaspoon dried thyme
1/3 teaspoon dried rosemary
1/8 teaspoon sea salt
1/8 ground black pepper
2 tablespoons vegan parmesan, shredded
2 tablespoons parsley, chopped
Instructions
In a large measuring cup, combine vegan chicken broth and water; set aside.
Into a large nonstick sauce pan over medium heat, add butter. When butter is melted, add shallots. Cook 2 minutes, until softened.
Add rice and salt. Continue cooking an additional 2 minutes, stirring frequently.
Add wine, stirring continuously until most of the liquid is absorbed.
Gradually add broth/water mixture 1/2 cup at a time, stirring continuously until each addition is absorbed.
Stir in spinach and gouda cheese. Cook just until spinach is wilted and cheese is melty.
Into a medium size skillet over medium high heat, add olive oil. When oil is hot, add mushrooms. Sauce 3-5 minutes, until beginning brown,
Add shallots, wine, garlic, thyme, and rosemary. Continue cooking 1 minute, until wine is absorbed. Season with salt and pepper.
Divide risotto evenly between bowls. Top with mushroom mixture. Sprinkle with parmesan and parsley; serve hot.
https://thiswifecooks.com/2019/07/vegan-smoked-gouda-risotto-with-spinach-and-mushrooms/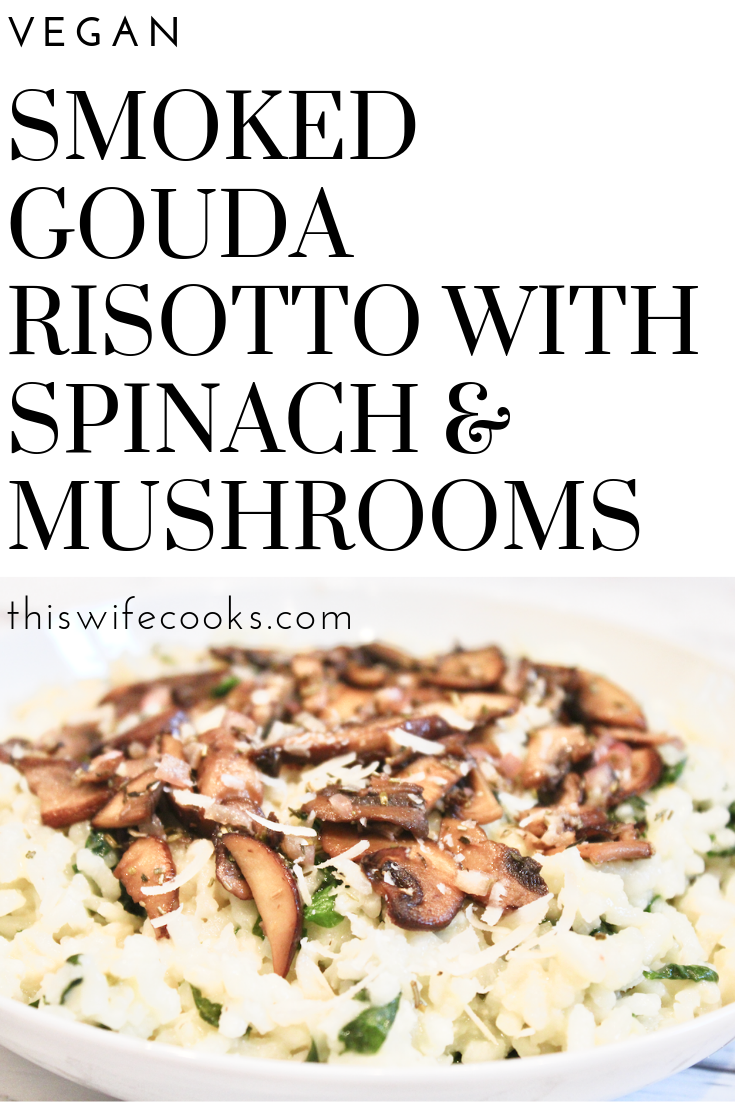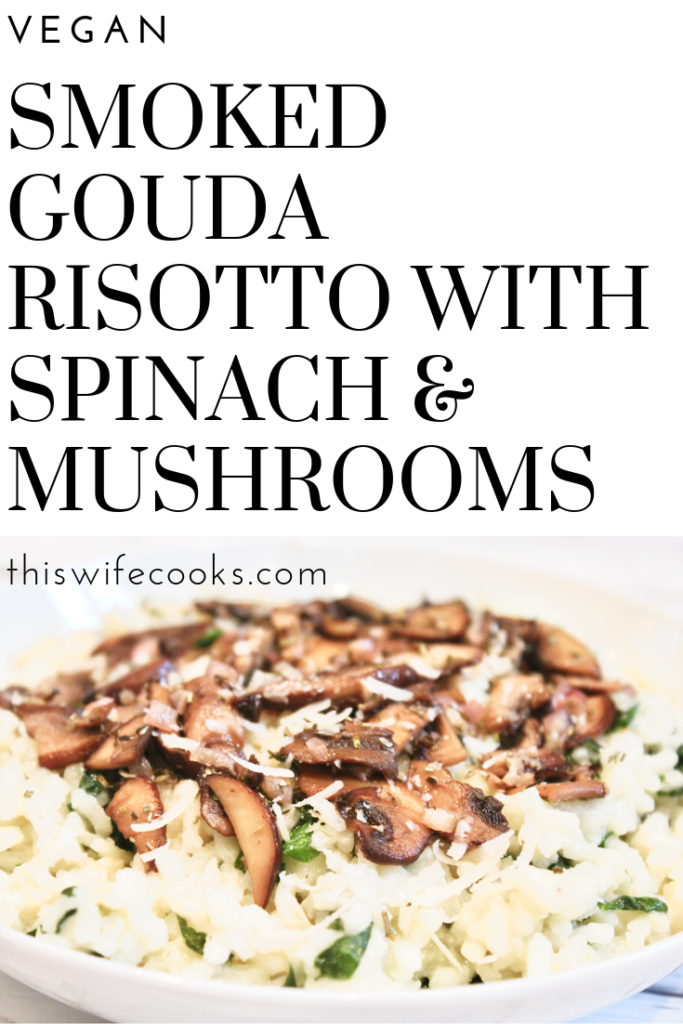 ---
---