Vegan Irish Potato Pie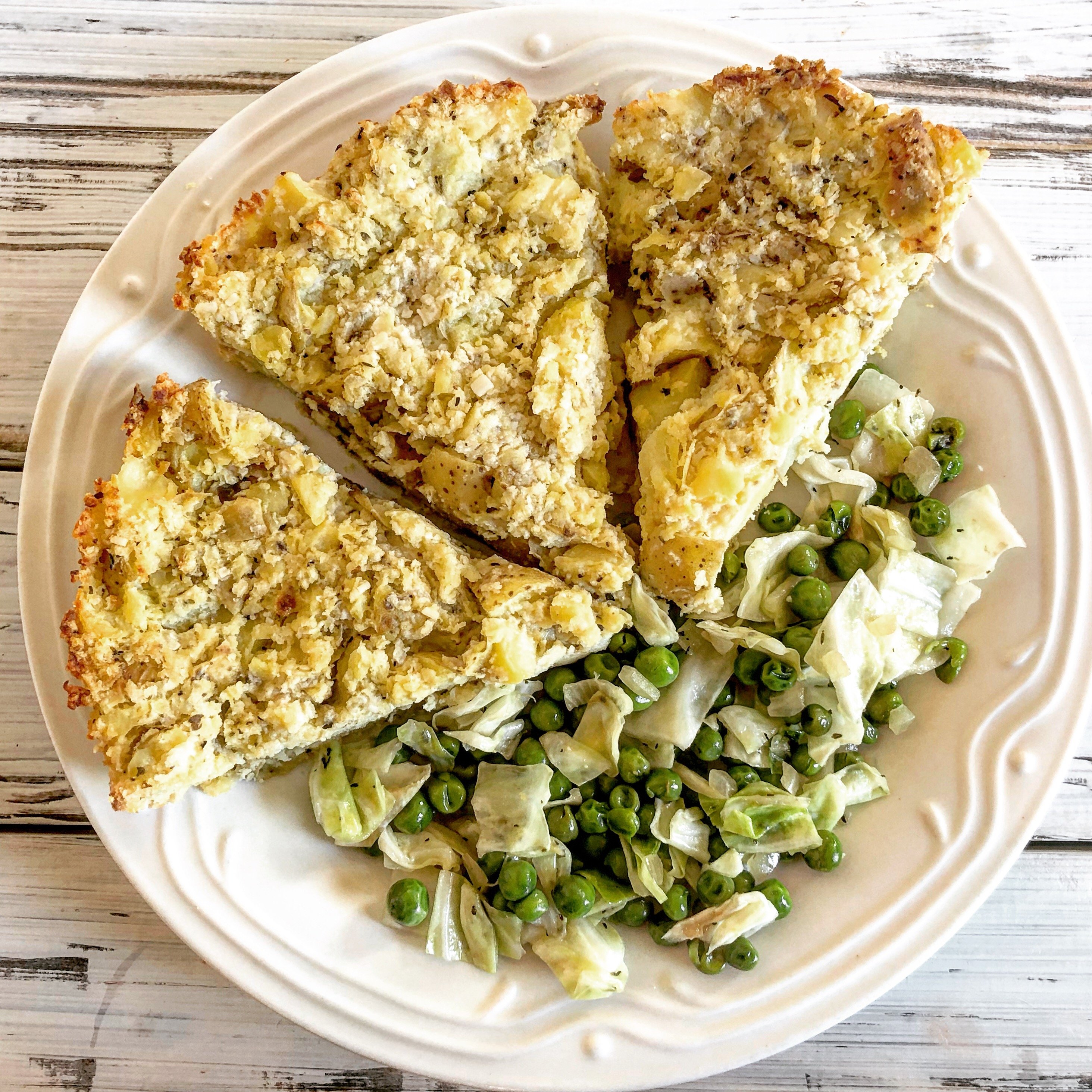 We love potatoes around here so when I started looking into traditional Irish foods to serve for St. Patrick's Day, potato pie seemed like an obvious choice. Traditional potato pie, however,  is actually quite meat and dairy heavy so this is a new and improved, upgraded take on the classic.
This hearty, vegan version is easy to make, ultra comforting, and the perfect addition to your St. Patrick's Day feast. I mean, it's basically mashed potatoes in pie form; what's not to love? 🙂
Note: For the vegan egg replacement, I used VeganEgg (2 tablespoons powder whisked into 1/2 cup cold water).
Looking for more plant-based Irish food, thy this:
Glazed Corned Seitan Roast. <– So good! Your Reuben sandwiches will never be the same!
This hearty, potato pie is easy to make, ultra comforting, and the perfect addition to your St. Patrick's Day feast.
Ingredients
2 1/2 pounds Yukon Gold potatoes, cubed
2 teaspoons sea salt
2 large cloves garlic, minced
2 tablespoons vegan butter
1 egg equivalent - vegan egg replacer
1/2 cup shredded vegan Parmesan cheese
1 teaspoon dried oregano
1/2 teaspoon sea salt
1/2 teaspoon ground black pepper
1/2 cup Panko breadcrumbs
2 tablespoons cornmeal
Instructions
Preheat oven to 350 degrees F.
Cut potatoes into 1" cubes. To a medium size saucepan, add potatoes, salt, and garlic. Add enough water to cover potatoes at least 1". Bring to a boil then reduce heat to medium. Continue cooking until potatoes are just fork tender.
Drain potatoes and, using a handheld masher, mash to combine but still retaining a chunky-like texture. Stir in vegan butter.
To a small mixing bowl add egg replacer, Parmesan cheese, oregano, sea salt, and black pepper. Stir to combine.
Add egg/cheese mixture to potatoes and stir gently to coat.
Into a prepared 9" round pie pan, sprinkle cornmeal in an even layer across the bottom. Pour in entire potato mixture. Gently press evenly into pan and smooth the top.
Bake 45 minutes, until lightly golden brown. Allow to stand 10 minutes before slicing. Serve warm or room temperature.
https://thiswifecooks.com/2019/03/vegan-irish-potato-pie/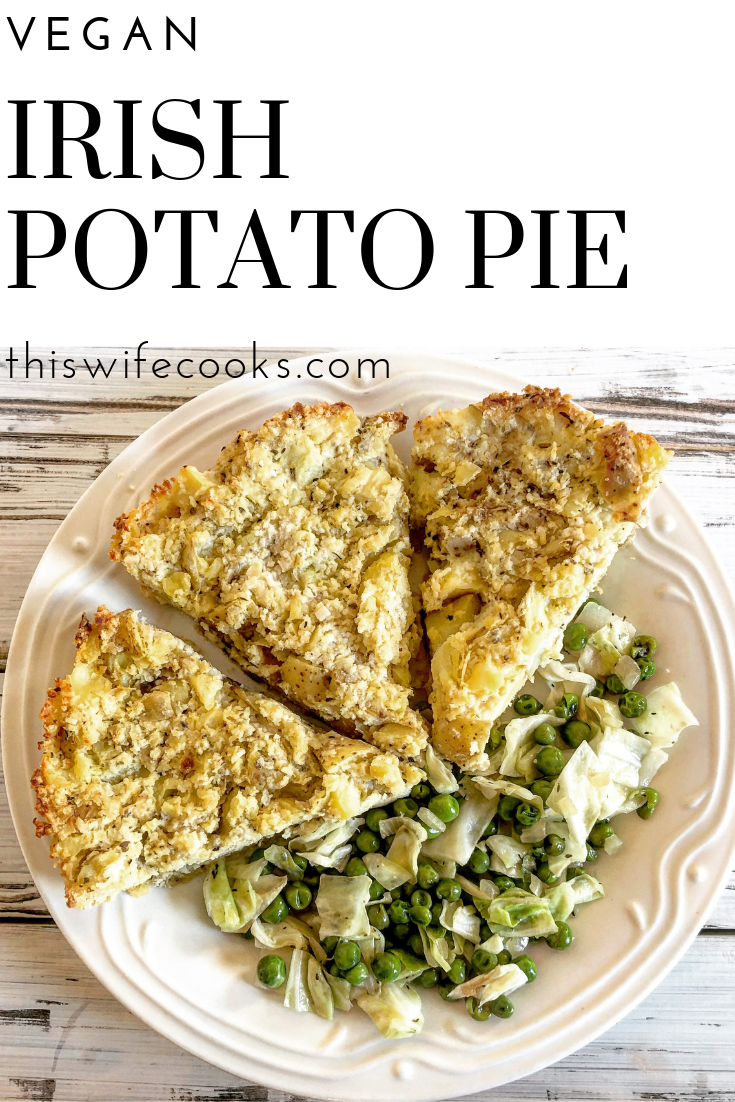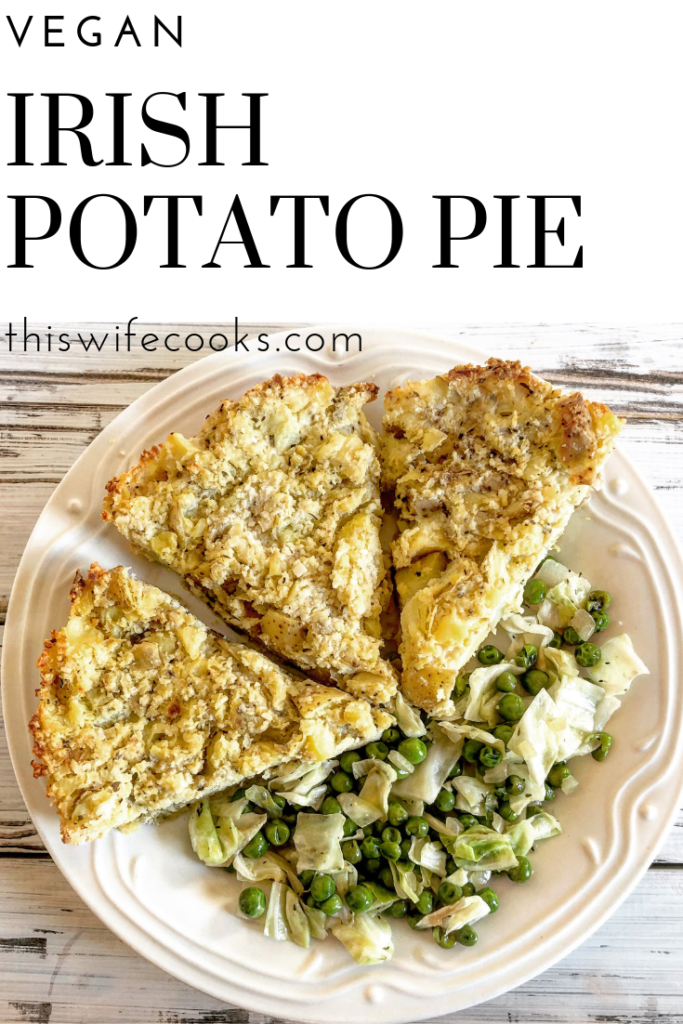 ---
---