Stuffed Sweet Potatoes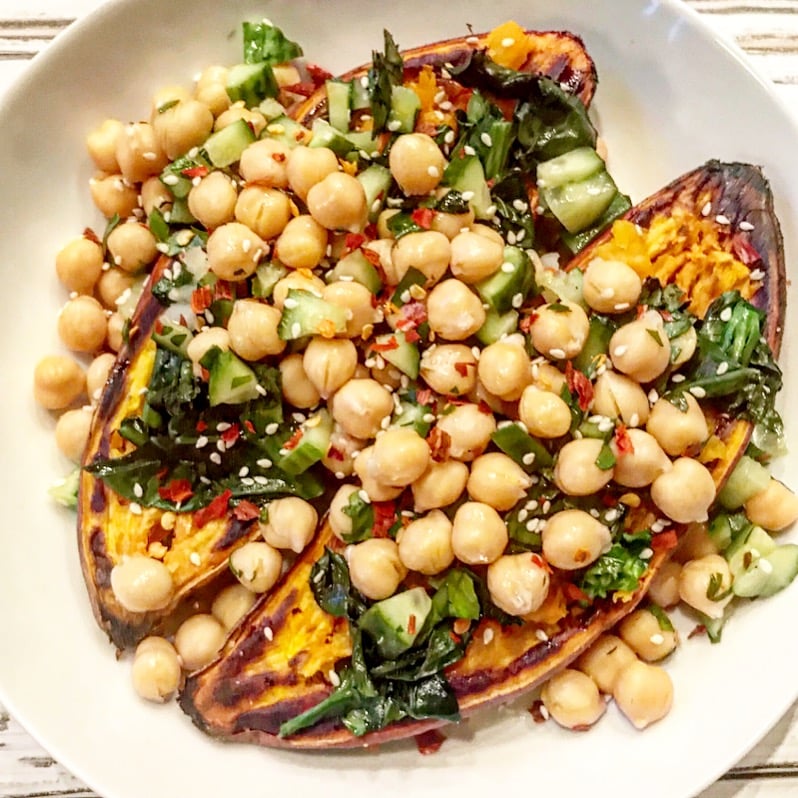 Dinner is served!
Warm, roasted sweet potatoes are stuffed with a mixture of steamed gai-lan (a new-to-me ingredient also known as Chinese broccoli), crunchy cucumbers, fresh parsley, chickpeas, and lemon juice then served over a miso tahini sauce and sprinkled with Aleppo pepper flakes for a perfect balance of spicy and sweet.
This is hearty and satisfying enough to be a meal unto itself: it really doesn't require anything additional other than maybe a crisp glass of white wine.
Enjoy!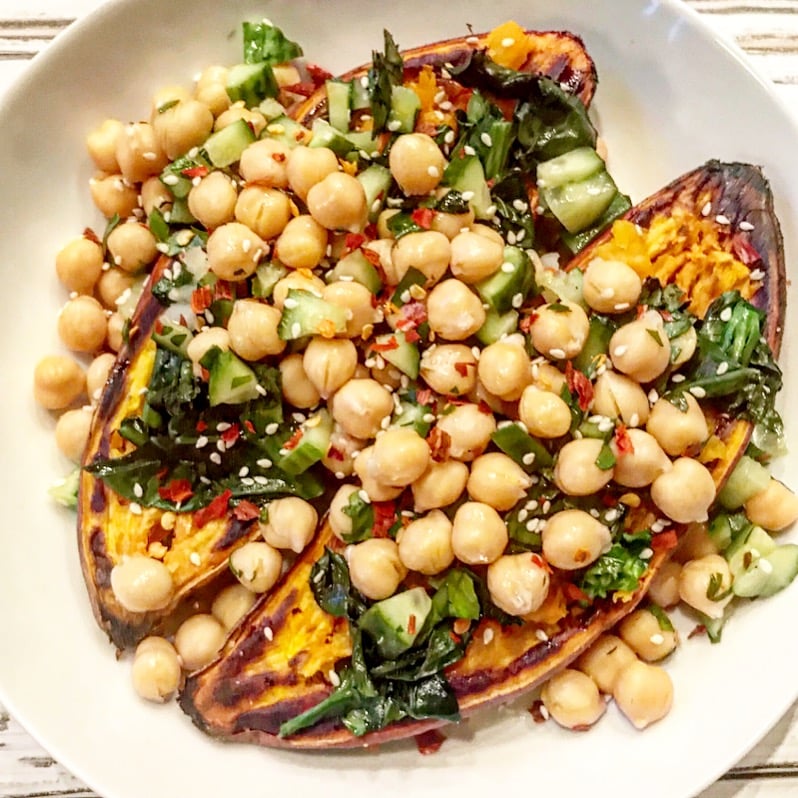 Ingredients
2 large sweet potatoes, halved
2 teaspoon olive oil, divided
1 15-ounce can chickpeas, drained and rinsed
1 medium cucumber, sliced into quarters
2 tablespoons fresh parsley, chopped
1 small bunch gai lan, chopped, stems removed
1 tablespoon + 1 teaspoon lemon juice, divided
2 tablespoons white miso paste
2 tablespoons tahini
1 tablespoon white vinegar
Salt and pepper, to taste
2 teaspoons white sesame seeds
2 teaspoons Aleppo pepper flakes
Instructions
Preheat oven to 425 degrees F.
Rub both potato halves with 1 teaspoon olive oil and place cut side down on a baking sheet. Roast 25 minutes or until fork tender.
When cool enough to handle, turn potato halves cut-side up. Use a fork to gently mash, being careful to not tear the skins.
To a mixing bowl, add chickpeas, cucumbers, parsley, lemon juice, Season with salt, to taste. Set aside.
To a small bowl, add white miso paste, tahini, 1 teaspoon lemon juice, and 2 tablespoons water. Whisk until consistency is smooth.
Heat a large skillet over medium high heat. Add 1 teaspoon olive oil. When oil is hot, add gai lan and 1/4 cup water. Sauce until slightly wilted. Season to taste with salt and pepper.
To serve, spread miso/tahini mixture onto plates then top each with two halves of sweet potatoes. Stuff with gai lan then add a layer of chickpea salad.
Sprinkle with sesame seeds and Aleppo pepper flakes. Serve warm.
https://thiswifecooks.com/2018/08/stuffed-sweet-potatoes/
Adapted from Green Chef.
---
---