Hearty Vegetable and Orzo Soup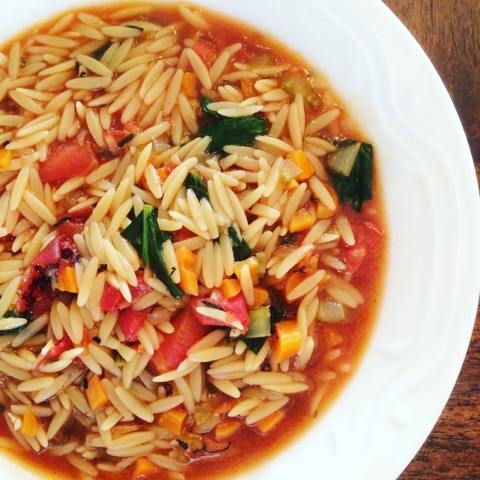 I was never much of a soup eater until fairly recently. Our 4-year old loves soups like no one I've ever seen and would probably be just fine with me serving some version of it every day.
So, we've naturally all adapted and become almost weekly soup eaters.
We're also big pasta eaters in this house so it came as no surprise when this vegan vegetable and orzo soup quickly become a current family favorite. And no worries if you have leftovers; they will keep well in the fridge for several days.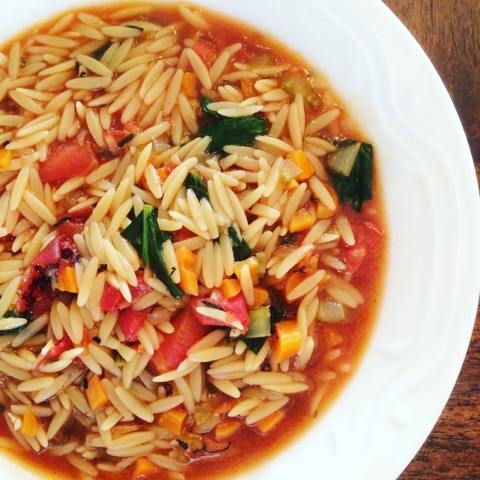 Hearty Vegetable and Orzo Soup
Ingredients
2 T olive oil
1/3 cup yellow onion, diced
1 cup carrots, diced
1 cup celery, diced
3 cloves garlic, minced
6 cups vegetarian chicken stock
1 (14-oz.) can fire-roasted diced tomatoes
1 1/2 cups orzo pasta
1/2 tsp. dried thyme
1/4 tsp. dried oregano
1/4 tsp. dried rosemary, crushed
4 cups spinach leaves, rough chopped
salt and pepper, to taste
Instructions
In a large pot, heat oil over medium high. Add onion and sauce until soft and fragrant, 2-3 minutes.
Add carrots and celery, cooking an additional 3-5 minutes. Add garlic and continue cooking, stirring frequently, another 1-2 minutes.
Add stock, undrained tomatoes, orzo, thyme, oregano, and rosemary. Stir to combine well then bring to a boil.
Reduce heat, cover, and simmer until orzo is al dente consistency.
Stir in the spinach and allow to wilt.
Adjust seasoning to taste and serve warm.
https://thiswifecooks.com/2016/08/hearty-vegetable-and-orzo-soup/
---
---