Vegan Chicken and Pesto Spaghetti Bake
After a full and thoroughly exhausting afternoon at the pool with our girls and friends from around the neighborhood, I needed something semi-quick, and with ingredients already on hand for dinner last night and this fit the bill perfectly.  The recipe is loosely based on a chicken spaghetti recipe, here, that I have used for years and has gradually evolved from meat-based to vegetarian.
I also make my own "cream-of"  soups these days. That's right, we're getting fancy around here. 😉 The super easy recipe for homemade vegan cream of chicken can be found here and yields the equivalent of one regular size can of soup.
Get your printable coupon good for any Beyond Meat product here —> https://bit.ly/1NBc56E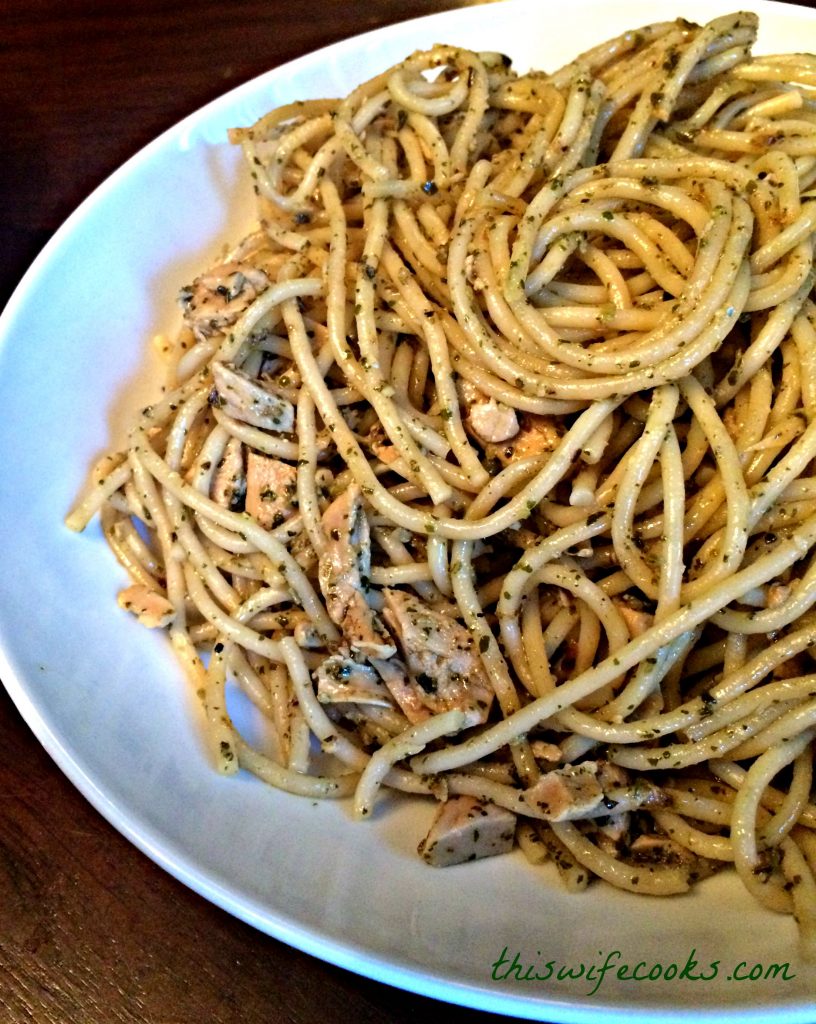 vegan chicken and pesto spaghetti bake
Ingredients
1 Tablespoon vegan butter
1 pkg. vegan chicken (recommend Beyond Meat)
1 lb. pkg. dried spaghetti
1 can vegan cream of chicken soup
½ cup coconut creamer
¼ tsp. garlic salt
¼ tsp. ground black pepper
½ cup basil pesto, or to taste
Instructions
Prepare the cream of chicken soup as directed. Remove from heat until ready to use.
Preheat oven to 350°
In large skillet, heat 1 TBSP oil and cook chicken until lightly browned on all sides. Remove to a cutting board; shred and set aside.
Place spaghetti in a pot of boiling water and cook until it reaches al dente consistency, about 8-10 minutes. Remove from heat and drain.
In a medium saucepan, combine cream of chicken soup, milk, garlic salt, pepper, and pesto. Bring to a simmer and allow to cook, stirring occasionally, until heated through.
In large mixing bowl, cooked spaghetti, cooked chicken, and pesto sauce.
Pour into prepared 9"x13" pan. Bake, covered, 20 - 30 minutes.
---
---