Spinach Stuffed Mushrooms
Because I had three full bags of baby spinach in the fridge that I needed to use or lose, spinach was the theme of last night's dinner.  We had a delicious spinach and tortellini soup, more on that another day, and these little mushroom bites.  They were such an easy and elegant addition to the meal and, since they're made with cottage cheese, not super heavy in calories like the cream cheese-based stuffed mushrooms I usually go for.
1 TBSP olive oil
12 baby bella mushrooms
12 mushroom stems, chopped
2 TBSP yellow onion, chopped
2 cloves garlic, minced
2c baby spinach leaves
1/2c cottage cheese
1 egg
1/8 tsp. salt
1/8 tsp. ground nutmeg
1/8 tsp. black pepper
1/8 tsp. cayenne powder
1 TBSP fresh basil, chopped
2 TBSP Parmesan cheese, grated
1.  Preheat oven to 350°
2.  In a large skillet, over medium heat, heat olive oil.
3.  Add onion and mushroom stems.  Saute 1-2 minutes.
4.  Add spinach and allow it to cook down; 1-2 minutes.
5.  Add garlic and continue sautéing another minute.  Remove from heat and set aside.
6.  To a food processor or blender, add the cottage cheese, egg, nutmeg, black pepper, and cayenne.  Pulse a few times to combine mixture but still retain some texture.
7.  Add spinach mixture and basil.  Pulse another 3-4 times; just enough to blend.
8.  Spoon everything into the mushroom caps.  Bake 25-30 minutes.
9.  During the last 5 minutes of baking, top each mushroom with a sprinkling of Parmesan cheese.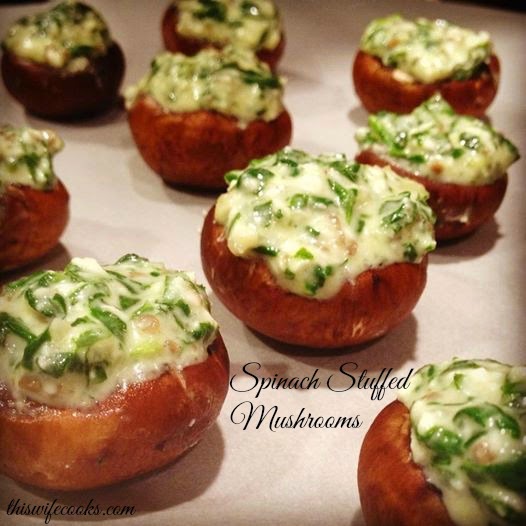 Tip: Make the filling ahead of time and store in the refrigerator until you're ready to bake.
---
---