Toddler-Approved Pasta Dinner
Do you buy canned raviolis and o's for your little one?  If so, stop it right now!  It's way too easy (and cheap) to make your own!  My two-year old loved this today and even the 20-year old gave it a thumbs up.
Notes:
* As usual, I subbed non-dairy products for the milk and butter
* I use white sugar but think this would be just as tasty with Splenda or maybe agave (haven't tried them yet).
* Pasta I used was the dried mini raviolis from Trader Joe's.  Next time, I'll use fresh though.
15oz. can tomato sauce
2 TBSP milk
1/2 tsp. onion powder
1/4 tsp. paprika
1 tsp. salt
1 TBSP butter
3 TBSP nutritional yeast
2 TBSP sugar
2c small-medium size pasta
1.  Cook the pasta according to package instructions.  Drain and set aside.
2.  In a medium saucepan, over medium high heat, melt the butter.
3.  Add remaining ingredients and heat through, stirring frequently.
4.  Top pasta with sauce and serve.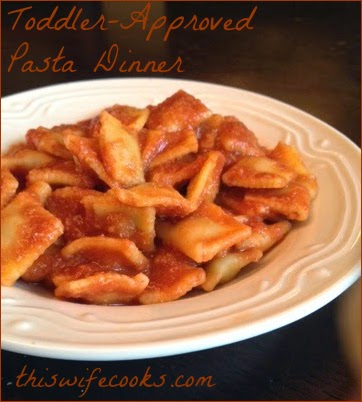 ---
---